It's any manager's nightmare to hear that a team member has completed a task that has already been done or to hear that two people have been working on achieving the exact same objective. This means that the team's attention is not directed in the right place and this misalignment is taking valuable time and efforts away from achieving other important organizational goals. Only one person should be assigned to each task and roles and responsibilities need to be clearly defined so that the team doesn't end up doing things twice. Duplicate tasks take away from your team's focus and resources, which is why it's so important to understand how to manage overlapping responsibilities and communicate effectively.
When can responsibilities overlap?
Responsibilities tend to overlap when there is a gap in communication and when each team members' responsibilities are not sufficiently defined. In these cases, sometimes two or more team members work to complete the same task, or neither do, assuming the other person will accomplish it instead. Instances can happen in which employees aren't aware that certain work has already been done, that particular resources exist or they simply don't have access to the right information.
It can also happen that an employee simply isn't getting the right guidance on tasks or can't get a hold of someone who has the documents or resources that they need. All of these instances are connected with poor communication and poor organization. When responsibilities overlap, the company suffers from a huge loss of time and efficiency, which is why this issue needs to be mediated as soon as possible.

Manage your workday
Stay in the loop of action items and assignees with a tool like Fellow, that has a clear view of tasks lists and more!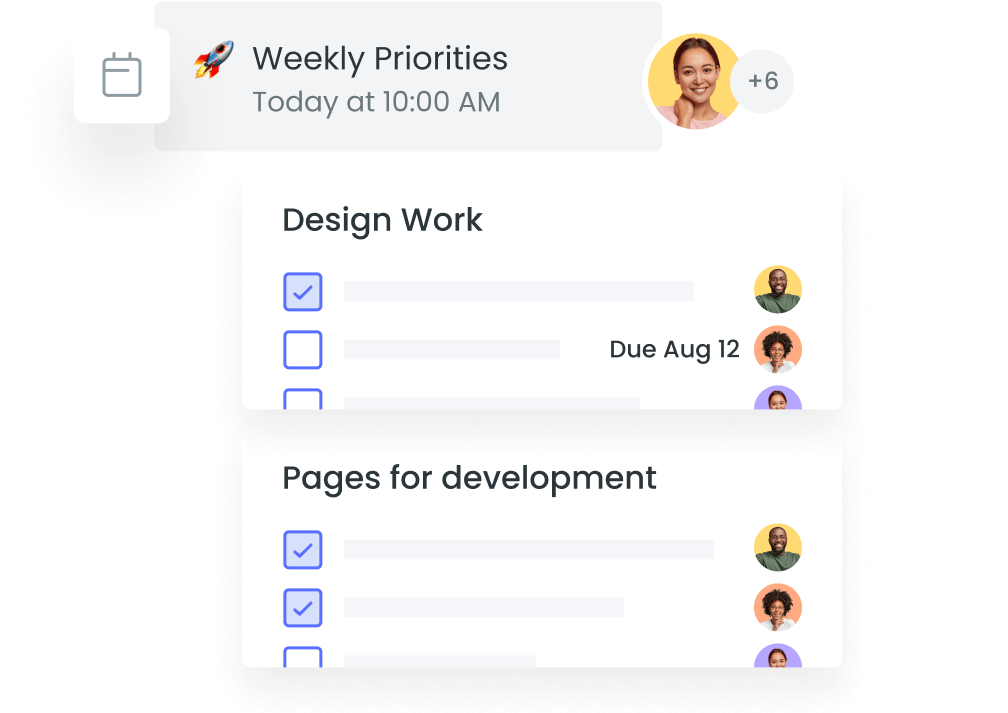 What is duplication of effort?
A duplication of effort takes place when two or more people work to complete the same, or a very similar task. Typically, a duplication of effort isn't productive because the outcome of effort is minimized. Duplicating work that was already performed knowingly, is definitely unproductive, but sometimes circumstances are out of the employees control. That said, duplication of effort can take different forms: if the team has created different outcomes, it can in fact be productive in certain instances. Importantly, employees shouldn't be reinventing the wheel or re-doing something that has already been completed, unless it needs major improvements or modifications that have been previously discussed with the team.
How to prevent overlapping responsibilities
1 Communicate regularly
The most important and effective way to prevent overlapping responsibilities is to communicate with your teammates and ensure that everyone is on the same page. This is truly the first step in preventing any duplication of work. Typically overlapping responsibilities is the result of a lack of communication, especially from management. Ensure that there are proper channels of communication established within your teams. Whether you're using email, Slack, Google Chat or another messaging interface, ensure that your team is checking-in regularly with one another and consistently checking their messages so that nothing is being missed. Established lines of communication are more important than ever, especially if your team is working remotely. Constant communication will create transparency and build stronger working relationships.
2 Measure progress
Ensure that you are adequately tracking your team's progress so that you can continue to move towards achieving your company goals. Collaborating consistently with your team is going to make sure that everyone is in the know with regards to what has been completed and which priorities need to be accomplished next, by who and by which deadline. Establishing a list of action items is essential to keeping track of your team's progress. With Fellow, you can create your meeting action items list and track what has been completed at each meeting, so that you can adjust tasks, deadlines and clearly assign specific tasks to specific team members.
3 Be transparent with your work
In order to measure progress, you need to ensure you and your team are being completely transparent with your work. Make it a clear expectation with your team that once a task has been completed, the rest of the team is made aware of it and that it is communicated clearly. It's a good idea to share this kind of information in a group chat or thread so that all of the team's completed or updated tasks are shared in the same place. This is going to create transparency and clear dissemination of information across the board. Your work should also be accessible to everyone, should they need to refer to it or use it for their own tasks.
4 Keep your work in the same place
It's a great idea to have some kind of open access database where your team can organize documents according to projects and even the specific phases of your projects. This is going to help team members gain more insight, more information and be more efficient with their own work because they have a plethora of resources to use. Set the precedent that as soon as someone has completed a task and it has been approved that it is uploaded to the open access database, where everyone has access and can benefit from the valuable work your team is producing.
5 Have clear roles and responsibilities
It's extremely important to be clear on each person's roles and responsibilities and for each member to understand what is expected of them. If you clearly understand the roles and responsibilities of each member of the team, it provides the opportunity for every other team member to also understand what their co-workers are working on. This is extremely effective for collaborating with your team and using each person's unique skill set to work towards goals. Understanding what is expected from your role within the organization promotes autonomy and allows for a more effective use of time because your team doesn't need to stop and clarify at each step they take to complete a task.
6 Hold a check-in meeting
Holding regular check-in meetings with your team members opens lines of communication to ensure that everyone is on the same page and up-to-date on the most recent team news. They're important because they build stronger relationships, release tension, teach communication styles, and save valuable time. Finding ways to engage with your team is especially important as many organizations continue to work completely remotely. A check-in meeting with your team is a great opportunity for everyone to go around the table and discuss what they're working on, so that employees can see how their individual work benefits the overall goals that the team is working to achieve together.
7 Clearly define processes and workflows
Your team's processes and workflows need to be clearly defined so that you can avoid duplicating work or having responsibilities overlap within the team. If every part of a project belonged to clearly defined processes and workflows, each team member would have a strong understanding of what they need to be working on and how to prioritize tasks efficiently. Be sure to set the precedent with your team that whichever systems that you are using are updated in real-time so that everyone is aware of what has been done and what is still in progress. This is going to save you time and energy that may be spent doing unnecessary work that can be put into the further progression of the project.
8 Use knowledge-sharing tools
In order to make updating your team more efficient and organized, use knowledge sharing tools such as Google Drive, Slack, Dropbox and many more so that all of your information and resources are organized and accessible. More importantly, stick to one knowledge-sharing tool if you can so that there isn't any confusion as to which interface the documents have been added to. It's much easier and more clear when you and your team decide on a default system. Using knowledge-sharing tools is especially efficient because your team members can access necessary documents and resources from any device, allowing them more flexibility and easier accessibility.
Parting advice
Overlapping responsibilities are frustrating and a huge waste of time when their outcome remains the same. Not only does it hinder the progression of your projects, but it also creates frustration among the team. The way in which you communicate with your team is going to set the precedent for employee productivity. This is because open and frequent communications allow you to keep more organized and have a greater awareness of what has been achieved and what still needs to be accomplished. Consider implementing these preventative strategies for duplication of work so that you and your team can create a greater synergy and stronger collaboration skills to achieve your goals with great success.
As always, it's a pleasure seeing you on the Fellow Blog! If you liked this article, be sure to share it with a friend or a colleague. Until next time!