Everybody needs a little help from time to time, and there's no shame in partnering with a career mentor for expert advice. The majority of successful entrepreneurs or leaders will admit to seeking guidance from a career mentor, and they often credit these relationships for their success.
The first step to securing a mentor-mentee relationship is determining exactly what it is you're looking for. From there, you can get to work exploring your network for potential mentors.
What is a career mentor?
Career mentoring is a specific kind of business mentoring in which a mentor focuses on helping a mentee navigate their career trajectory while developing confidence and new skills. A career mentor is someone who shares their knowledge or expertise in an attempt to help their mentees reach their career goals. A great mentor is knowledgeable and wise. They'll be happy to share their knowledge and expertise and they'll be generous in doing so while helping the mentee strategize and grow.
How can a career mentor benefit your career?
Navigating the corporate world can be overwhelming, especially if you don't have anyone to turn to. Securing a mentor means you always have someone to turn to who knows what it's like to be in your shoes. Chances are your mentor knows exactly how you feel and will have expert advice that can be leveraged to help you level up. Having a career mentor who's aligned with your goals can do wonders for your career. Having the continued support of a knowledgeable mentor will help you navigate your career, gain confidence, and expand your network.
7 steps to find a career mentor
1Know what you're looking for 
It can be nearly impossible to find an appropriate mentor if you don't know what you're looking for. Before you can begin your search, you'll need to take the time to conceptualize what it is you're looking for. Now's the time to get specific. If you fail to plan and work out the details or characteristics of the mentor you're seeking, you may not be able to find a mentor who aligns with your goals. Are you looking for someone with seniority who can offer you insights into a successful lengthy career in your industry? Or, are you looking for someone who may be considered a peer who can offer mentorship or guidance in other areas of your career? Being clear on your wants and needs will help you choose the perfect mentor.
There are also a variety of ways in which you can receive mentorship, including one-on-one mentoring and group mentorship. Depending on which avenue you wish to pursue, your search may vary. If you're looking for one-on-one mentorship, you may consider reaching out to someone you idolize or admire. If you're looking to receive mentorship in a group setting, you may need to widen your search and browse relevant online forums.
2Define your goals 
Before you can bring in external guidance, you'll need to look inwards and identify your goals. You can't expect your mentor to define your goals for you. Instead, you should approach your mentor after you've taken the time to decide on your goals. If the two of you are aligned on your goals from the get-go, you'll be able to hit the ground running and get to work on conquering your goals.
A mentor should serve as a source of guidance or continuous support. Ultimately, you want to be able to leverage their knowledge to work on your professional development and career growth. Approaching your mentor with SMART goals (goals that are specific, measurable, attainable, realistic, and timely) means the two of you can get to work on an action plan. It's important that you know what you're looking for before entering a mentor-mentee relationship.
3Identify potential mentors
Do you have someone to whom you look up within your organization? Do you follow someone on LinkedIn who offers really sound career advice? The ways in which you can source an excellent mentor are bountiful, but before selecting one, you should identify a roster of potential candidates. When looking for a mentor, it's important that you choose potential mentors who can help you crush your goals.
Leveraging your network is also imperative when selecting a mentor. You may already have a warm lead or connection that would make the perfect mentor! Maybe it's a former boss you really admired, or maybe it's an industry expert who posts fire content on LinkedIn? Before reaching out to strangers or people with whom you don't share a prior connection, you may want to consider leveraging those in your network. You can do so by running through a mental checklist and taking inventory of anyone you think may fit the bill.
4Send an introductory email 
You'd be surprised by the sheer number of people who want to help others. It may feel daunting to reach out to someone you admire or look up to via email, but you have to remember that this contact could be the start of something great! When crafting your introductory email, be thorough and concise. You'll want to make sure you know exactly what you're asking for while simultaneously conveying your needs in a consumable way.
Chances are your preferred mentor is extremely busy, so it's important to craft your email methodically. Take the time to introduce yourself, express your gratitude for their consideration, and clearly define what you hope to receive or achieve with their help.
5Be patient
Finding the perfect mentor takes time. Like any relationship, it's important to take your time and not rush into anything. If you're patient and do your due diligence, you're much more likely to find a mentor who aligns with your goals. If you rush into a mentor-mentee relationship for the sole purpose of having a mentor, you may ultimately be disappointed or discouraged from seeking guidance in the future.
6Show gratitude 
Whether or not your desired mentor chooses to pursue a mentor-mentee relationship with you, it's important that you express gratitude for their consideration. Oftentimes mentors are very busy people with successful careers, so they're extremely busy. If they're taking the time out of their day to offer advice or guidance, it's important that you take the time out of yours to show your appreciation.
If you fail to express gratitude, the individual in question may be hesitant to pursue the relationship. It's important that you keep these bridges intact regardless of the outcome. Every professional connection that you cultivate has the potential to turn into a future opportunity.
7Be prepared to ask 
The first step to securing a mentor is building up the courage to ask. Learning how to find a career mentor can be difficult, but sometimes it's as simple as just asking. The longer you wait, the more stressed you'll become. This is a great time to practice and hopefully perfect your elevator pitch. You may only have a few moments to catch your potential mentor's attention, so you should refine your pitch and put your best foot forward when you have the chance.
Free mentor meeting template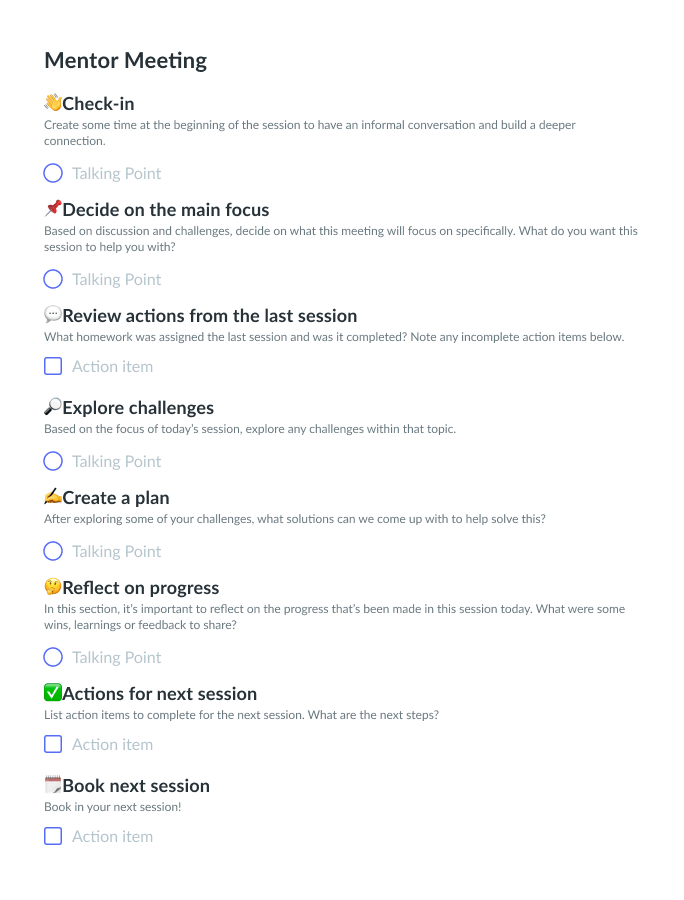 Finding a career mentor
One of the major perks of living in a digital era is having the ability to connect with brilliant minds all over the world. Platforms like LinkedIn have made it easier than ever to connect with like-minded people in your industry or niche. If you don't have anyone in your immediate network that you can approach to be your mentor, the chances are quite high that you'll be able to find someone on a social networking platform like LinkedIn.
Your options are endless and there are always generous people who are willing to mentor up-and-coming industry leaders by offering their expertise and guidance. The first step to securing a mentor is working up the courage to ask. Taking the time to draft a courteous email or InMail message may ultimately change the trajectory of your career. You never know what's waiting for you on the other side of fear!