With Fellow's app for Zoom, you can take meeting notes, record action items, and send meeting notes, directly in your Zoom meeting.
Here are 5 features of Fellow's app for Zoom that can help simplify your workflow during video meetings:
1 Automatically Display Your Notes When Joining a Video Meeting
The final five minutes before a meeting starts can feel chaotic. You might be frantically closing the 15 tabs you have open, checking your lighting, and/or trying to find your agenda. Fellow's app for Zoom helps reduce some of these pre-meeting clicks. While in your video meeting, open the Fellow agenda in the app and the notes will appear directly inside of the Zoom interface next to all the meeting participants—which really helps if you have a limited amount of screen real estate. The Fellow notes available here work just like the Fellow notes you're used to—including all of the formatting and customization options!
Pro Tip: Grab the left side of the Fellow meeting panel to adjust the size of the app window in a call.
2 Create Notes For Impromptu Video Meetings
Your video meetings might not all be pre-scheduled. Instead, some might be ad-hoc and come from out of the blue. For these meetings, Fellow won't have a linked meeting note to automatically open. However, whenever you join that Zoom meeting you'll have the option to "Create a new note". This will create a new note for you to capture any decisions or action items that arise. And Fellow will add this event to your calendar so that it's easy to find those notes again.
Pro Tip: By default, this meeting will be called "Zoom Meeting" but feel free to change this by clicking on the title of the note.
3 Share Your Screen/Meeting Agenda With One Click
Ensure that everyone is on the same page, literally. Click on the small green icon at the top of your Fellow panel to share your meeting agenda with everyone in the meeting. This will be similar to the "Share your screen" function in Zoom, but in this case, you would just be sharing the meeting agenda portion of your screen – which reduces the potential screen-ception where you can see yourself in someone else's shared screen.
Pro Tip: If your teammates want to try the app themselves, use the blue "Send App" arrow to send them an invite to download the app.
4 Record Action Items and Decisions For Reference
It can be challenging to remember what you discussed during the meeting and what you're supposed to do next. Avoid this post-meeting panic by taking notes and recording action items as you go. With the Fellow app for Zoom, you'll be subtly prompted to document what happens because the meeting notes are right there, beside the faces of the meeting attendees.
Pro Tip: If you record your Zoom meetings, paste the link out to the video/audio directly in the Fellow note. This makes it easier to find the right recording for that specific meeting, instead of searching through files.
Pro-tip: Copy urgent action items to your daily planner. As you check off action items on your to-do list, those action items will also be marked as completed for that meeting.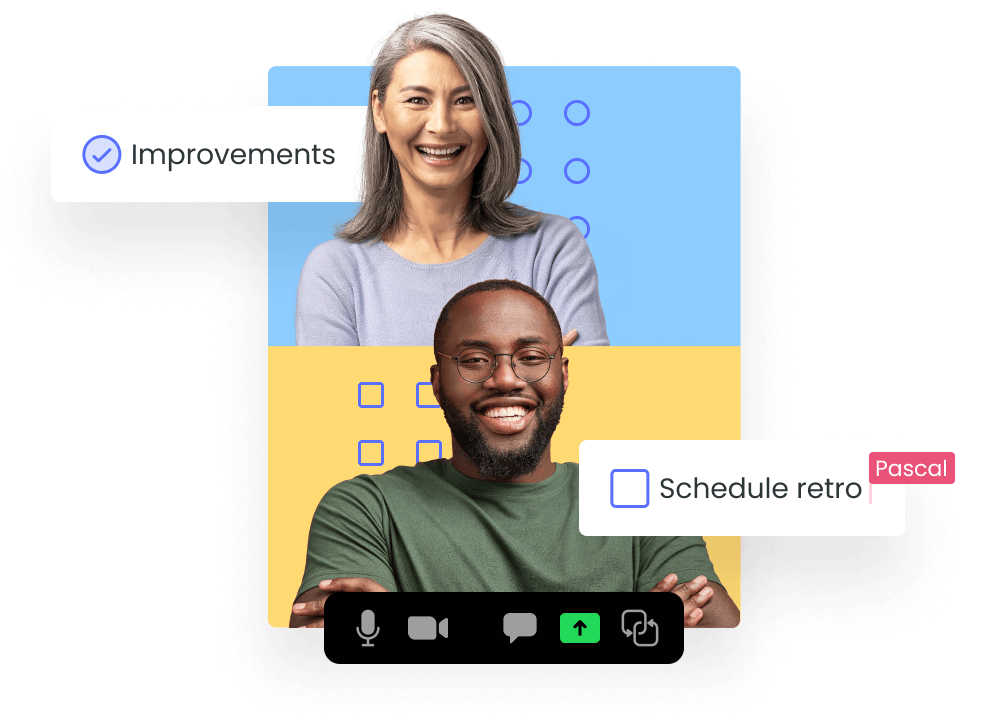 5 During Back to Back Meetings, Quickly Add Notes to Meetings Without Closing the App
On busy video meeting days, you might find yourself spending a lot of time inside of the Zoom desktop app. Between meetings, you can add to your Fellow notes via the Apps icon on the toolbar (next to Chat, Meetings, and Contacts).
Or during a meeting, quickly jump to another meeting note to jot down your thoughts. Click on the Calendar icon at the bottom of the panel to go back to your Fellow calendar and select another meeting.
Pro-tip: Copy urgent action items directly to your daily planner. This makes it easier to review action items across your meetings. And as you check off action items on your to-do list, those action items will also be marked as completed for that meeting.