Today, we're excited to join Slack in the announcement of their new App Workflow Steps feature. With Fellow's integration into the Slack Workflow Builder, companies can improve meeting efficiency by automating specific tasks such as sharing meeting agendas to Slack and creating action items based on specific Slack activities.
In a study that looked at over 19 million meetings, it was reported that poorly run meetings cost U.S. companies $399 billion in 2019. Fellow has been trusted by companies such as Shopify, Lemonade, Vidyard, and 2U (amongst others) to solve this issue.
"Having the ability to automate the distribution of meeting agendas will save managers, team leads, and meeting organizers a lot of time — and most importantly, encourage preparation and collaboration from everyone," said Alexandra Sunderland, Engineering Manager at Fellow. "Productive meetings start with an agenda, and we're excited to help teams build great meeting habits through this new integration."
Since launching Workflow Automation in 2019, hundreds of thousands of Slack users have published workflows that are used millions of times monthly. 77% of these builders are non-technical, indicating a need for more tools that empower anyone to uniquely customize how they work in Slack.
"Without writing a single line of code, builders can create channel-specific workflows that automatically run through a sequence of steps when triggered," said the Slack Platform product team. "This comes in handy for things like onboarding new teammates, handling requests, team stand-ups, and more."
Today, at the Frontiers Conference, Slack announces a marketplace where companies can build useful integrations for Workflow Builder and Fellow is a featured partner alongside companies like Zapier, Polly, and Datadog.
With the Fellow and Slack integration users can:
Share a meeting agenda to a specific Slack channel when a particular recurring date is reached.
Create meeting talking points and action items when an emoji reaction is used on a Slack message.
Add a user to a Fellow Stream after they've joined a Slack channel.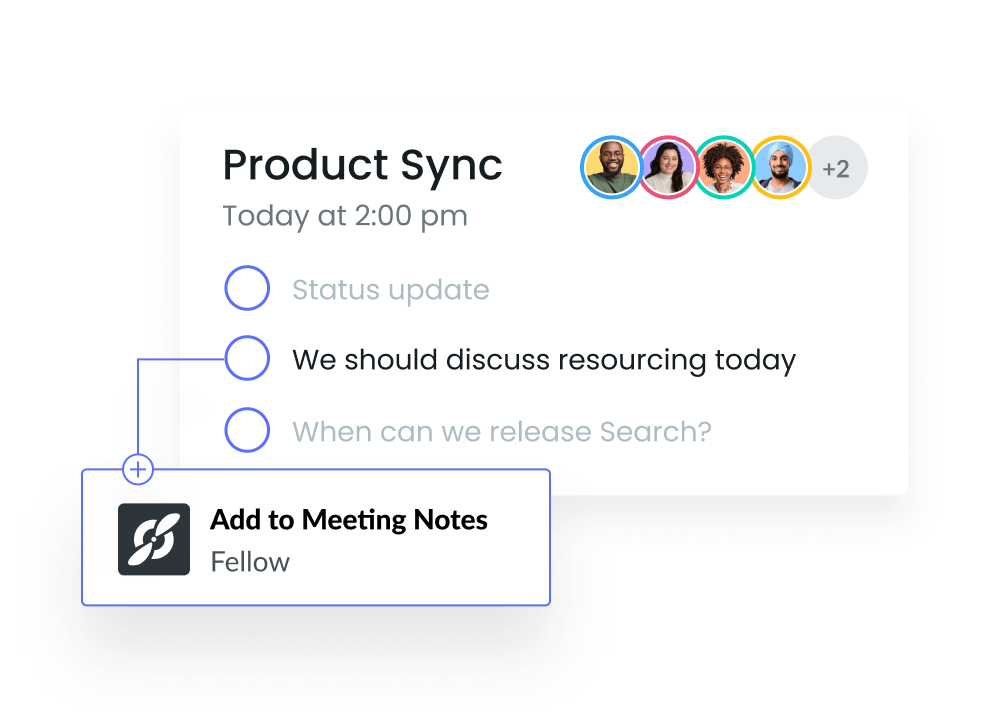 Fellow's workflow steps are available to build with now! Install the Fellow Slack bot and open the Workflow Builder in Slack to get started.
For more information on the Slack and Fellow integration go to fellow.app/integrations/slack
About Fellow
Fellow is the meeting management software where teams gather to collaborate on meeting agendas, track action items, record decisions, discuss priorities, and exchange feedback, all in one place.