According to a 2021 survey report by XpertHR, 63 percent of employers conduct yearly performance appraisals with their team members. You might think this type of meeting involves listening to your manager assess your strengths and weaknesses, but oftentimes, you're an active part of the conversation as well. A self-evaluation is a great example of this: This portion of your review allows you to share your perspective on your job performance. But finding ways to honestly assess yourself can be a challenge. These 16 self-evaluation examples can help you write a thoughtful employee self-evaluation.
What is a self-evaluation?
A self-evaluation, also called a self-assessment, is a part of an employee performance review. It gives you the opportunity to assess your contributions to the company, areas where you're best performing, and ways you can improve your work. This portion of the performance review allows you to identify areas for improvement, celebrate your successes, and determine how to align your performance with your manager's expectations. Most companies ask employees to conduct a self-evaluation once a year. With Fellow make it easy to do a self-evaluation by having all your notes, action items, feedback, and goals in one place.

Track your progress
Create a private or shared stream where you can regularly track progress, areas of improvement, and feedback all in one place! Try a tool like Fellow.
What to include in a self-evaluation
Reflecting on your achievements, abilities, and areas of improvement is a huge part of conducting an honest and productive self-evaluation. Take some time before your annual review to reflect on your previous work. To help you prepare, below are a few categories you can consider to evaluate your performance.
1 Achievements
Think about all the achievements you've made at work. When have you felt especially proud of yourself? When has your boss congratulated you? When you write down achievements to bring up during your review, try to insert metrics that demonstrate the success that resulted from your efforts, like growth achieved or milestones met.
2 Communication skills
Effectively communicating with colleagues and managers is a critical part of just about any job, promoting better performance and building trust among an organization's members. For your evaluation, think of instances in which you were intentional about practicing your communication skills.
Maybe you were quick to inform your manager of an issue so they could proactively help you find a solution. Or maybe you don't hesitate to ask for advice when deciding how to approach a situation. However you leverage your communication skills, be sure to note those examples in your review.
3 Creativity
Creativity helps organizations stay ahead of the curve and rise above competition. As you prepare for your performance review, think about how your creativity has helped advance your company. What fresh ideas have you presented to your team to improve your organization's producers, services, and relationships with customers? What's your brainstorming process? How has that approach resulted in solutions for your organization? Think of an example where you successfully used this tactic in the past year.
4 Delegating
You can't always handle everything yourself. So knowing when to call in some assistance and being willing to do so can demonstrate humility, efforts toward collaboration, and ability to trust your colleagues. Try recalling times when you've delegated tasks to fellow team members. This way, you can show you're more focused on making sure a job gets done than holding on to the ownership and control of that responsibility.
5 Productivity
There are several ways you can demonstrate productivity at work, from strategically working through your tasks to setting objectives for yourself and completing them. Reflect on your productivity while preparing your self evaluation. From there, you can determine how to explain your approach to being productive throughout your work days and ways to continue those efforts across future tasks and projects.
6 Time management
To evaluate your time management skills, consider how you approach organizing and prioritizing your tasks. Are you able to effectively divide your time between tasks to ensure you complete them all on time or even early? Did you avoid procrastinating? Asking yourself these questions can help you determine how well you practice time management and recognize areas where you can improve.
7 Teamwork
A good rapport with other team members is key to accomplishing larger projects that require the skills of multiple people. Think of some projects that required you to work closely with your fellow team members. In what ways did you assist in the workload? Were you willing to accept advice from a coworker? Consider evaluating your ability to collaborate with your colleagues to demonstrate your team mindset and your contribution to the team's overall performance and success.
8 Problem-solving
Every team member has to practice problem-solving at some point – if not daily. You can't always ask your manager for advice on how to proceed in a certain situation, so it can be up to you to determine the best course of action and take it from there. To assess your current problem-solving skills, think of the ways you approached and handled issues that arose in your day-to-day work.
How do you deal with difficult customers? What do you do when you don't have all the resources you need to finish a project? Have you had to resolve a conflict with a colleague? Problems can take on many forms in the workplace, but how you respond to them demonstrates your ability to address them and move forward.
9 Performing under pressure
As much as you can plan and delegate your tasks, there are probably situations that have been out of your control and required you to produce high-quality work in a high-pressure situation. Maybe your manager moved up your project's deadline on short notice. Or maybe your company was executing an important initiative that heavily relied on your efforts. Whatever the situation, your ability to excel under tight deadlines and high expectations can speak to your ability to delegate and prioritize tasks and work efficiently to complete your assignments.
16 self-evaluation examples
Now that you know some areas to consider for your evaluation, you might be wondering how to incorporate them into your evaluation. To help you get started, below are 8 self evaluation categories, with an achievement and an area of improvement for each.
Successes
Achievement
I have succeeded in creating, launching, and running profitable social media campaigns. Over the past two months, my marketing approach has increased the company's website traffic by 25 percent.

Area of improvement
I am aware that the social media campaign I launched most recently has not generated the desired increase in traffic. However, I'll be conducting market research to determine how to better target my long-term strategies to potential customers.
Communication skills
Achievement
I strive to keep open lines of communication between me and my colleagues and supervisors by utilizing team communication tools. I'm also purposeful about providing my team members with regular updates about the status of my work on a collaborative project.

Area of improvement
Sometimes I can get wrapped up in my work and forget to update others on my progress. I've been working on being more mindful of sharing updates as I complete tasks so everyone is on the same page and not wondering about the status of my work.
Creativity
Achievement
I am consistently bringing new ideas to my team. Every day, I make sure to have at least two ideas to share during our morning brainstorming meeting. This approach keeps me thinking of innovative, yet relevant, ways to advance this company.

Area of improvement
I find that I come up with ideas I want to share. But sometimes I doubt myself and how those ideas compare to those of the more experienced members on my team. I'd like to work on being more confident in my ideas and the benefits they can bring to this organization.
Delegating
Achievement
While I enjoy taking responsibility for my own tasks, I understand that I sometimes need to ask for a colleague's help. When I find that I have too much on my plate, I try to enlist another member's help so I can ensure I'm making time for my priorities.

Area of improvement
I find it hard to detach myself from a task on my list and allow another team member to complete it. I intend to shift focus to prioritizing my tasks when I first receive assignments so I can immediately identify any items that I can delegate to other team members.
Productivity
Achievement
I'm intentional about maximizing my productivity at work. Over the past three months, I've been using the Getting Things Done method to help me organize, prioritize, and efficiently accomplish my tasks.

Area of improvement
While I am thorough in listing and prioritizing my tasks, I often struggle to complete them in a timely manner, which leaves me with extra tasks to complete for the next day. To improve my productivity, I'm going to create a plan at the start of each day that specifies the amount of time I should allot to each task.
Time management
Achievement
I have been successful at staying on top of the tasks and projects that require me to deliver work within a set timeframe. I keep an organized planner and to-do list and set calendar reminders to ensure I don't overlook a due date.

Area of improvement
I find myself falling behind on assignments from time to time. To stay on track, I started calendar blocking in my planner and made a detailed plan of when I need to finish one task and start the next one.
Teamwork
Achievement
I am intentional about involving my team members in every part of collaborative projects and ensuring they all have opportunities to share their ideas and concerns. Before starting any team project, I gather every participant's contact information and create a channel that allows us to communicate in a dedicated space.

Area of improvement
I can be shy, so it can be challenging for me to participate on the same level as my fellow team members. I am working on contributing more to these projects by getting to know my colleagues individually so I feel comfortable participating in collective projects.
Problem-solving
Achievement
I often use my planning skills to look ahead before starting a task or project. This way, I can be proactive in identifying and preparing for potential issues. I've created strategic methods and systems for addressing problems that arise so I can promptly address them.

Area of improvement
I tend to get overwhelmed when facing an issue or working under pressure. I spoke with my colleagues to learn some of their approaches to handling issues. This way, I have options for problem-solving that I can use when necessary.
Tips for writing your own self-evaluation
As you start crafting your self evaluation responses, it's time to organize your thoughts. Consider the following tips to help you write a productive, impressive, and helpful self-evaluation.
1 Give specific examples
As you write your assessment, try to be as specific as possible to demonstrate exactly what you're trying to convey and the effect it's had on the organization. For example, maybe you've been intentional about delegating tasks. You might describe the process you use to prioritize and distribute tasks while checking in with your colleagues periodically to see how they've been handling them.
2 Use metrics to support your statements
Incorporating data into your assessment can help you bring concrete meaning to what could otherwise be a subjective perspective. Numbers can help support your statements by demonstrating measurable progress and the specific results your efforts have produced.
If you're setting goals for yourself in your evaluation, try to also include numerical values that provide a point of comparison as you progress closer to your goals.
3 Reframe your weaknesses
Though you should take time to highlight your strengths and accomplishments, your self-evaluation is also an opportunity to identify how you can improve in your work. As you pinpoint these areas, try not to focus on them too much. Instead, frame them in a way that shows you've found opportunities for growth. Explain how you're willing to improve or the ways you're already working to make the necessary changes.
4 Take note of your achievements over time
Trying to recall a year's worth of achievements, learned skills, and improvements can be a bit difficult if you're starting from scratch. You might also forget about major successes you had shortly after your last performance review and focus primarily on your most recent achievements. Taking time to think and reflect ensures that you can bring your brightest moments into your self-evaluation.
Jason Wong, the founder of JWong Works, said, "It's not uncommon to get bogged down in the day to day, and it's always hard to recognize something when you're in it. Taking some time to reflect on the journey can help refill our buckets and satisfy our core need to feel a sense of progress."
To make sure you don't overlook any important achievements, try jotting down accomplishments you make (or even areas for improvement) in between your reviews. You can easily do this in a private Fellow stream, or better yet, share the note with your manager so they can easily reference your wins!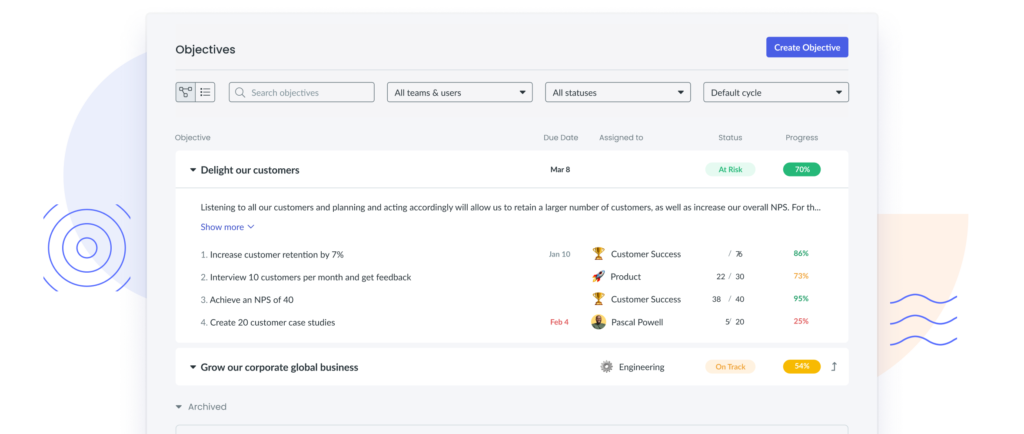 5 Practice professionalism
As you prepare to start writing your evaluation, keep in mind that your assessment is a reflection of your work as an employee. To demonstrate your professionalism, you should take your evaluation seriously. Don't wait until the last minute to start working on it. (That would speak badly about your productivity and time management skills.) Try to practice accountability and avoid speaking badly about your manager or colleagues as you provide feedback about your work experiences.
Benefits of self-evaluation
Giving your manager a thoughtful self-evaluation can be a rewarding experience for both of you. There are several benefits this type of assessment can bring, as they:
Identify opportunities for professional development
Conducting a self-evaluation allows you to reflect on your performance at your company and ways you can position yourself for professional growth. You can get a clear idea of where you currently stand and set goals for yourself that push you to advance in your position. This is especially true if you pull up data to back up your points.
When you first interviewed for your current position, your manager asked questions to determine your fit for the role based on its job description. Now that you've been in the job for a bit, your self-evaluation is the perfect chance to highlight the value you're bringing to the company. No one knows your work like you do. So completing a thoughtful assessment lets you paint the picture of how you're excelling in your position.
Help you prepare for your performance review
Your self-evaluation is just one part of your performance review. But being aware of your achievements, skills, and challenges can give you insight into the points your manager raises during their portion of your review. You can then discuss how your manager's perspective compares with yours so you can celebrate your successes and determine how to develop your weaknesses into strengths.
Showing what you're worth
When you perform a thorough self-evaluation, you show how you go above and beyond as an employee. In this part of your performance review, you can give your manager feedback about yourself and how you're fulfilling your role from your perspective, contributing to a more productive discussion for all.
With Fellow, you can introduce another productivity tool that can help you continue to meet milestones and improve your performance in the areas you flagged. Through feedback tools, you can better track your progress and ensure you have the guidance you need to excel in your work and experience grow from one self-evaluation to another.