It takes much more than just assigning tasks to be an effective manager. If you want to be a top-notch manager, you need to be in sync with your team. A great strategy for staying in the loop and keeping your team on track is to hold regular touch point meetings. Read on to find out what is a touch point meeting, how often you should have them, and what to include on the agenda. 
What is a touch point meeting?
A touch point meeting goes beyond a simple one-on-one meeting. You'll typically schedule this type of meeting to briefly check in on a team member's progress toward their goals. These meetings can be virtual or in-person, as long as you and your team member can both see each other. Touch points are one of several employee engagement strategies that can help you see where your team is at on all its projects. 

Run efficient touch point meetings, come to a decision, and get back to work
Level up your meeting habits to boost engagement and productivity with a collaborative meeting agenda. Try a tool like Fellow!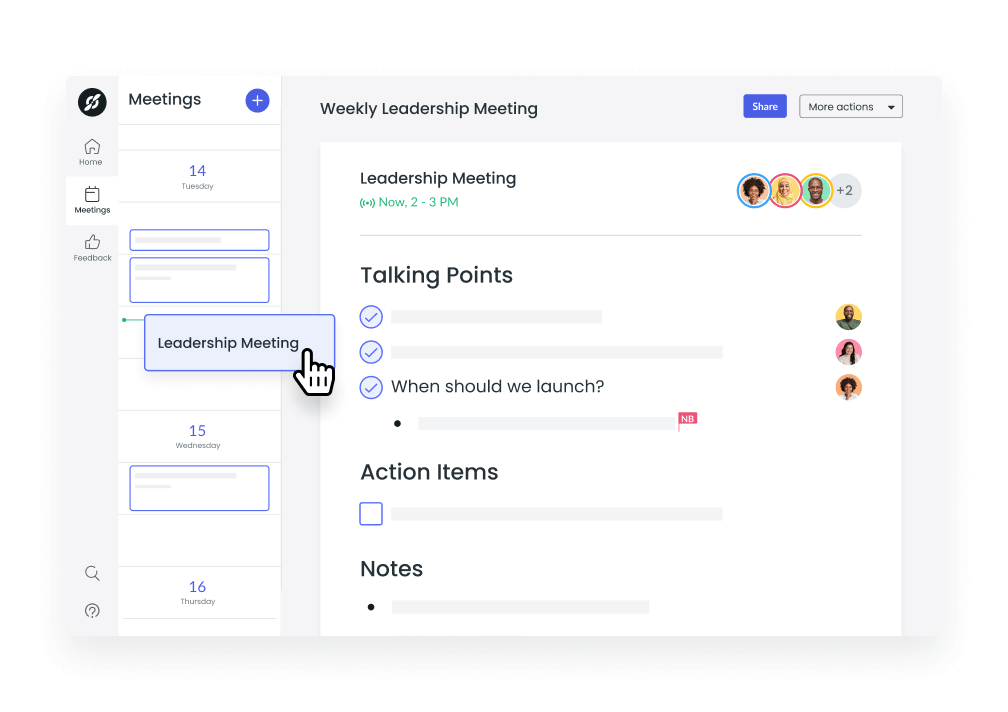 What to discuss in a touchpoint meeting?
Here's what to go over in a touchpoint meeting.
Non-task-related touchpoint meeting topics
You can use non-task-related items to set the tone for an effective touch point meeting. Your team member's goals will be your meeting agenda's focus, and adding time for small talk can help you build rapport. Here are a few important parts of any touch point meeting.
Greet each other. Depending on the time of day you're meeting, don't forget to start with a simple "good morning" or "good afternoon."
Ask what they think about another work project. When you ask a team member for peer feedback on a work topic unrelated to your meeting, it can show that you value their opinions.
Quick chat. As long as you keep it brief, a friendly conversation about almost anything non-work-related can be a great way to bond and build trust.
Task-related touchpoint meeting topics
Now for the meat and potatoes of your touch point. The meeting agenda for your touch point should focus on the below details.
Acknowledging other team members' work. Team success rarely happens because of one person. Take time to give credit to the team members who aren't in the room.
Asking how the team member is doing. Check in about how the team member's day is going. This simple question can give you a sense of whether you need to adjust the team member's workload or provide support.
Seeing whether you need to follow up with any team members. Get a clear sense of the team member's tasks that require collaboration with other team members. If these other team members aren't pulling their weight on these tasks, follow up with them.
Giving feedback on performance and goals. The spotlight of your touch point should be a formal discussion of the team member's general progress and how their goals are going.
Commenting on their recent work. After you talk about goals, you can add informal feedback about the team member's work progress over the past few days.
What to keep in mind for touch point meetings
How often you hold touch point meetings will vary by team member. Below are a few things to keep in mind when scheduling recurring touch point meetings.
1New team members
You should hold more frequent touch point meetings for team members still in the onboarding stage. This can give them the chance to let you know what's working and where they need more help.
2Skills development
As a manager, you know the importance of setting professional development goals for your team. This is a big reason to hold more touch point meetings for your team members who are ready to learn new skills. With more meetings, you can work together more closely on a training plan.
3Exceeding performance expectations
Team members who already go above and beyond might need less frequent touch point meetings. That said, your meetings can still focus on overall goals – you just might find that everything is already on track. You can also use this time to get team members' thoughts on their larger goals outside their day-to-day.
4Underperformance
Sometimes, your team members might not meet your expectations. Increasing how often you hold touch point meetings can help guide your team members. As Shopify Content and SEO Lead Kameron Jenkins explains, performance reviews are ultimately for your team's benefit.
"Emphasize that it's for them," Jenkins says. "For their professional growth and can also be the catalyst for promotions/raises in some cases. It's also a two-way conversation, so it can serve as a time where they can get performance-related concerns off their chest as well."
5Adjusting to each person
All team members have their own needs, so there's no one-size-fits-all way to schedule touch point meetings. Consider what works best for everyone on your team when figuring out how often to meet.
6Upper management
If you're a senior manager, regular conversations with your team should be the bread and butter of your work. You should expect touch point meetings to be a regular part of your day-to-day if you manage a larger team.
How can team members prepare for touchpoint meetings?
Your team member should come to your touch point meetings with a few items ready. Here's what they should prepare ahead of time.
1Issues with any current projects
Touch points are a perfect chance for team members to ask for help if they're stuck on a project. Ask them to come prepared with a list of questions for any challenges they're facing.
2Updates on tasks
Your team member should be ready to give a brief update on their work progress. Include space on the agenda for them to review progress on any deliverables, in order of priority.
3Suggestions for how you can help
Feedback in a touch point meeting should be a two-way street. Give your team member a chance to offer suggestions on how you can help them meet their goals.
4A high-level status report
Your team member can streamline the whole touch point meeting with a quick report on all their tasks and due dates. This can make it easier to go over updates for each task and keep your touch point meeting running smoothly.
4 touch point meeting follow-up best practices
A touch point meeting should end with a focused plan and clear meeting action items. Here's everything you should go over after the meeting.
1Assignments due soon
You and the team member should both walk away from your touch point meeting with a strong understanding of their tasks and due dates. Make sure you're clear on any upcoming deadlines before the meeting ends.
2Meetings to schedule
If any meetings or discussions need to happen after your touch point, get them on the calendar sooner than later. Wrap up with a list of everyone you need to talk to and how soon that should happen.
3Additional research
Figure out whether you or the team member needs to do any more research. You may want to block off extra time for this after your meeting so you can really focus on it.
4Learning and development
As you encourage professional growth, you should build in time for your team members to attend valuable training sessions. Following up after your touch point meeting can help you remember to register your team member in any training sessions you discussed.
Set your team up for success
Touch points are an easy but impactful way to give your team members everything they need to meet their goals. Fellow offers a variety of ways to keep your touch point meetings organized and productive. From collaborative meeting agendas and templates to seamless meeting notes, Fellow can help you make touchpoint meetings a regular part of your management approach. Once you've set a schedule and a structure, touch point meetings can become a low-effort way to keep your team running toward its goals.