Review meetings are essential for retrospecting on any work or performances for a given period of time. Because time is essential for productivity, it's extremely important to ensure that you have planned your meeting in advance, so that you can make the most of the time you've set aside.
Review meetings go over information that is already known so that it is really reinforced and remembered in the long term. This article will cover what a review meeting is, what the benefits are, different types of review meetings, best practices and several review meeting templates. This way, you can lead your review meetings with confidence, knowing that you'll have a productive outcome each time.
What is a review meeting?
A review meeting is an opportunity to review performance, a specific process, or strategy. The focus of review meetings are to retrospect on how performance, whether it be personal or organizational, can be improved in the future. It is necessary for leaders to analyze past performances in order to learn from them and plan more effectively for subsequent endeavors. For this reason, review meetings help organizations better understand how to optimize their performance, identify where they are now, who needs to be involved, how to make improvements, and how often review meetings need to be held in order to make those improvements.
Benefits of a review meeting
There are several benefits of hosting review meetings. First, they're a great opportunity to discuss current performance and future development. If you can identify where a person, process or strategy currently stands, you can then think about further development and improvement. Reviewing a performance also means that you and your team can come together to agree on future projects and objectives that will be beneficial to team members and to the organization as a whole.
When it comes to a performance review meeting, this is an opportunity to discuss personal career development, to guide and support employees. The objective is to both empower and encourage employees to learn and grow. Review meetings also provide the opportunity to recognize achievements, successes and consider past performances. It's important to celebrate and recognize a job well done. Moreover, when you're proud of your achievements, you can then use your approach as a model for future endeavours.
Alternatively, reviewing previous performances can highlight areas of improvement. Your review meeting then becomes an opportunity to brainstorm a means to approach organizational or personal obstacles. When you and your team come together to retrospect, it not only enhances efficiency but strengthens communications at work. As a result of your review meetings, you will have an improved operational performance.

Pro tip
Have all of your notes, action items, and feedback in one place ready for your review meetings by using a tool like Fellow.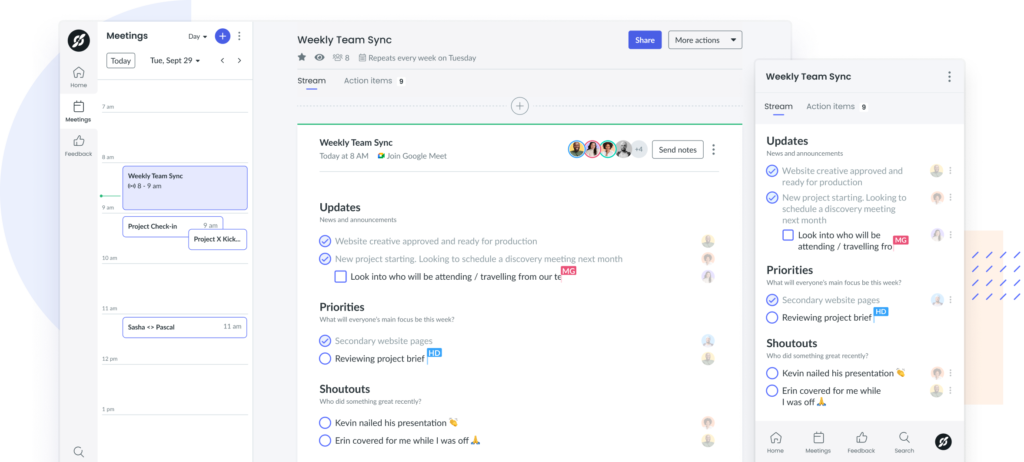 Different Types of review meetings
1 Action review meetings
Purpose:
The purpose of an action review meeting is to gain insight and generate recommendations for change. Action review meetings are held so that teams can learn from previous actions that have been taken and think about how they may be able to make improvements to these actions in the future.
Key players:
Employees and the manager responsible for the actions that have been executed.
Topics to cover:
The team should retrospect on what the plan was, what was learned and what should be changed in the approach for future actions of similar nature.
Frequency:
Per project/ action being completed.
2 Performance review meetings
Purpose:
Performance review meetings are one-on-one discussions that take place between an employee and their manager to discuss the employee's performance and goals. Personal performances are aligned with organizational goals to promote the simultaneous growth of the individual as well as the organization.
Key players:
Employees and their manager.
Topics to cover:
Employee performance, personal goals, development plan for the next few months, challenges or obstacles faced. The manager should also provide support, guidance and encouragement to the employee.
Frequency:
Monthly or quarterly basis.
3 Operational review meetings
Purpose:
Operational review meetings look back on the performance of completed projects, operations,
or any other tangible outputs. From an operational standpoint, they also serve to create subsequent steps now that the deliverable has been completed.
Key players:
Department managers, supervisors and employees within that department.
Topics to cover:
In this type of review meeting, you'll discuss actions and activities for solving smaller, short-term obstacles. Try to avoid discussions related to strategic issues or put them in your parking lot for another time.
Frequency:
Daily to monthly, depending on organizational needs.
4 Strategic review meetings
Purpose:
Strategic review meetings go over your performance indicators and goals to examine your progress and to identify any challenges or barriers that are inhibiting the execution of your business strategy.
Key players:
Executive team and/ or senior managers.
Topics to cover:
Here, you discuss the plans for project acceleration, project improvements, any modifications that may be necessary and the best way to move forwards. Make sure that operational issues are being covered in your operational review meeting, separately.
Frequency:
Monthly or quarterly, as needed.
5 Strategy renewal meetings
Purpose:
Strategy renewal meetings analyse the execution of previous strategies administered and decide if they are successful as is, need modifications or a complete restructuring. If the strategy has been successful, you can come to agree on its renewal. The potential outputs for this meeting are new or improved strategies and targets.
Key players:
Executive team, directors, senior managers and performance management team.
Topics to cover:
The company's mission, reviewing previous strategies, ways to improve current strategies, creating new strategies, new targets and gaining approval.
Frequency:
Annually.
Best practices for review meetings
Be open-minded
The reason why you're holding a review meeting is to find opportunities for improvements. While it's comfortable to stick to familiar processes and to the way things are usually done, often, stepping outside of the norm can be extremely beneficial. Be open to hearing different opinions and ideas on how to make favourable modifications to your previous organizational or personal performances.
Always share responsibility
It's not one person's job to review previous performances and come up with a way forward. Make sure that prior to the meeting, an agenda is collaboratively built, considering points that each attendee may want to cover. Ask your meeting participants to come prepared with speaking points, questions and suggestions so that you can come to informed decisions that consider the opinions of the entire group in attendance.
Don't point fingers
If something has fallen through, it's not the time to point fingers but to build the team up and encourage everyone to come together to find an effective solution. Pointing fingers is only going to break trust and discourage individuals from contributing to the conversation. Rather than pointing fingers at individuals, identify strategic, operational and resource-related improvements that can be made.
Share insight learned
Our learnings from previous experiences are extremely valuable. If the meeting participants can relate similar experiences to the current review, give them the floor and then pass the torch to any others who may have some relevant insight. The insight learned can also surface from the previous review meeting on the same topic or on a similar endeavour. Ensure that the knowledge gained is being shared with all of those in attendance so that everyone can benefit from these learnings.
Give every team member actionable items for the future
Make sure that action items are resulting from your review meetings. Hypothetical ways forward are a start, but if they're not put into action, then there's no way that future projects, strategies or people can be improved. Ensure that when you do assign action items that you are specific on what needs to be completed, by which individual and by which date. This will hold you and your team members accountable for the tasks that need to be completed in order to move forwards.
Review meeting agenda templates
Bi-weekly Leadership Retrospective
Here is a review meeting template that you can try out with your team so that you can retrospect as effectively as possible:
Performance Review Meeting Template
Try this well-rounded template to conduct a performance review with your direct report and set them up for future success.
Project Review Meeting Template
This Fellow meeting template includes 6 sections to help your team reflect back on a recent project. Try it out!
Parting advice
Whether it's a performance review, a project review, a strategy or operational review, it's important that we analyze previous performances in order to identify areas of improvement and so that we can ultimately continue to learn and grow. The type of meetings that you and your team will review depends largely on the organization's mission and goals. That said, any review meeting requires sufficient thought and planning in order to be a good use of time and to foster a collaborative environment. Planning meeting outcomes means that your review meeting should identify a strategy to address any obstacles, challenges or shortcomings. Be sure to give these review meeting agenda templates a try with your team so that you can make the most of your previous experiences and use them to grow as an individual and as an organization. It's been a pleasure seeing you here on the Fellow Blog! Be sure to shoot this article to a friend or a colleague if you found it to be helpful. Until next time!