Meeting management tools have become especially popular since the start of COVID-19, seeing as many of us moved our workdays completely online. Where many companies began using online meeting tools simply for video conferences or video calls, these tools have many more functions that are worth exploring. If you and your team are looking to leverage your next online meeting, this blog post is for you. Fellow has put together your guide to online meeting tools, beginning with what they are, what to look for and 15 meeting tools to level up your next remote (or hybrid) meeting for higher productivity and efficiency.
What are online meeting tools?
Online meeting tools are software platforms that enable virtual meetings and collaboration. While video calls are the baseline of these tools, many of them offer a whole package of tools and resources to help keep your team organized and productive. They create a framework for you to plan and execute effective meetings by managing information, setting goals, prioritizing tasks, and completing projects in a timely manner. Meeting management tools are going to keep you as organized as you can be so that your and your team members' time is optimized as much as possible.
How to pick online meeting tools
There are a few key items to look out for when selecting online meeting tools. Here are some main things that you should consider before making a decision:
Ease of use
The tool that you select has to be user-friendly and has to be easily adopted by you and the rest of your team. It's great that the tools you're prospecting offer video, but is it intuitive or is it complicated to figure it out? You don't want to waste your time adopting a tool that causes more problems than it solves. Most online meeting tools offer a demo so be sure to take some time to give them a practice trial before you pull the trigger.
Functionality
When it comes to functionality, ask yourself, what problem am I trying to solve? It's important to think about if you simply want a tool that enables HD video calls, or if you're looking for something that facilitates content sharing, instant messaging, or file sharing. If you're not exactly sure what it is that you're looking for, it's a great idea to ask your team members what they think may enhance your virtual or hybrid meetings.

Run efficient meetings, come to a decision, and get back to work
Use a meeting management tool like Fellow to easily document any concerns or problems your team may have during your meetings so you know exactly what you are solving for.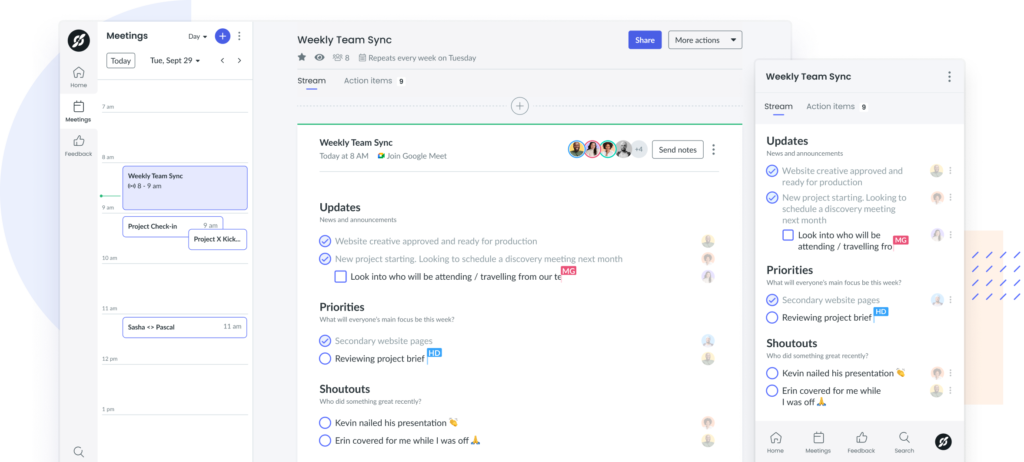 Pricing
Obviously, money matters. Don't begin your search for an online meeting tool without setting a budget first. That way, you can work backward from there, as a process of elimination. It's not always the case that the more money spent, the better product that you receive so be cautious in understanding the tool before you get the corporate credit card ready. Again, it's a great idea to request a demo so that you can see what you're getting out of the money you're putting into the tool.
Integrate with existing technology
If you're already using other tools and technologies, you're going to want to ensure that the online meeting tools that you're looking at integrating with them. If they don't, you won't feel as organized or prepared, seeing as you'll have to open a few tools to get all of the information that you need. Because it's possible to sync everything in one place, it's a smart idea to take advantage of that.
Reliability
You're going to want a tool that has a good reputation and that is known to be reliable. A quick Google search can do wonders in understanding how other users and companies rate the online meeting tools that you're looking at. In fact, any sites that rate technologies also provide key information about them, key features, pros and cons. Make sure to do your reading and research. Moreover, leverage your network and ask people from other companies which kinds of online meeting tools they use and what they think about them.
15 Online meeting tools to level-up your remote meetings
1 Zoom
Price: Free version or $14.99 per month for premium
Description: Zoom is a real-time online video conferencing tool that allows you up to 50 HD video streams to be running simultaneously. If you're looking for reliability, it's important to know that over 200,000 businesses, including many University systems, have selected Zoom as their online tool of choice. It offers video, audio, screen sharing, and group instant messaging, on your mobile device, tablet, laptop or desktop computer. For the free version, meetings have a time limit of 40 minutes but the system can be upgraded for $14.99 per month to its premium version to eliminate that time limit.
Pros: Reliable, user- friendly, widely used.
Cons: While Zoom offers basic functions, it still lacks more advanced technologies and capabilities that other tools offer.
2 GoTo Meeting
Price: $12 per month for professional, $16 per month for business version
Description: GoToMeeting is a meeting collaboration software that enables online group meetings and webinars. This online meeting tool has a few features which are over and above your typical meeting software. You can use "commuter mode" to attend meetings while you're on the go and the software is also receptive to voice commands via Siri (if you have Apple products), which enables additional flexibility. Because GoTo Meeting is a cloud-based technology, you don't need to record meetings or take meeting notes because it actually generates chat backups and transcripts automatically. It offers video conferencing, mobile conferencing, screen sharing, and meeting recordings.
Pros: User-friendly, auto-connects from the mobile app.
Cons: Longer learning curve, no ability to have several meetings simultaneously.
3 Google Meet
Price: Starting at $6 per month
Description: Google Meet is the video conferencing tool that comes with Google's G Suite. Google meet is user-friendly, providing functions such as joining your meetings directly from your Google calendar invite or email invite. Dial-in details are automatically included, which you can activate from your mobile device. Because of COVID-19 and the surge in online meetings, Google actually made their advanced enterprise features available to all G Suite customers for 6 months, which included the ability to host as many as 250 participants in a call, along with meeting recording and storage options.
Pros: User-friendly, easily integrated with other technologies.
Cons: If you don't use Gmail, Google docs, or other Google services it's not well suited.
4 Microsoft Teams
Price: Starting at $8 per month
Description: Microsoft Teams has replaced Skype for Business Online as Microsoft's professional online meeting solution. Microsoft Teams is a video conferencing app that's part of Microsoft's Office 365 suite and allows you to collaborate with your team members for meetings. If you're already using Outlook for your emails and other Microsoft products, this is certainly the online meeting tool that's best for you. Some of their key features include screen sharing, meeting recordings, instant messaging, screen sharing, and note-taking.
Pros: Advanced security and data protection, full Microsoft 365 integration.
Cons: Requires commitment to Microsoft software, more expensive.
5 BlueJeans
Price: Starting at $12 per month
Description: BlueJeans is another online meeting tool that has services, including video recording, meeting highlights with task assignment, and up to 20 breakout or meeting rooms (separate meetings) so that you and your teams can collaborate on subtasks. BlueJeans has advanced technology such as built-in analytics to identify critical discussion points and auto-assign action items to participants. You can integrate the tool with other tools and technologies that you're already using such as Slack and Office 365 (including Skype for Business).
Pros: Smart meeting minutes with task assignment, encryption-only access for improved security, custom branding.
Cons: More latency than many competitors, no background-blur option.
6 Cisco Webex
Price: Free for 3 users; upgrade to $24 per month for 8 users or $69 for up to 100 users
Description: Many Fortune 500 companies use Cisco's Webex, making it reliable and well-known. Cisco actually states that 51 million people per month attend a WebEx meeting. Features in the paid versions include multiple feeds with screen sharing options, the ability to sketch ideas on a virtual whiteboard or annotate documents, as well as the ability to record meetings. A single Cisco webinar can accommodate up to 3,000 people and you can connect up to 100,000 people with the webcasting feature.
Pros: Good data security, innovative features, supports large conferencing meetings and events.
Cons: Expensive, end-to-end encryption not included by default.
7 Fellow
While Fellow isn't a video conferencing tool, it integrates perfectly with all of these online meeting tools and compliments them for higher efficiency. We all know that if you want a meeting to be productive, you need to have a meeting agenda, which is why Fellow works well in conjunction with other online meeting tools. Fellow fosters a very collaborative virtual work environment and champions personal accountability by keeping your team organized with clear meeting action items and next steps.

Meetings worth showing up to
Use a meeting management tool like Fellow to access your meeting notes right on the video conference application of your choice for even more convenience and productivity!
8 Grain
Price: Free version or $19/user per month for premium
Description: Grain.com helps you record, transcribe, clip, and share important moments from video meetings. With Grain, you can transcribe your meetings in a preferred language, take notes, and create and share highlight clips capturing the key moments from the discussion with anyone you'd like—in a few clicks.
Pros: Organize your recordings, meeting notes, and summaries in a team workspace.
Cons: Limited transcription hours on free version.
9 Gong
Price: Free plan available; Paid plans vary per user, per month
Description: Gong.io is a conversation analytics platform that uses artificial intelligence (AI) and natural language processing (NLP) to analyze sales calls and meetings. It helps businesses improve their sales and customer success by providing insights into the effectiveness of sales conversations, identifying trends, and offering coaching suggestions to sales representatives.
Pros: Flexible plans and features.
Cons: Requires more learning to use.
10 Loom
Price: Free plan available; Paid plans start at $8 per user, per month (billed annually)
Description: Loom is an effective video messaging tool that you can use to update your team. You can send shareable meeting videos instantly to your team members who couldn't join the meeting. Loom allows you to record your camera, desktop screen, and microphone. A plus is that it works for all devices using Loom's desktop or mobile apps or Chrome extension. With Fellow's Loom integration you can bring video messaging directly into your meeting notes.
Pros: easy to use, integrates with different desktop or mobile apps.
Cons: limited recording on free plans.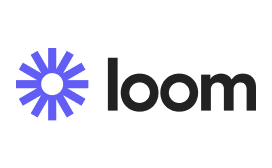 11 Slack
Price: Free plan available; Paid plans start at $7.25 per user, per month (billed annually)
Description: Slack is one of the note-worthy remote team collaboration tools both for synchronous and asynchronous communication. Its channels allow you to find the right people in one place for specific tasks. With the huddles and clips features, you can connect with your remote team through audio and video calls to collaborate and resolve issues in real time. You can also use Slack Connect for external communication with your customers, vendors, and partners. Fellow integrates with Slack helping you manage meeting agendas, action items, and meeting minutes without leaving Slack.
Pros: Automates communication processes. Easy channels, groups, and permissions.
Cons: Conversation deletion, distraction & storage.
12 Calendly
Price: Free plan available; Paid plans start at $12 per user, per month
Description: Calendly is a scheduling and appointment booking software that helps you to easily manage and organize your daily appointments, meetings, and events. This tool allows you to schedule meetings and events without the hassle of emailing back and forth.
With Calendly, you can create personalized booking links that you can share with your clients or colleagues, which enables them to book a time slot based on your availability.
Pros: Automated reminders, time zone detection, and buffer time between appointments.
Cons: Limited customer support. Free version also does not come with email reminders.
13 Miro
Price: Free plan available; Paid plans start at $8 per user, per month (billed annually)
Description: Miro is a digital collaborative whiteboard that enables distributed teams to work well together. Using the platform, teams can brainstorm, plan, and manage agile workflows. Miro is also great for those who want to optimize cross-functional teams, organize meetings and workshops, and use presentations, sharing, and video chat to collaborate effectively. With Miro, your team can connect, collaborate, and co-create documents and designs from anywhere.
Pros: The tool also has over 100 integrations with tools you already use and love—like Fellow, Zoom, and Google Docs.
Cons: has a learning curve
14 Doodle
Price: Free plan available; Paid plans start at $6 per user per month (billed annually)
Description: Doodle is an innovative tool that allows you to create stunning visuals and graphics in no time. With its intuitive user interface, you can quickly create professional-looking designs without any prior experience in design or graphic design software.
Whether you want to create social media posts, logos, flyers, or presentations, Doodle has got you covered. Its extensive library of templates, icons, images, and fonts gives you endless creative possibilities. You can customize every aspect of your design, including colors, typography, shapes, and more, to match your brand's identity or personal style.
Pros: User friendly, easy to navigate, and effective for scheduling meetings.
Cons: Limited features in its free plan.
15 LiveBoard
Price: Free plan available, Paid plans start at $10 per user per month (billed annually).
Description: LiveBoard is a digital whiteboard that allows users to collaborate, share, and interact with colleagues or students in real-time, from anywhere in the world. This powerful tool is designed to enhance productivity and teamwork by providing a visual platform that streamlines communication, brainstorming, and presentations.
With LiveBoard, you can easily upload documents, images, and videos, and draw and annotate them in real-time. This allows for a more engaging and interactive experience, making it easier to explain complex ideas and concepts.
Pros: User friendly, easy to navigate, real-time drawing, and whiteboard sharing.
Cons: Doesn't support some functionalities.
Parting advice
If you're looking to upgrade your conference calls and virtual team meetings, online meeting tools are a great way of optimizing productivity. Make sure that you take your time selecting an online meeting tool that is going to work well for you and your team and fill the gap that needs to be filled. Take your time to write out your business needs, create a budget, and to think about which meeting functions would improve your business discussions.