Now that many of us have been working remotely for a few years, you may have heard some buzz around asynchronous communication.
Gone are the days of sauntering to a colleague's cubicles for answers and input. Many companies today have employees working across time zones. For this reason, asynchronous communication—communication that happens 'out of sync'—is here to stay.
Read on to learn more about asynchronous meetings and asynchronous meeting software, and explore 10 software options to host effective asynchronous meetings.
What are asynchronous meetings?
An asynchronous meeting refers to any session that doesn't happen in real-time. This meeting type is ideal for busy teams with individuals across time zones who want to brainstorm, give feedback, and discuss important topics without the constraints of a scheduled meeting time.
Asynchronous meetings are a great way to offer flexibility in the workplace. Instead of forcing everyone to rearrange their schedules to make time for a synchronous meeting in person or on Zoom, asynchronous meetings allow everyone to work and respond at a time that's convenient for them.
What is asynchronous meeting software?
Asynchronous meeting software helps teams collaborate at different times and in different locations. When real-time communication isn't possible, asynchronous tools persist, making them accessible at any time.
There are advantages and disadvantages to using asynchronous meeting software to communicate with your team.
One of the main advantages of using asynchronous meeting software is that meeting outcomes and decisions are often well-documented and detailed for future reference. Asynchronous meetings are also great for introverted employees who may have a challenging time speaking up in a synchronous meeting environment. Asynchronous meetings allow introverts to listen quietly, think about the topic, and respond in their own time.
Using asynchronous meeting software has its disadvantages as well. Teams miss out on important face time when they prioritize asynchronous communication. Additionally, time-sensitive messages may not get an immediate response, which can be a setback for individuals and teams working with tight deadlines.

Great async meetings start here
When you use a meeting management tool like Fellow, you can have one source of truth for every meeting, boost transparency and accountability, and never forget what was discussed.
10 must-try asynchronous meeting software
1Fellow
Fellow is the software of choice for teams looking to level up their meetings. With Fellow, you can gather to build collaborative meeting agendas, record decisions, host efficient team meetings and one-on-ones, and keep each other accountable. With our software, you and your teammates can build great asynchronous meeting habits with collaborative agendas, real-time notetaking, and an array of time-saving templates.
With Fellow's browser extensions, you can also access your meeting notes right inside of Google Meet calls and your Google Calendar to supercharge your meetings.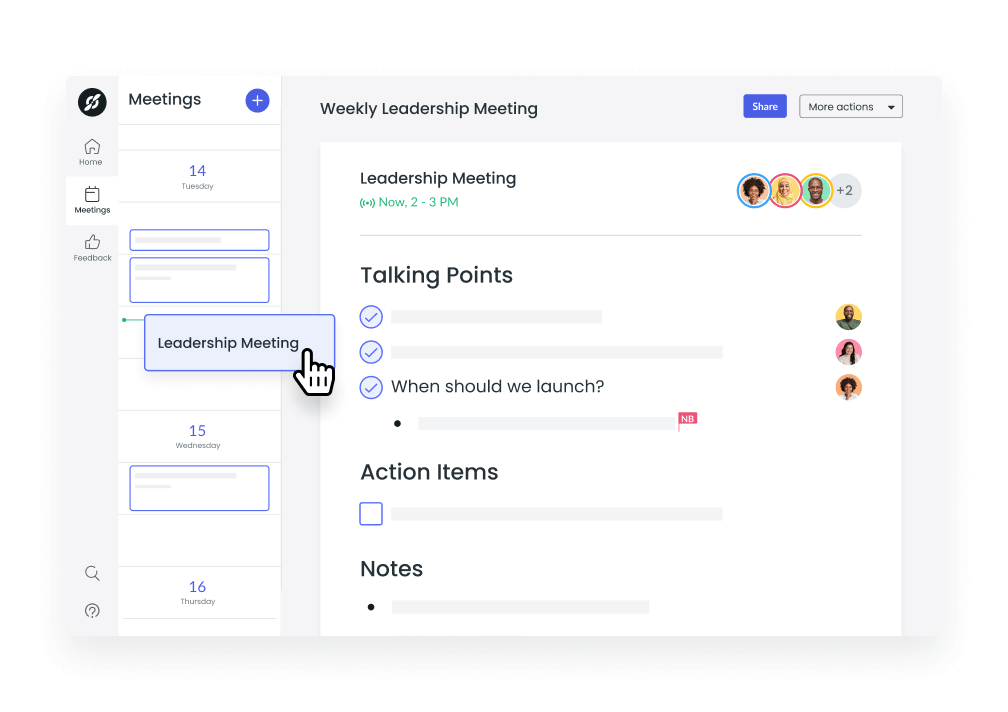 2Loom
Loom is a one-way video messaging tool that you can use to record yourself and your screen and send the final video to others through a shareable link. The tool is great for those who want to make recording and screen sharing asynchronously easier. With Loom, you can record your camera, microphone, and desktop simultaneously, and add comments to videos that others share with you.
The best part: You can enhance your meeting notes with embedded video content when you integrate Loom with Fellow. Create engaging meeting agendas, notes, and recaps with additional context that makes it easier for your team to refer back to past decisions.
3Discord
Discord is a free Voice over IP (VoIP) and instant messaging software designed to facilitate communication within the workspace and in gaming. Using Discord, employees can talk over video, audio, and text to build communities where they can discuss everything from large company goals to day-to-day action items. Discord's Slack-style interface is ideal for organizing group efforts in thematic sessions and can reduce the need for tedious email communications. While the tool receives mass attention from the gaming community, it's also gaining interest from members of the business community looking for tools with similar features to apps like Facebook and Microsoft Teams.
4Range
Range is an asynchronous software designed to help teams share daily check-ins, track goals, and run effective meetings. Using the tool, employees can create intentionality and accountability around meetings with multiplayer agendas, notes, and tools. Other features include the ability to integrate with your favorite tools and track what matters without micromanaging. While Range may seem like a similar tool to Fellow, there are some key differences. Most notably, Range is great for stand-ups and check-ins, but Fellow is designed with all types of meetings in mind so you can create and customize a system that works best for you.
Curious to see how Fellow and Range compare? Check out our Fellow vs. Range feature-by-feature breakdown to see which tool is better suited to your meeting management needs.
5Docket
Docket is a meetings-focused platform that aims to help all meeting attendees feel more prepared. With the tool, you and your team can build agendas and share resources that keep everyone on the same page. Additionally, you can assign action items, take meeting minutes, and visit your recurring meeting history to review past meeting decisions and action items. Docket also fits into your team workflow and tools so you can share meeting agendas, notes, decisions, and more with apps your already use—like Hubspot, Google Drive, and Salesforce.
With more core features, app integrations, and sharing capabilities, Fellow is an excellent Docket alternative. See for yourself by checking out our Fellow vs. Docket feature-by-feature breakdown.
6Standuply
Standuply is a digital agile development assistant. This Slack bot runs stand-up meetings in text format right in Microsoft Teams and Slack. It helps distributed teams stay organized and run stand-ups while in-person teams can use it to optimize their meeting efficiency as well. The tool also saves repeated answers from Slack and Teams and connects employees with internal subject matter experts when there is no answer. For more complex agile processes, Standuply connects to Jira, GitHub, and other tools to build agile charts and run backlog grooming, planning poker, and more.
7Google Docs
Google Docs is one of many useful asynchronous meeting software housed by Google Workspace. The online document editor can help drive effective asynchronous work across increasingly distributed teams. With Google Docs, teammates can independently collaborate on documents and use the editor's features to ask questions and continue with other tasks until they receive a response. This can help create a culture of autonomy within a larger setting of trust. Additionally, Google Docs users can use the platform to confidently work across timezones without needing an immediate response from their peers.
8Geekbot
Geekbot automates recurring tasks like standups, surveys, and daily reports. Managers can set the time and frequency of standups, and specify the questions to ask and who should receive a prompt. Then, Geekbot will post everyone's responses in Slack or Microsoft Teams, saving you precious hours you would have otherwise spent in meetings. Some other features include templates to start the process, a platform tailored to each user's local time zone, and friendly reminders that leaders can send to employees when they forget to respond.
9Miro
Miro is a digital collaborative whiteboard that enables distributed teams to work well together. Using the platform, teams can brainstorm, plan, and manage agile workflows. Miro is also great for those who want to optimize cross-functional teams, organize meetings and workshops, and use presentations, sharing, and video chat to collaborate effectively. With Miro, your team can connect, collaborate, and co-create documents and designs from anywhere. The tool also has over 100 integrations with tools you already use and love—like Zoom, Google Docs, and Jira.
10Slack
If you work within a remote team, you probably use Slack to communicate with your teammates. If not, know that it's one of the best messaging apps to connect people to new information promptly. Use Slack to organize conversations into channels where everyone can join in one place to share ideas, make decisions, and move work forward. With channels, messaging, huddles and clips, and a space to collaborate with teams at other companies, Slack helps you stay on the same page as your colleagues and make decisions faster.
Check out Fellow's Slack integration to collaborate on meeting agendas, share meeting notes, and exchange feedback without leaving your favorite messaging app.
Parting advice
Asynchronous communication is here to stay, and with that comes asynchronous meetings. If traditional Zoom or in-person meetings aren't cutting it and you want your employees to have flexibility and control over the time they spend on any topic, try adopting asynchronous meeting software.
Meetings don't have to feel like a necessary evil. With a killer meeting tool or two, you can make the most of your meeting time and, consequently, change your team and business for the better!