You want to hold a meeting with your department next week.
How do you go about making sure the date and time you choose is the best fit for your teams? And once you have found a date and time, how do you send the team the agenda beforehand or the meeting notes after?
It can be a long and drawn-out process, complete with sending various emails and direct messages and even rescheduling after you realize it doesn't actually work for everyone. To eliminate the back and forth, you'll need to add the right meeting planning tool into your tech stack.
Why use meeting planning tools
Companies are drawn to meeting management tools when they're looking for assistance planning and guiding team meetings. Doing so is a great way to ensure meetings are held at a time that works for most of the attendees while also keeping items like meeting agendas and meeting notes in one easy-to-find location. These tools are also beneficial for creating agendas, utilizing templates, and facilitating feedback once a meeting has come to a close.
All in all, meeting management software can help meeting organizers run a more successful meeting while also ensuring that attendees know what to expect ahead of time. They can also make sure action items are completed on schedule and that everyone knows what they're responsible for completing.
12 meeting planning tools that will make your life easier
If you're looking for a meeting planning tool that can take your meetings to just so so to super successful. Some meeting tools work better for one-on-ones and scrums, while others work better for in-person events.
Check out these 12 options that you can add to your tech stack.
1 Fellow 
When you're looking for an all-in-one meeting planning tool, look no further than Fellow. With Fellow, great meetings are just the start, as it promotes teams to become more productive and engaged than ever before. Whether your organization is in-person, remote, or a hybrid of the two, Fellow helps create great meeting habits that instill success.
Features include:
Integrations with Slack, Jira, Asana, Google Meet, Google Docs, and more.
Ready-to-use templates for meeting agendas and note-taking.
The ability to share feedback in real-time on meetings, projects, and performance.
Organize action items before and after meetings.
Create personal to-do lists on digital notepads.
Meeting organizers look to a tool like Fellow when they're looking to take their meetings up a notch, stay organized, and always remain on task. Plus, with so many templates at their fingertips, Fellow is a time-saver, too.

Pro tip
Use a meeting management tool like Fellow to build a collaborative agenda, inclusive culture, and keep each other accountable all in one place!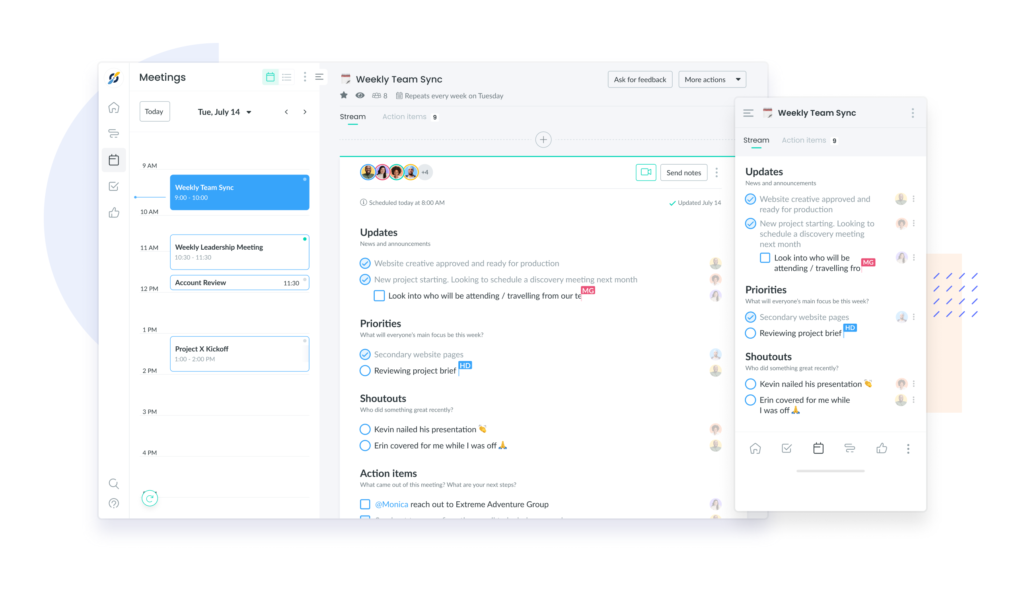 2 Hubspot Meeting Scheduler 
The Hubspot meeting scheduler eliminates the back-and-forth of sending numerous emails trying to schedule a meeting. Instead, prospects can book one-on-one meetings or group meetings with just a few clicks.
Features include:
The ability to easily schedule and book meetings.
Can easily connect and sync with other Hubspot tools.
Can embed a calendar directly on your website, so prospects can easily schedule meetings.
Seamlessly add prospects to Hubspot database.
Because prospects have access to your calendar and your availability, it's easier than ever for them to select a meeting time that works for them, giving your team more sales calls on the calendar. Plus, prospect data is instantly added to their comprehensive CRM tool.
3 Calendly
Users of Calendly as their go-to-meeting planning tool can schedule meetings efficiently without using other communication tools to find the right time. Thanks to the personalized URL for meetings, people can view your calendar, as well as your availability, in one place.
Features include:
Integrations with Zoom, Microsoft, Slack, Zapier, Google, and more.
Can send custom questions when people sign up to meet with you.
Will send people a link to a document or a web page that needs to be reviewed before meeting.
Can make events private, when necessary.
Will minimize the likelihood of attendees being no-shows.
Calendly helps meeting facilitators to lead productive meetings where everyone is on the same page. Clients can quickly get on your calendar, and this tool will even follow up with a thank you automatically.
4 Arrangr
Arrangr can schedule business meetings in a fast and hassle-free way, whether virtual or in-person. Not only can it suggest meeting times, but also the perfect meeting location for all attendees. Just input criteria, like where to go for lunch or coffee, and Arrangr will pick the spot for you.
Features include:
Can sync to Apple, Microsoft, and Google calendars.
Can reserve tentative meeting times and release them when rejected
Integrates with applications like Slack, Zapier, HubSpot, and more
Arrangr helps a meeting organizer plan and execute a productive meeting in one centralized location. There's no more searching for a URL or a PIN to organize a successful video chat or conference call.
5 Rallly
Users of Rallly can not only schedule meetings in one easy-to-use dashboard but there's also the benefit of creating simple polls where meeting attendees can vote and have a say for when the meeting takes place. This allows them to set a time that best works for their schedule and their day-to-day responsibilities.
Features include:
The ability to vote on a date to host an event.
Can create a page for an event to share with the team.
The functionality to discuss details of the event directly on the event page.
Meeting facilitators enjoy Rallly because it's easy for the team to come together to easily make decisions regarding how to make the meeting as successful as possible.
6 Doodle
Doodle gives users the power to schedule meetings with departments, colleagues, and clients in a streamlined scheduling dashboard in minutes.
Features include:
Integrations with Google Calendar, Zoom, Microsoft Teams, and more.
An automated booking page that works to eliminate no-shows.
Gives facilitators the chance to specify how long people can book meetings for.
Keeps meetings private when necessary.
Meeting organizers enjoy Doodle because they can effortlessly schedule time with anyone, see who's available and when fast, and skip the email back-and-forth of trying to find the right time to meet.
7 Clara
Clara was created as a software solution that can learn your preferences and reduce the last-minute scheduling of all of your meetings. As a virtual assistant that lives in your email, it's powered by machine learning to make meetings an easy and hassle-free experience for all.
Features include:
Integration within any email.
Machine learning to manage all of your.
Sends automatic follow-ups for you, saving you time and money.
Uses natural language via email.
Sends responses 24/7.
Meeting organizers love using Clara as their meeting planning tool because the heavy lifting is done on their behalf, all they have to do is show up.
8 Chili Piper
For revenue teams looking to double improve their inbound conversation rates, get a boost in productivity, and increase customer satisfaction, look no further than Chili Piper. It makes it easy to streamline all critical processes around meetings on your calendar.
Features include:
One-click scheduling from any email.
The ability to create as many meeting types, even on the free plan.
Automatically send reminders and reschedule when dates and times no longer works.
Integrations with Salesforce, Slack, HubSpot, Google Calendar, Zoom, and more.
Chili Piper helps meeting organizers route leads to the right salesperson, fully customize the tool for each individual's needs, and take advantage of the fact that scheduling a meeting needs very little leg work.
9 Attendify
From virtual events, event applications, event registration, and more, Attendify is a fully integrated online and mobile event platform created for in-person, virtual, and hybrid events.
Features include:
A mobile application that can connect speakers, sponsors, attendees, and exhibitors to create a successful virtual event.
A sleek user interface with native live streaming and networking abilities.
Built-in registration for attendees to easily navigate all event-related details.
Flexible live-streaming options so no one misses out on a speaker.
Meeting organizers use Attendify to drive participation in their event, grow and scale smartly and efficiently, and boost revenue to see success.
10 Eventbrite
From selling tickets to online events to helping businesses get organized, Eventbrite is a ticketing and event solution that does it all. Eventbrite is a powerful platform with a comprehensive mobile app that turns any event into a success, whether you're hosting a workshop, concert, or conference.
Features include:
Creates a space to tell attendees who, what, when, where, and why to join an event.
Can easily set up free tickets or multiple ticket types for an event to boost sales.
Can share event details on other platforms, like Facebook and Instagram.
Incorporates SEO dashboard and can partner with Google Events for maximum visibility.
Meeting organizers use Eventbrite to drive traffic to both online and in-person events. It will remove the hassle of promoting events, managing bookings, taking payments, and more so that your event goes off without a hitch.
11 Google Calendar
Google Calendar is great for teams already well-versed in Google suite tools, especially Gmail, and are looking for ways to streamline how meetings are scheduled with colleagues.
Features include:
Can integrate with other Google Tools, like Gmail, Drive, Sites, Meet, and Contacts.
Will layer coworker's calendars over one another to easily see the right day and time that works best.
Easily share calendars with other meeting attendees.
The calendar can be viewed and edited on mobile and tablet apps.
Google Calendar helps meeting organizers stay in communication with meeting attendees while storing all necessary documents within the calendar invite, making them easy to find for anyone joining the meeting.
12 ClickUp
ClickUp is a flexible productivity platform built for teams of all sizes and across industries to manage tasks, monitor updates, and work together, all in one place. It's packed with a range of powerful and customizable features to accommodate any type of work—including a dynamic document editor: ClickUp Docs.
Like Google Docs, ClickUp Docs allows you to work alongside your team with real-time collaboration, and rich text editing to structure your writing without ever needing to hit "save." What makes ClickUp Docs so powerful is that your carefully formatted knowledge bases, wikis, and roadmaps can be directly connected to your workflow, making it easier than ever to act on feedback. Even add nested pages to create a visual hierarchy! And since all Docs live within your workspace, you can easily access them via a shareable link, task relationships, or tags.
Key features:
Comments that can be edited and assigned to the team in ClickUp Docs and tasks.
Easily add formatting and style to your Docs with rich text editing that you can access with a simple slash command.
Categorize Docs for easy access and searchability across your workspace.
A meeting worth having
With the right software at your fingertips, you're sure to notice just how more productive and efficient your meeting will be. From one-on-ones with your direct reports to holding your first in-person conference, the right tool can make it all possible.