Effective communication is the backbone of team productivity and efficiency. For that reason, more and more organizations are looking for meeting management solutions that will provide structure, foster transparency, encourage open communications, and empower teams to run valuable meetings.
Meeting management tools guide teams in terms of meeting scheduling, structuring a meeting agenda, determining action items and producing meeting notes that you can read back on.
Setting up a real-time, online meeting can become complicated when you're working with team members who work in different time zones. In fact, sometimes simply picking a meeting time can seem impossible! For that reason, Fellow is here to take you through the trendiest meeting management tools that are being noticed in 2022. 
---
What is a meeting management tool?
If you want to improve virtual meetings and collaboration, there are different types of meeting management tools that can help. The purpose of meeting management tools is to create a framework for you to plan and execute effective meetings by managing information, setting goals, prioritizing tasks and executing projects in a timely manner.
Meeting management tools are going to keep you as organized as you can be so that your most precious asset (time) is optimized as much as possible.
Keep reading to find out why meeting management solutions will enhance and improve the way that your team operates day to day.
---
The benefits of using a meeting management tool
It's essential to the success of your business to competently organize and execute meetings in the most effective way possible. It can become a strenuous task to get this done without any assistance.
Some of the major benefits of using a meeting management tool are that they streamline your planning, optimize data management and the accessibility of information, and strengthen communications between you and your team members. Now, let's get into the details:
1 Planning
The first (and arguably the most important) benefit of using a meeting management tool is efficient planning and task distribution. Planning is multi-faceted and includes everything from devising the date, time and location of a meeting, considering the calendars of the attendees, planning the content of the meeting by creating a meeting agenda, including relevant resources for the meeting, creating action items and writing notes that you can circulate afterwards.
A meeting management software is going to help bring your planning to the next level by using intelligent organizational functions. In terms of task distribution, a management tool is going to help you assign and allocate tasks, estimate the time that's necessary to complete each responsibility and enable you to tackle tasks in order of priority. Essentially, this is going to facilitate the simultaneous management of several projects being rolled out in the same time frame.
2 Data management
Another benefit of using a meeting management tool is that it will assist you with making sense of large amounts of information or data. Creating and maintaining information in a management software is significantly easier than trying to manage it independently because it will help you understand the details concerning the progress of projects, performance indicators and forecasts. It will also allow you to make more sense of workload data, timeframes, which resources are allocated to specific tasks, and to generally keep on top of requirements and tasks that have been set out.
Meeting management tools consolidate and organize data so that it is more organized and more easily understood.
3 Open communication
Like we mentioned earlier, communications really are the backbone of team productivity. A management software tool is going to help facilitate more open, honest communications with your team members. Each tool takes a personalized communications approach so that the interactions between you and your team members (whether you're working with remote teams or you're in the office) feel genuine.
Meeting management tools are going to support you as you discuss and organize different solutions to project issues, anticipate and manage risks, share information about the progress of each project and overall, make it a lot more comfortable to have both casual and more difficult conversations amongst your team.
---
7 meeting management tools to try in 2022
1 Calendly
Best suited for: Scheduling meetings and keeping your calendar organized.
Calendly connects and syncs to your Google calendar and, by sending a link, allows other people to schedule times to meet in your calendar. It also integrates quite well with Outlook and Zoom so that you can choose which meeting platform best suits you and your team. Calendly is an online appointment scheduling software that will help you better manage your meetings.
2 Fellow
Best suited for: Collaborating on meeting agendas, recording meeting minutes, and tracking action items to keep your team accountable and organized.
Fellow is your saving grace for meeting agenda templates, creating action items, assigning them, and writing meeting notes. This tool fosters a very collaborative virtual work environment and champions personal accountability by keeping your team organized with clear meeting action items and next steps.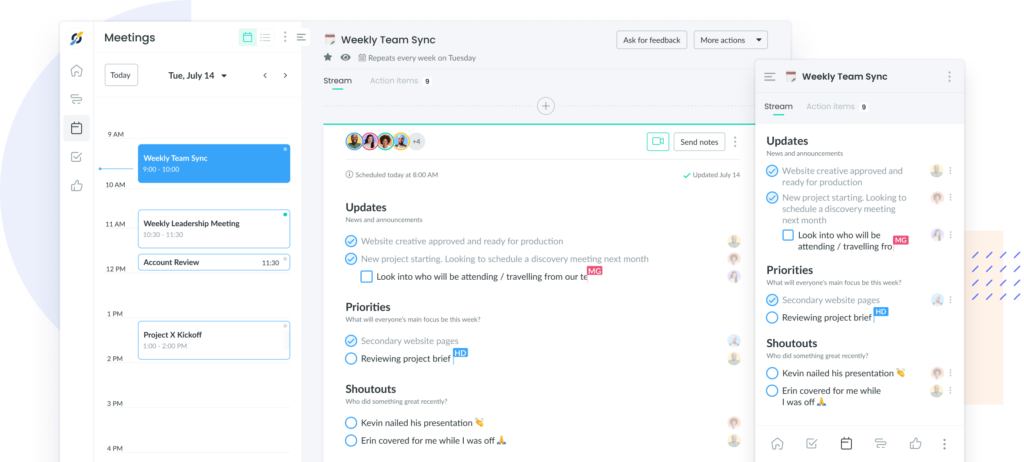 3 Slido
Best suited for: Q&A and polling during virtual events.
Slido is best-suited for large meetings or presentations. This tool is really interactive, as it crowdsources top questions and engages participants with real time polls and quizzes. Moreover, Slido is very user friendly and encourages participation anonymously which promotes engagement among users who might be a little more shy. It's simple for attendees to register and enter the portal to participate in the live polls.
4 Vidyard
Best suited for: An asynchronous approach using video.
If you're interested in adapting more asynchronous communication, this might be a helpful tool to manage the number of meetings in your calendar. Vidyard is known for its ability to record and send videos to your team. This tool is super helpful for creating training videos, tutorials and how-to's, giving a very personalized approach to customers. It integrates with your Chrome browser and many CRMs.
5 Chilli Piper
Best suited for: Sales teams looking to manage sales meetings and optimize productivity.
Chili Piper is especially effective if you work in sales. It has an automated feature that books appointments or calls directly into your calendar and it helps you generate leads and manage sales meetings in a much more timely manner. This tool is user friendly and you can pin it to your Google Chrome browser as an add on. It integrates seamlessly with Salesforce, Outlook, Google and more.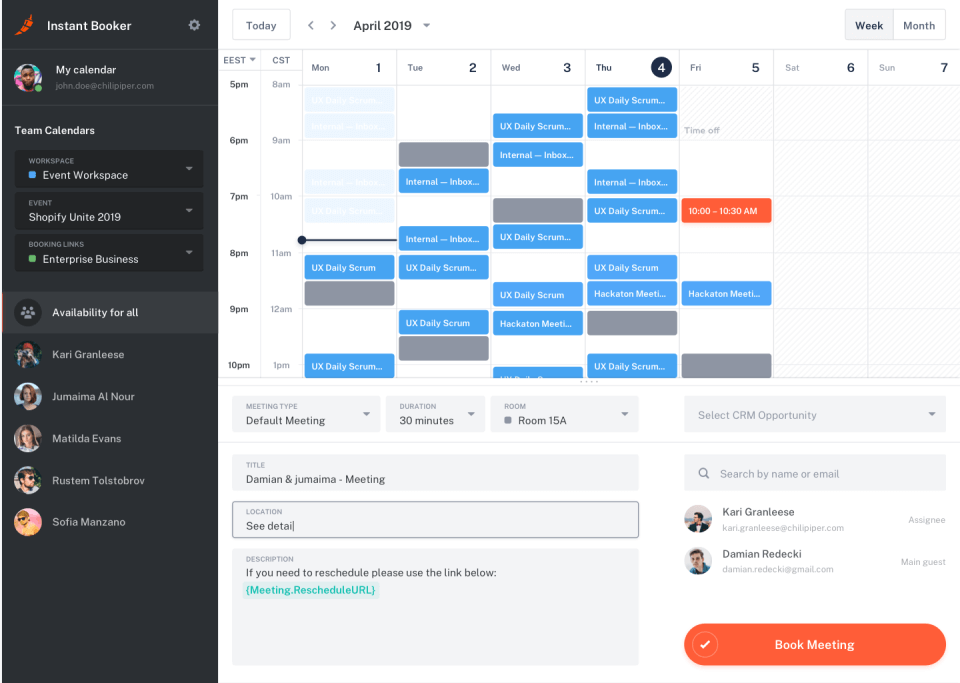 6 Geekbot
Best suited for: Asynchronous stand-up meetings within Slack.
Geekbot is a slackbot assistant that supports users in setting up and managing stand-up asynchronous meetings. For product and development managers, it gives a clear idea of who is doing what. Overall it brings efficiency to the team by clarifying what your colleagues are working on on a day-to-day basis.
7 Whereby
Best suited for: Video conferencing, with no downloads necessary.
Whereby is a new video conferencing meeting tool for organizations who are looking to host easy to set-up and reliable video meetings. All meetings happen on your browser, which is really convenient because there aren't any apps or installs required, and no login required for guests. You can also record these sessions so that people can revisit the session or those who weren't able to attend in real time can catch up to speed.
How to choose the best meeting software
It may seem overwhelming to make a decision on which meeting management tools are best suited for you and your team but we promise, it's not as tough as it seems! Each meeting management software offers something unique. The key to making a decision on meeting software is to think about which features you feel are necessary for the successful functioning of the organization and which functions have the ability to solve existing problems.
Make your decision based on the key features, the problems you feel this tool will solve, the funds available and your team's preferences. Many meeting management tools offer demos, free trials, and extra resources so that you can get a taste of the tool before you fully commit.
---
👉 Want to learn more about how Fellow helps teams have productive meetings through collaborative agendas, feedback, and action items? Request a demo
---
When the time comes, and you feel like you're ready to decide on a meeting management tool, be sure to revisit this article or share it with a friend or a colleague for a second opinion.
As always, thanks for stumbling along the Fellow blog! We hope that this post will help you with your decision to engage a meeting management tool. Looking forward to seeing you again soon!