We all know what a bad meeting looks like. No meeting agenda. The conversation is all over the place. There is no real goal or purpose as to why you're meeting in the first place. It starts late or goes over the allotted time. Or maybe you leave without a clear plan of what to do next.
It all comes down to having (or not having) a meeting agenda.
Whatever the case may be, the "bad" meetings you've attended were likely unproductive and a waste of time because there was no meeting agenda to go along with it.
This is a rookie mistake that we've likely all made at some point, but it's easier than ever, as well as absolutely crucial, that you include an agenda before each meeting.
---
What is a meeting agenda?
A meeting agenda consists of a list of topics, talking points, action items, and activities you're looking to discuss during the meeting. It should include a clear and comprehensive outline of what should happen as the meeting takes place, who the owner of each item is, and how long each discussion point or task should take.
It's absolutely crucial to the success of your team meeting that this information is provided to all meeting participants beforehand and as the meeting is taking place for the best chance of maximum meeting productivity.

Meetings worth showing up to
A well-run meeting can foster communication and collaboration by including an agenda the whole team can contribute to. Try using a tool like Fellow!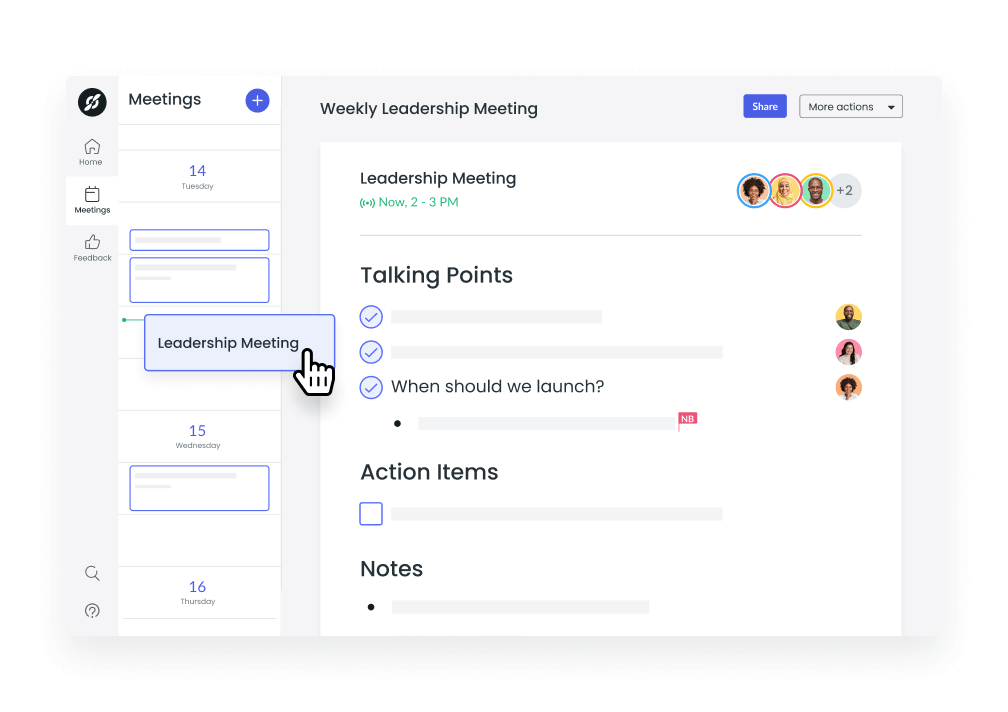 ---
The importance of an effective meeting agenda
As your employees or coworkers attend a meeting, they have expectations that it'll be organized and productive with meaningful conversations. Otherwise, the meeting could have probably been an email.
When an effective meeting agenda is already created, the likelihood of this happening is that much greater. We can't stress enough how important it is to have a meeting agenda prepared before everyone comes together to meet.
Here are some reasons why having agenda items ready is highly recommended.
1 Gives the meeting a clear purpose
First and foremost, whether it's a quick check-in or a formal meeting, an agenda sets clear meeting objectives that drive productivity. Your employees and coworkers will have an understanding of all discussion topics to come ready with and everyone understands the why — meaning the purpose of why everyone is coming together to meet in the first place.
2 Empowers everyone to contribute
A great meeting agenda also ensures that all team members can have a chance to contribute to the discussion. Because they'll know the talking points and action items ahead of time, they can come prepared with ideas, questions, and things to consider.
3 Allows you to stay on track and avoid distractions
Without a clear agenda ready beforehand, chances are high the meeting may become a little… all over the place. If you want to stay on track, avoid distractions, and keep the discussion flowing, a meeting agenda can help.
Otherwise, you run the risk of having to schedule another meeting, which could only lead to burnout and even less productivity.
4 Creates a single source of truth for decisions
Remember that meeting that took place last Wednesday? Do you remember what was discussed? Or can you recall what decisions were made at the end?
Probably not. If you have a meeting agenda to look back on, it creates a single source of truth and a clear reference point for all of the meeting minutes. It also tracks the decisions that took place during discussions, as well as the meeting notes that can be used as a refresher at any moment.
5 Clarifies expectations and responsibilities
In addition to helping you keep track of decisions, a meeting agenda will also clarify expectations and responsibilities not only before a meeting starts but once it's over, too.
With a clear agenda, questions surrounding the goals of the meeting, who's in charge of what, and any discussion topics, are all explained before, during, and after the meeting.
---
Who owns the agenda?
Alright, now that you know why having a meeting agenda is so crucial… who's in charge of creating one?
The owner of the meeting agenda is on the shoulders of the meeting organizer. It's up to this person (or a team of people) to create the template, but remember that it's everyone's responsibility to add talking points and various action items that need to be discussed.
If only the manager takes the time to add talking points, it's only going to be the manager talking. Not only is this not productive or a good use of everyone's time, but chances are also good there are going to be some yawns from meeting attendees.
Pro Tip
Encourage everyone on the team to add talking points to the agenda before the meeting. You could even assign specific owners for each section of your meeting template to ensure that every meeting attendee is actively participating.
---
What to include in the meeting agenda
If you're the meeting organizer, and it's up to you to create the agenda, here are some must-haves that you'll need to include to make it as comprehensive as possible:
Main themes
Talking points
Support documents
Decisions
Action items
How in-depth you go into each of these components will range depending on the type of meeting you're holding, but the agenda should always cover those five elements throughout.
Pro Tip
Include supporting links, documents, and graphics in the meeting agenda so people have time to prepare their thoughts and questions in advance.
---
How to use the agenda
You know all the benefits, you've got it written, now it's time to put all of that hard work into practice. Here's how to use the meeting agenda efficiently.
1 Create a template with headings
As you create your agenda, be sure to build a template with headers that are little on the general or basic side. This way you can re-use the agenda you've created for varying types of meetings.
Or, why go through the hassle of creating a template from scratch when there are so many templates available? Fellow's template library lets you choose meeting agenda templates for standard meetings, remote meetings, 1-on-1 chats, and even boasts expert-approved templates that go above and beyond.
With so many options, you're sure to find a template that fits the type of meeting you plan to hold.
2 Save it as a recurring template for your meetings
We hinted at this above, but once you create the different types of templates for the different types of meetings you plan on leading, save yourself the time, energy, and stress of constantly having to start from scratch.
Once you find an agenda that works, save it as a recurring template for that type of meeting. Not only is it more convenient, but the meeting attendees will get used to the look and feel of the template and will know exactly what to expect in the meeting details.
3 Empower teammates to add talking points within each section of the template
The agenda for your meeting should be a living, breathing document. Make sure to use it as such. To do this, encourage your teammates to add their own talking points under each section of the template throughout the week.
This could include anything like questions they have about a project or for the group, slight bottlenecks they've run into it, suggestions they have, or any new ideas they've thought of in-between meetings.
This not only allows the entire team to get involved, but it also ensures the meeting is as productive as possible.
4 Prompt people to contribute to the agenda ahead of time
Having trouble getting your team to contribute to the agenda?
We hear you. Having to constantly remind your team to add their talking points or questions ahead of joining can feel time-consuming.
To avoid having to repeat yourself, allow Fellow's Slack Integration to do it for you! The feature will prompt the meeting attendees to contribute to the agenda ahead of time, so they have consistent reminders to utilize the agenda to its fullest potential.
5 During the meeting, check off the talking points as you go
To make the agenda you created as useful as possible, be sure to keep it open during your meeting.
If you're using a meeting management tool like Fellow, not only can you check off the talking points as you discuss them, as well as make notes about questions and comments from the team, you can also see how much time is left in the meeting in the calendar view.
That way, you'll never be surprised that you only have five minutes left to discuss the last few action items, and you also don't run the risk of extending the meeting over the time you have scheduled. Nothing is worse than thinking you're attending a 30-minute meeting, only for it to push into the 40-minute mark.
6 Record action items with responsible people within the agenda
As a way to hold everyone accountable and ensure you're able to hit the goals you set forth as a team, be sure to record the action items you discussed in the meeting. Also, make note of which teammate is responsible to handle each specific action item right there in the agenda.
That way, if a few months have passed and you're missing something for an assignment, you can check back into the agenda, look for the person who was assigned each action item, and quickly see who dropped the ball.
It's just another way you can hold your team accountable for their part of the project or assignment.
7 Highlight key decisions
The more productive the agenda, the more productive the meeting will be. And with that comes making smarter key decisions for both your team but the organization as a whole.
In order to not forget the decisions that were made, who made them, and what is needed to accomplish these decisions as you move forward, be sure it's all highlighted in the agenda!
Not only will this keep everything organized, but it provides a place that you and your team can always turn back to as a reference point if you need it in the future.
8 Share the meeting notes
In a perfect world, you've found the sweet spot in everyone's calendars that allows everyone to attend your meeting.
Unfortunately, a perfect world is not where we live and there are always going to be people who just can't attend. Whether it may be that they're out of the office that day or have a conflicting meeting already scheduled, that doesn't mean they have to be left in the dark.
Be sure to share the meeting recap afterward with not only the attendees but also with the people who weren't able to attend. That way everyone is clued in to what was discussed and the decisions that were made.
Best of all, you can take these notes right from inside your meeting agenda, so everything is in one cohesive place.
---
The importance of experimentation and iteration
Remember what we said about your meeting agenda being a living, breathing document?
While yes, we stand by this statement. But even so, don't be afraid to throw it in the trash and start new.
No meeting agenda is perfect, and no matter the size of your company or the industry it's in, things change. The agenda that worked in Q1 may no longer be a perfect fit come Q3.
Just like you need to consider "do I actually need this meeting" every so often, treat your agendas the same way. Don't be afraid to roll up your sleeves, iterate, and improve on your agenda from time to time to reach maximum meeting productivity.
---
Free meeting agenda templates
Now that you're a meeting agenda expert, it's time you got to see some examples of the best of the best, what they look like, and how you can tweak them a bit to ensure they work best for your organization and its unique needs.
Below are 10 examples of what a template agenda may look like:
1 Weekly team meeting
2 Remote team meeting
3 Townhall meeting
4 Board meeting minutes
5 Leadership team meeting
6 Performance review meeting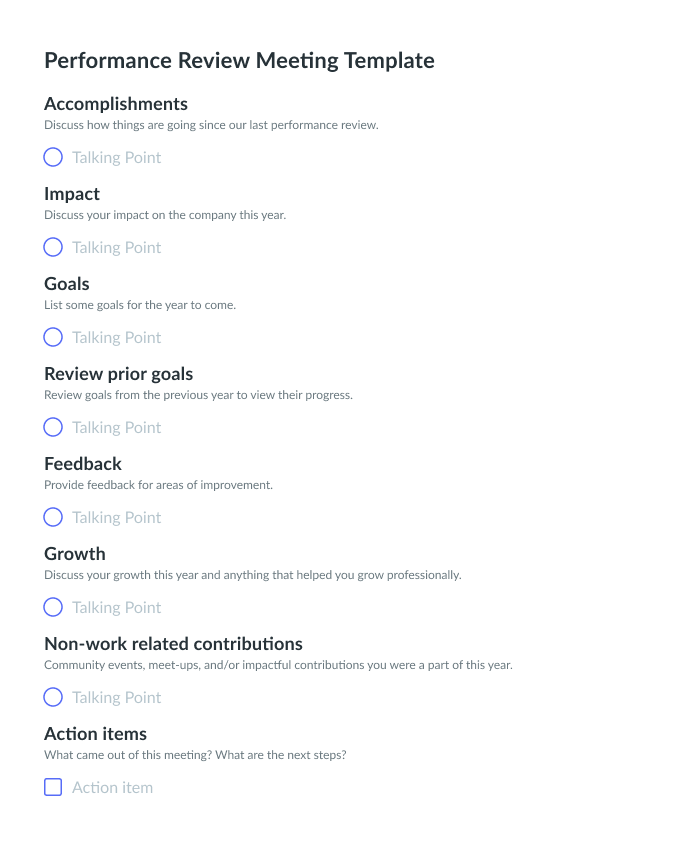 7 One-on-one meetings
8 Peer meeting agenda
9 Project kickoff meeting
10 Sales team weekly kickoff
Meeting notes software
Implementing a meeting agenda tool is a great way to ensure that your organization has a culture of meaningful and productive meetings. A meeting agenda tool can assist in the process of:
Creating agendas for meetings
Recording meeting minutes
Facilitating decision-making or discussion
Outlining meeting action items
Creating organization-wide meeting templates
Why Fellow?
Fellow is the meeting agenda tool that helps teams around the world collaborate on meeting agendas, record decisions, and foster a culture of accountability. Fellow is the top-rated meeting productivity and management tool used by thousands of companies such as Shopify, Warby Parker, and Lemonade to have more collaborative meetings.
With Fellow, your team can have one source of truth for every meeting, boost transparency and accountability, and never forget what was discussed. Fellow also provides leaders with automations and reminders to manage their teams more effectively. As a purpose-built tool for meetings, Fellow supports every type of meeting out there—from one-on-ones, to project kickoff meetings and stand-ups.
Fellow's easy-to-use agenda builder ensures that your meetings start with clarity and everyone feels inspired to contribute.
Fellow solves three key problems around running meetings. First, creating the agenda. Then, with the ability to take notes, meeting management becomes much simpler. And finally, tracking the action items that come out of every meeting. Having everything in Fellow means we can track and follow up on it."

– Mychelle Mollot, Chief Marketing Officer at Solace
Planning is everything
When you take the time to build a great meeting agenda, it can truly be a game-changer for your productivity levels. It can take your meeting from being unorganized and ineffective to successful and rewarding.
No matter what type of meeting you're looking to hold, without an agenda, there's a good chance you're not only wasting your own time but the time of your team, too.