You power on your work computer on a Monday morning. A fresh cup of coffee is beside you. You're ready to win the day.
And then you realize your day is full of meetings. You're not alone, in fact, there are roughly 11 million meetings held each day, so the chances are good that at least one of those is on your calendar. When you want to make the most of these meetings and ensure you and your team remembers the key points that were discussed, it's essential that you not only know how to take meeting notes, but that you also know how to organize them after the meeting comes to a close so they're helpful to all attendees.
Here's how.
The importance of meeting notes
There are probably a ton of meetings on your calendar at this very second. Because of this, it can be hard to keep them all straight or always remember what was discussed in each and every one.
Meeting notes give you something to look back on if you have a lingering question, need a reminder, or need to remember what the final decision on a topic was. After all, no one has a perfect memory, and the notes that are taken in a meeting can help when you forget the key points you could use a reminder on.
From keeping track of attendance, future plans, action items, or decisions, meeting notes are bound to come in handy and ensure you stay organized. They can even be sent to those who weren't able to attend, so they know what was discussed and if there's anything anyone needs from them.

Run efficient meetings, come to a decision, and get back to work.
Easily send a meeting recap with a single click of a button so that everyone feels like they were a part of the discussion using a tool like Fellow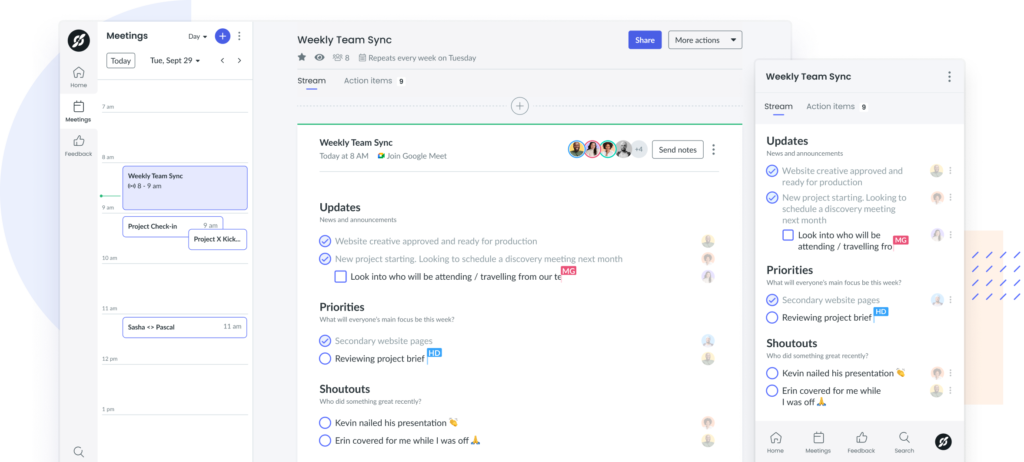 5 tips for organized meeting notes
Before the meeting kicks off and decisions are made, you need to know how to organize the meeting notes to make them as effective and beneficial as possible.
1 Stop taking individual meeting notes
There's no I in team – so when it comes to taking meeting notes, get everyone involved!
The attendees of the meeting should work together to collaborate on the meeting notes. This can come in handy if not everyone is on the same page with a takeaway from the meeting. It can also help ensure every last detail is covered since if it's only one person's job, some points could fall through the cracks.
Additionally, not everyone has the same meeting note-taking style, so if one person prefers to write their notes using lists or bulleted points, and another creates notes that look like outlines, you'll get the best of both worlds.
When all of the meeting attendees come together to share notes, everyone gets the benefit of:
Being on the same page with all pertinent information
Knowing which team member is responsible for which task
Having the answers to something they may have missed
Getting access to details when they have been forgotten
Finding a way to organize the information that works for everyone
Did you know? 51% of people are still recording meeting notes individually instead of using a collaborative document. As a result, most teams lack one source of truth for decisions, action items, and outcomes.
2 Don't organize your notes in folders
How many folders or sticky notes do you have saved onto your computer's desktop? Or even, how many do you have semi-organized in Google Drive?
If your meeting notes live in these folders, your notes may as well go to these folders to die.
There's nothing collaborative about folders and your notes will end up getting siloed. Because a folder needs constant attention, you'll have to alert your team of new documents or any updates made to older meeting notes. You'll also need to mess around with sharing settings, which can get tricky as people leave or join the organization. Additionally, it's possible that not everyone was using the same method for their note-taking. It makes it hard for a teammate to share their notes in a Google Doc if they took these notes with a physical pen and paper.
Essentially, if you keep meeting notes in folders, it'll be hard for your team to organize, share, utilize, and retrieve the information they need at a moment's notice. Eventually, the notes will be forgotten about or lost entirely.
So, what's the alternative?
3 Sync your meeting notes to your calendar
The alternative is simple: keep your notes organized by syncing any and all meetings notes into a calendar instead.
When an organization utilizes a tool like Fellow, meeting attendees benefit from a collaborative approach to taking meeting notes and accessing them afterward.
Fellow acts as a single source of truth for every meeting, giving your team elevated transparency and accountability while never forgetting what was discussed or agreed upon. Once the session is adjourned and the notes are complete, the notes can be sent with a click of a button, via email or Slack, so that everyone has access to the same information.
It's incredibly beneficial to have items like the meeting notes, meeting minutes, and even the agenda organized in the calendar event. Not only will everyone know precisely where to find the information they need, but it makes the details sharable, searchable, and actionable. No matter if you're meeting with someone in your department, a different department, or even someone at another, the notes can be shared at a moment's notice.
Pro tip: Fellow's Chrome extension helps avoid multitasking by bringing your meeting notes and agendas into Google Meet and Google Calendar. This extension acts as a single source of truth for every meeting, giving your team elevated transparency and accountability while never forgetting what was discussed or agreed upon. During the meeting, attendees can take of advantage of the browser extension and Zoom app to access meeting notes right inside of Google Meet calls and your Google Calendar to supercharge team meetings and 1-on-1 without leaving the tools that you are already using. Say goodbye to multiple, distracting tabs!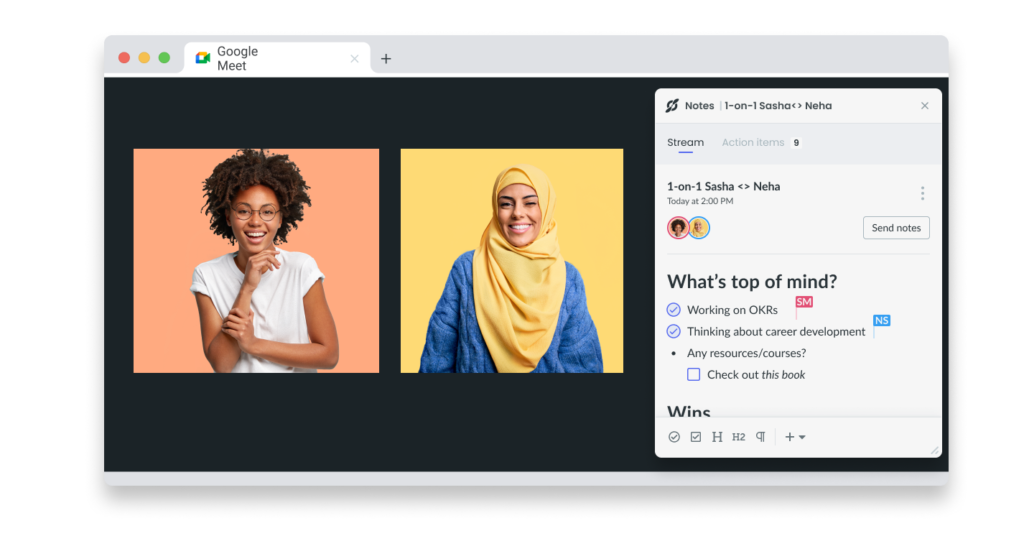 4 Rotate the role of notetaker
Depending on the type of meeting your team is having, there will be specific roles to assign ahead of time – one being the notetaker. It's up to this meeting attendee to record action items, insights, and key decisions as the meeting progresses. It's also up to them to ensure the notes get shared after the meeting comes to a close.
Just like any meeting role, the notetaker should never be the same person for each meeting. When this is the case, it becomes difficult for that individual to participate in the meetings, ask questions, or get their voice heard.
It's also a negative stereotype to assign the same woman to take the meeting notes each time. Be aware of who you ask to take the notes before each meeting begins.
There are other benefits to rotating whose job it is to take notes, like:
It allows everyone to develop a note-taking style that works for them
It creates a sense of engagement and ownership to everyone who is the note taker
It gives everyone on the team a chance to build a stronger relationship and bond over similar tasks
5 Make it a habit to end with a recap (and write it down in the agenda)
How do you wrap up the meeting notes in a structured and organized way? You end with a meeting recap.
At the end of the notes, to do this, include a short and sweet summary of the essential points that were discussed. Doing so will give anyone who is giving the notes a quick scan of the highlights and the most top-of-mind action items.
In addition to including the key points and action items, the recap can also give insights to any references the attendees may need to complete the tasks they were given and remind attendees of deadlines or when the next meeting will be held.
Once the recap is complete, don't forget to include it in the meeting agenda. Doing so makes it easy for those reading the agenda to have access to the notes in seconds, making them even more helpful than before.
Sync meeting notes and action items across tools
Surprise! Here's a bonus tip for organizing your meeting notes in a way that makes them easy to keep track of and reference.
While your meeting notes are sure to be strong on their own, they become even more substantial and thereby more beneficial to the meeting attendees if they can communicate or be paired with other tools.
As mentioned, Fellow not only can sync with the meeting calendar invite but also a ton of other helpful integrations to take your workflows up a notch. So, if your team utilizes Slack, the Fellow Slack bot can give meeting attendees a productivity boost with daily digests, insights, and reminders. Better yet, in just a few clicks, you can move an entire Slack conversation into a meeting's agenda.

Or, if your team uses Asana, the Fellow integration can send action items from the meeting directly to Asana for streamlined project management and the completion status of the tasks discussed within the meeting.
A better way to take notes
It's good to be organized, especially when it comes to your meeting notes. When the right people have access to the information within the notes, you can ensure that everyone is on the same page regarding deadlines, upcoming goals or milestones, and their own responsibilities.
And, when you want to ensure your notes fall through the cracks or are lost within a folder, be sure to utilize Fellow as a way to get the notes in front of the people who need them most.