Sometimes, what's discussed in a meeting stays there and is completely forgotten, affecting your teams' productivity. When tasks and due dates aren't clear, and when there is a lack of follow-up on action items that come from meeting notes, you and your company can suffer significant losses in money, time and energy.
If you want your meetings to be successful, having proper meeting minutes and meeting action items is crucial.
What is a meeting action item?
A meeting action item is a task that is assigned to one or more team members who have taken part in a meeting. This action item is typically born from meeting notes and meeting tasks that arise over the course of the discussion.
Action items are the next steps that are needed in order to work towards goals that have been defined in a meeting. Whoever has been assigned the action item is responsible for reporting back once they have completed their task(s).

Stay on top of it all
As your team grows, tracking action items becomes really difficult. Fellow makes this a breeze. Assign, track, and follow up on meeting action items using a meeting productivity tool like Fellow.
Why are meeting action items important?
Effective meetings rely on well-executed action items. To make your meeting worth the time and energy you have invested into it, your team members need to leave with a clear understanding of what they need to accomplish to help work towards the larger goals that require a collective effort.
Action items keep you and your team organized by creating a sequence of which tasks need to be completed by which deadlines so that your projects can move forwards and you can continue to add puzzle pieces to your team goals. These meeting tasks also hold you and your team members accountable seeing as your teammates are relying on you to deliver on your responsibilities so that they can be effective in completing their assigned tasks on time. Lastly, meeting action items are effective in tracking your progress in terms of how close you are to attaining your goals.
Keep scrolling to read about how to write and manage action items in meeting minutes in the most effective way:
5 steps to write impactful meeting action items
1 Write the action item (what)
Create a clear description of the task or action item that needs to be completed, and make sure that you give some context so that your team members can understand where this responsibility has emerged from.
If they need to get in touch with any other team members to get this done, ensure they have the proper contact information so that they can reach out to them. If they need access to any files or folders with relevant information, be sure that your team members are also clear on how to get a hold of the info they need.
2 Discuss the purpose (why)
Why is this action item necessary? Explain how this meeting task is going to push the team closer to achieving its goals.
Not only does it motivate people to understand how their responsibility fits into the bigger picture, but it might also help you recognize tasks and their importance.
3 Set a due date (when)
When setting a due date for the action item, it's important that you are realistic about the time that is required to complete the task, while considering possible obstacles that may arise before completion.
Make sure that you are firm on these due dates so that a precedent is set and your expectations can be met. If you're wishy-washy with a due date, individuals may take advantage of your flexibility and lose track of their priorities. Be open to modifying the due date but make it clear that you need due dates to be met unless a significant roadblock presents itself.
4 Assign a person to every action item (who)
If the action item isn't assigned, you'll likely have to do it yourself… Be sure to assign a person (or group of people) to every action item identified before the meeting is over. This way, participants will leave the meeting understanding what their role is moving forward.
Assigning someone to each meeting task is going to hold your team members accountable for getting their part done. Common knowledge of which individual(s) is working on which action item will also encourage collaboration amongst the team to better understand project details.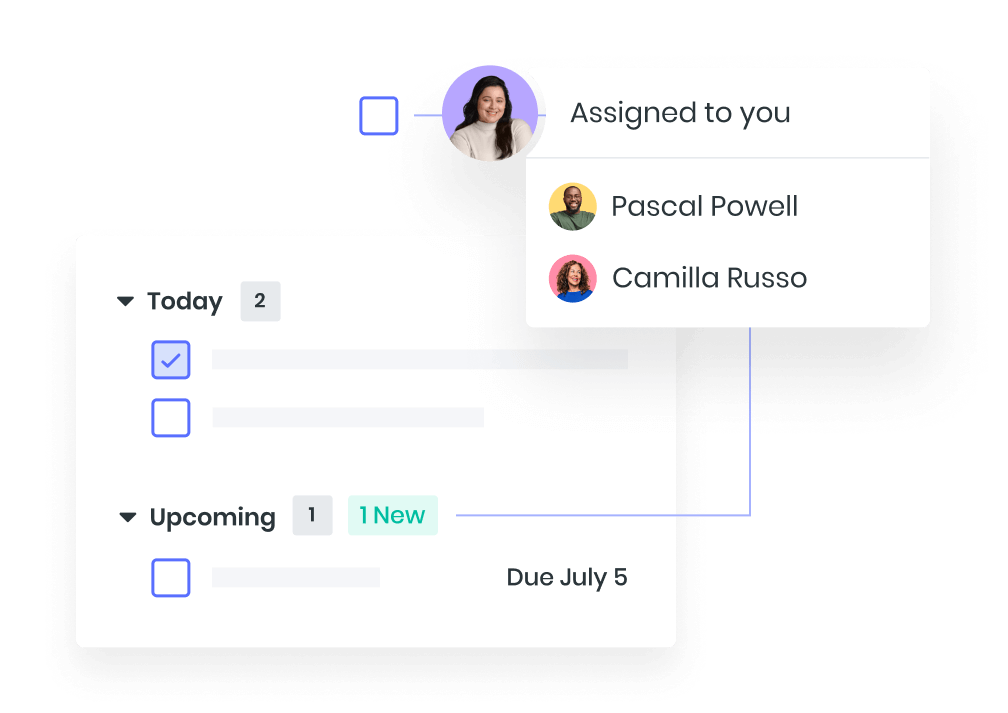 5 Think about what happens next
Make sure that your team members know that as soon as they have completed their tasks that they are notifying the person in charge of tracking the progress and changes to the meeting tasks.
Even better, you can use a meeting notes tool such as Fellow to keep an action log where your team members can go in and update their action items real-time.
In your action log, you want to include a description of the meeting task, the person(s) assigned to it, the deadline, and any other items that it is reliant on. Often, there is somewhat of a chain of tasks where one task needs to be completed first before the next person can work on their tasks. This is why your meeting tasks need to include a description and deadline of this next step to illustrate the bigger picture.
3 Best practices for managing action items after your meeting
1 Visualize all your meeting tasks in one place
Running and participating in multiple meetings with multiple action items can become very overwhelming if your tasks aren't tracked in one place. With a meeting management tool like Fellow, meeting participants and leaders can create action items directly in their meeting notes so that no extra organization is required.
You can add, assign and schedule meeting tasks at the click of a button. When you've identified and written out your tasks, consolidate them into a list or a log. This way, the team can stay on track and there are lesser chances of forgetting or ignoring action items.
Make sure that you continue to check on the progress of the tasks which can include checking their status at the beginning of the next meeting. It's a great idea to share meeting minutes as soon as they're completed so that action items can then be consolidated into one place.
2 Organize your action items
A management tool like Fellow makes managing meeting tasks simple because it organizes your action items in order of urgency and importance. Fellow uses the due dates assigned to action items and then lists them chronologically for you so that you can clearly see what you need to get working on first.
This list of action items serves as a checklist that you can follow so that you are organized and on top of your responsibilities. Furthermore, it promotes effective communication because you are able to see what needs to be completed before you can move onto the next action item and who is in charge of completing their tasks. This way, you can ask your colleagues how close they are to completing their responsibilities so that you can make some time to get started on yours, or vise versa.
3 Communicate if priorities change or problems arise
We live in a world of constant change and that includes the inevitable need to change some aspects of action items that you and your team have out together. Make sure that you are encouraging open communication with your team members so that as a need to change an action item arises, the right individuals are notified and adjustments can be made.
Fostering this ongoing communication between you and your team members means that as soon as obstacles are detected, others will be made aware and you can create a mitigation plan to continue moving forwards. Be clear with your team that as soon as priorities change or a problem arises that it should be shared with the rest of the team. Tracking action items will be made much easier for everyone involved!
---
Writing meeting tasks and their progress shouldn't have to be complicated but when there are so many moving parts, it can certainly feel that way. Consider the purpose of the action item, why it's important, when it needs to be completed by and who is in charge of it. Don't forget to consider what comes next!
In order to manage the action items after the meeting, visualize all your meeting action items in one place like the Fellow app so that you can keep organized and on top of your responsibilities.
Refer back to this guide anytime you need some direction on how to effectively write and track your meeting action items.