Maybe you've moved jobs or you're looking to move jobs soon. Perhaps you're hopping across projects or bringing on a new employee.
With global pandemic restrictions lifting around the world, networking events and in-person work meetings are back in full swing.
Being able to offer a great self introduction will be necessary as you tackle all your professional (or personal) journeys, so we're providing tips for and examples of how to have an engaging, interesting self introduction.
Why is it important to have a good introduction?
Your introduction is your first impression on a whole set of people. Not to scare you out of it, but it is a big deal to send the right message about who you are from the beginning.
Your introduction is more than just a way to break the ice. Rather, it can be a quick, effective way to display your experience, role in the company, and willingness to connect with your team.
Every professional should have an elevator pitch about themselves that summarizes highlights about their professional career while also somewhat bringing in your personality and "fun" side.

Contribute to the conversation
Check out the meeting agenda before joining a meeting to organize your thoughts and how you can contribute to the conversation! Use a collaborative tool like Fellow.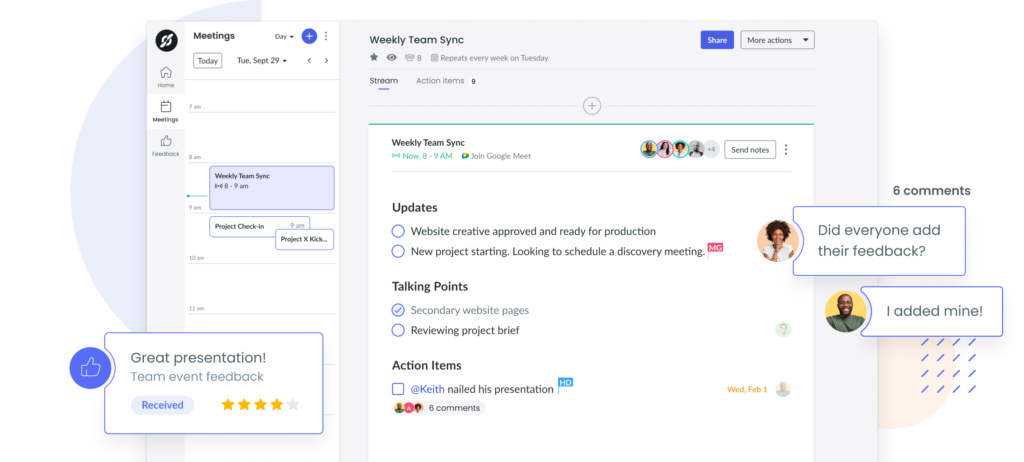 Tips to introducing yourself in a meeting
1 Share your background
First and foremost, the people you're meeting want to know who you are. Share your name, department, role, and any applicable background information. In smaller group settings, you can even take your introduction to the next step and share some fun facts, an unpopular opinion, or recommend a favorite movie or restaurant. Bringing these things into the conversation can help stimulate conversations with your new coworkers down the line.
2 Practice your introduction
Practice, practice, practice. As much as you don't like to hear it, it really is the way to help improve your chance of introduction success. Rehearsing what you're going to say is helpful for those who may feel more anxiety when presenting. At least by preparing notes and a structure for your intro, you have some guidance to follow if the nerves creep up mid-presentation.
Writing out what you're going to say can be great to help practice. For a closely similar experience to what you'll face in the meeting, try practicing with a friend or by talking directly to yourself in the mirror. Making eye contact while you speak is often where many people get distracted or overwhelmed. By acing this in your practice, you'll be on the road to introducing yourself with total confidence!
3 Consider your body language
Body language is even better at communicating than your actual words. Through body language, you can communicate your internal feelings, level of authority, care for the situation, and more.
In meetings, common examples of body language communication include:
Tapping your feet signals anxiety or impatience.
Not making eye contact signals insecurity or boredom.
Making too much eye contact signals overconfidence or can be awkward for the others you're speaking with.
Resting your head on your hand signals tiredness or lack of care.
Nodding along signals interest and engagement.
Having good posture signals that you're alert and focused.
Crossing your arms signals that you're unhappy, unsupportive of the topic, or judging.
4 Dress appropriately
Dressing well is a secret sign of good manners. It shows that you care for the event and have respect for the other attendees. Consider the dress code (business casual, casual, business attire, etc.) of the company and the type of work you're doing to help you decide what to wear.
A general rule of thumb for those who are on the fence about what to wear is that it's usually better to overdress than to underdress. Though if you're still unsure, reach out to someone else who will be attending and ask them what the dress code will be.
5 Keep it short and sweet
For your first introduction, keep it short and sweet. As much as your team would love to get to know you on a deeper level, meeting time is very precious and attendee attention spans can be short. In your intro, include 1-2 notable things (from your background, interests, etc.) that would be good talking points for a coworker to reach out to you about later.
You can even make a note in your intro that you want to get to know the team and you encourage people to reach out. This way, you allow the agenda to continue while still showing your team that you're interested to connect after the call.
6 Show that you care
Your body language, dress, behavior, and energy all go towards showing how much you really care about meeting your team. Being genuinely excited to be introducing yourself will keep energy levels high and will show your team that you're friendly and approachable.
For more anxious folks, showing your excitement can also be a great way to translate that anxious energy into something more helpful to the moment.
7 Share your reason for attending the meeting
Why are you there? What purpose does your presence offer?
Beyond sharing who you are, consider sharing what you bring to the table. Are you new to the company in general, with significant experience or relevant information from previous positions that could be useful? Are you a long-term employee who was just brought onto this project for the first time?
Sharing your reason for attending will help other participants understand what they need to hear from you, what types of questions they should send your way, and what they may even have in common with you.
8 Let your personality shine
Beyond your introduction, you can look for other ways to connect with your new team. One way is to show them your personality—who you really are! Whether through an energizing tone of voice, wit, jokes, or short stories, you have plenty of options in your introductions to put your true self on display.
If you choose to write your introduction out for easy reading or reference during the meeting, showing your personality helps you avoid sounding overly robotic or like you're reading from a script.
9 Ask questions
Ask if there's anything your team wants to know about you. Doing so is a good opportunity to create connections early on and demonstrate that you're available to learn and work with others on the project.
Asking questions may provide a teammate with an opportunity to find something in common with you, help you navigate a new area, or simply may give you a platform to share something else about yourself to the team.
10 Be friendly
First impressions are important, so be friendly and approachable. When meeting in person, you may find yourself joining in some small-talk before the meeting even begins. This is a great time to start getting to know your fellow meeting-joiners. In fact, knowing some people before you have to make your big introduction can help ease your nerves during your actual presentation.
This is a bit more difficult to navigate during remote meetings where you may not have as much opportunity to interact with other members of the call. However, if you're sent to breakout rooms or provided with free discussion time after the call, make sure to use the time to your advantage by engaging your team in conversation and keeping the energy light.
11 Use a meeting agenda
Use a collaborative meeting agenda tool like Fellow and include "introduction" with a timestamp associated with it so you know how much time you'll have for your intro. When practicing your "hey, this is me!" speech, keep this timing in mind.
If you're not in charge of creating the agenda, make sure to reach out to the meeting's organizer about it. Seeing the meeting agenda also shows you what's happening before and after your introduction, so you'll know when it's your go-time.
Example introductions
Introducing yourself to a new team
Hi everyone! My name is Mary, and I'm the new Project Manager for the retail expansion program. My background is in retail merchandising in the United Kingdom, so I'm excited to be able to bring these skills into a new project here. I just moved here a few weeks ago, so I'm really looking forward to exploring the city and meeting everyone. Thanks!
Introducing yourself at a networking event
Hi, it's great to meet you! My name is Xavier, and I'm a Master's student at ABC University. I'm set to graduate in June. I came here today to learn more about [company name] and see what open positions may be aligned with my future goals. What brings you here?
Parting advice
Don't overthink your self introduction. Take deep breaths, plan ahead, and nail down the most critical facts about yourself.
Keeping your introduction short and sweet will keep those in your conversation engaged and much more likely to remember who you are. Don't give them an information overload in your first few sentences!
After your introduction, to avoid that deafening silence, try to pass the conversation back over to your meeting or to the person you've met. Flipping the conversation back to them and asking them questions also keeps them engaged and helps you both to get to know each other better.