As much as you might love attending virtual meetings in your pajama bottoms (admit it, you've done it), in-person meetings are sometimes better. This article will show you when in-person or virtual is clearly superior and teach you what to ask when making your choice. Read on to learn everything you should know about in-person vs. virtual meetings.
How to decide between in-person and virtual meetings
If you gather your team on a regular basis, you might be wondering whether it's better to hold certain meetings online or in-person. Below are some steps you should take when it's time to make the in-person vs. virtual decision.
1 Consider the nature of the meeting
To decide whether you should have a virtual or face-to-face meeting, think about its core purpose. Namely, is the meeting task-based or relationship-based?
At a task-based meeting, you and your team will plan for an event, review schedules, or discuss potential issues. You can easily hold it online without making it less effective than you were in person. Think about it: Do you really need to be in-person to check boxes off a list? Especially if you already work remotely, you know you can probably do this one from home (or wherever).
A relationship-based meeting is a bit different. It focuses on people – an example could be a one-on-one meeting with your new associate. That's why it's better held in person. It's a lot easier to read body language and be present with someone when a screen doesn't divide you.

Delightful meetings
No matter if the meeting is virtual or in-person, make every meeting productive by sharing a collaborative agenda to encourage collaboration. Try a tool like Fellow!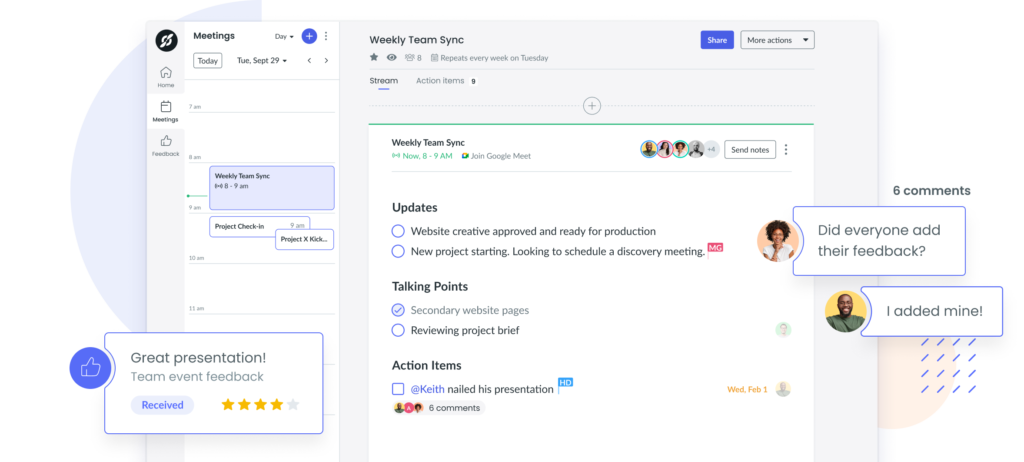 2 Follow gathering guidance
The COVID-19 pandemic has introduced some uncertainty – and new ways of gathering – to meeting in person. You'll need to respect these guidelines, even if they're not binding or mandatory. You'll also need to consider your attendees' personal boundaries if you meet face-to-face, such as mask-wearing and spacing out seats. For starters, make sure you look at local, state, and federal guidelines for direction. In the absence of local regulations, you might want to take precautionary steps based on how the virus is trending in your area.
3 Consider the complexity of the meeting subject
Often, complex problems that require team effort to solve are best addressed in person. A few examples of a high-complexity meeting include project planning, conflict mediation, and leadership development. Conversely, skills training or committee briefings are typically low-complexity and can be online meetings.
4 Determine whether an in-person or virtual meeting will be more inclusive
Let's say you're having a meeting with someone who lives in another state or country. In that case, a virtual meeting can almost make it seem like you're in the same room. Virtual meetings bring people together across borders while allowing for all kinds of communication styles. Visual learners get the opportunity to see through a shared screen, and auditory learners get to be part of the conversation.
5 Confirm that the host is prepared
Even deep into the digital age, not everyone is equally tech-savvy. That could include yourself or whoever you've tasked with hosting the meeting. Don't be afraid to ask: Does the host really have what it takes to host an effective virtual meeting? If not, returning to the conference table is probably your best bet.
Why might you need both in-person and virtual meetings?
Whether you and your team have a preference for meeting type, you'll likely fare best with a mix of both. And sure, the choice between the two is often simple – complex, people-oriented matters should happen in person, everything else can be virtual. But still: Both meeting types matter. Here's why.
Example of meetings that would be better off in person vs. virtual
At this point, you could probably decide whether your recent meetings would've been better in-person or virtual based on what you've read here. But here's a shortcut: Certain types of meetings are almost always better in-person than virtual. Read on to discover which meetings you can more easily conduct online than face-to-face.
In-person meetings
Here are a few examples of meetings that you should try your hardest to hold face-to-face.
Virtual meetings
Below are a few meetings you can hold online rather than in person.
Both in-person and virtual meetings can be great
Once you've decided whether your meeting should be virtual or in-person based on its subject matter, complexity, and attendees, it's time to start planning. That means, among other things, crafting a meeting agenda and sending it out. With Fellow, you can do all that and take collaborative meeting notes and assign meeting action items in real-time. Whether you're calling in from home or meeting face-to-face, Fellow helps you make the most of the occasion.