Peer meetings offer the perfect opportunity to connect with your teammates. We often undervalue the importance of creating strong working relationships, and as a result, we don't always know how to refine them. One-on-one meetings are a great tool you can leverage to learn how you can better support your teammates while refining your personal management and leadership skills.
In this article, we'll dive into the benefits of peer meetings, the desired length for one-on-one meetings, questions you can ask in peer meetings, and a peer meeting agenda template. By the end of this article, you'll have everything you need to navigate and conduct exceptional peer meetings.
What are peer meetings?
Peer meetings give peers the opportunity to gather in a positive light to connect, converse, catch up, ask questions, collaborate, or seek feedback. These peer meetings can also serve as a resting point where teammates can let their guard down and confide in their teammates.
Peer meetings held on a one-on-one basis are also a great way to improve communication throughout the entire organization. Understanding your teammates' struggles and offering support can help boost psychological safety while strengthening working relationships. 

Write it down
Never forget what was discussed during a peer meeting by writing down key points and feedback in a collaborative meeting agenda like Fellow!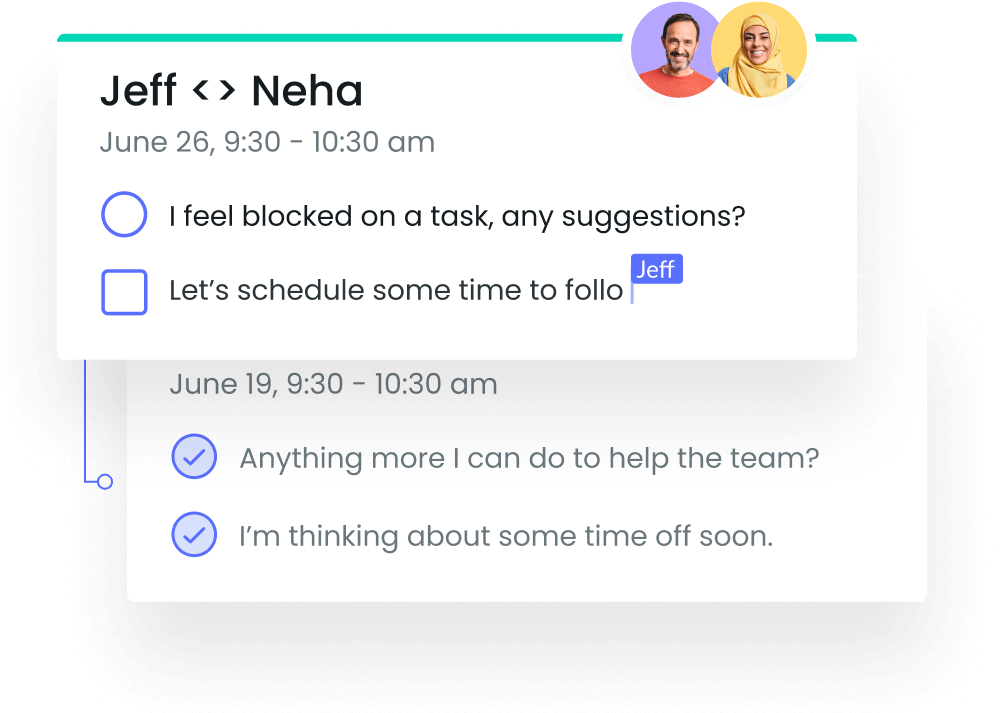 The benefits of peer meetings
1 Provoke candid conversations
It's easy to get caught up in the day-to-day functions and tasks within your organization, but it's important to remember that humans have foundational needs that enable them to thrive in the workplace. Hosting these peer meetings make it possible for you to connect with your teammates on a deeper level by opening up the door to candid conversations that may not have otherwise happened. Building a good rapport with your teammates can be tough, but if you truly value that connection, it can be as simple as hosting a weekly one-on-one.
2 Offer opportunities for improvement
Relationships take work, and professional working relationships are no exception. Continuous improvement is extremely important, especially if you want to cultivate genuine human-to-human connections, which are needed for employees to thrive. To make continuous improvement a priority, you should schedule monthly or weekly peer meetings where you focus on both giving and receiving feedback.
Do you have a never-ending list of problems that always get put on the back burner? It's normal to always have something more pressing on your agenda, but luckily these one-on-one meetings give you the time you need to tackle these issues with the appropriate stakeholders.
3 Allow for collaboration
Peer meetings are the perfect opportunity to collaborate. Some of the world's greatest ideas are born when colleagues have the opportunity to collaborate and bounce ideas off each other. It's easy to get pigeonholed, and discussing your ideas or learning about other ideas from your teammates is a great way to gain a new perspective or refine a new idea.
When you take the time to bounce your ideas off someone, you're able to gain new insights and ideas. This works best when your teammate is prepared to offer their honest feedback and you strive to do the same. These insights can be used to prepare before a meeting, gain a deeper understanding of the subject matter, or switch directions all together. 
4     Encourage teammates to share challenges
Sharing your challenges and encouraging everyone on your team to do the same is a great way to prioritize psychological safety. Letting your teammates know that it's ok to speak up when they feel challenged will not only make them feel more comfortable, but it will also help you identify areas in which you can offer more support.
As a manager or leader, it's also extremely important that you identify your own challenges, and one-on-one meetings are the perfect time to do so. When you're in a leadership role, there comes a time when you need to learn to delegate your challenges. Your team is usually composed of specialists, so it's your job to assign tasks accordingly. If you've hit a roadblock, consider consulting with one of your teammates. If your challenge is something more intensive, you can always lean on your professional network or seek additional guidance from your mentors.
5     Help teams find ways to work better together
Cohesion is all about connection, and you won't be able to connect and collaborate efficiently if you don't make time for peer meetings. Peer meetings or one-on-one meetings provide you with the time and structure you need to improve your working relationships with your teammates.
6 Inspire self-reflection
Self-reflection is the key to self-awareness since it allows us to take a deeper dive into our thoughts, feelings, emotions, and actions. When self-reflecting, we're able to look inward through a different lens and make adjustments accordingly. We don't often take the time to look inward and identify areas in which we can improve; instead, we get caught up in the day to day and keep moving forward without change.
Asking questions is crucial for self-reflection. If you don't ask questions, you won't get any answers. Peer meetings or one-on-one meetings are the perfect opportunity to look for answers to these questions. Some common questions you can ask yourself during self-reflection include: "Am I good enough to be a manager?" "Do I support my teammates adequately?" "Are my co-workers happy with my output and working style?" "Does my communication style work in favor of my end goal?"
In addition, self-reflection can:
· Help you strategize
· Help you spot opportunities and threats
· Increase your emotional intelligence
· Heighten your growth and productivity
· Give you clarity
· Improve your decision making
How often should you have peer meetings?
Determining how often you should have peer meetings is completely up to you. Essentially, the frequency of these meetings depends on the bond you want to build or the problems you want to solve. If you're looking to create lasting strengthened relationships, you may want to hold peer meetings on one-on-ones every week.
The more frequently you host these meetings, the more value you get out of them. However, it's important to make sure your meetings are still productive. You should experiment and find the cadence that works best for you and your teammates.
Questions to ask in peer meetings
Questions you can ask in peer meetings could relate to professional development, business, personal information, and everything in between. Examples include:
· What's one professional skill you're currently working on?
· What's your go-to productivity trick?
· Who has influenced you most when it comes to how you approach your work?
· What's the worst job you've ever had, and what did you learn from it?
· What's a mistake you made early on in your career, and what did you learn from it?
· What led you to this career?
· What energizes you at work?
· What drains you at work?
· What does success in the workplace look like to you?
· Are you content in your current role?
· What's a work-related accomplishment you're proud of?
· What's your biggest pet peeve when working with colleagues?
· Where do you see yourself in 10 years personally?
· Where do you see yourself in 10 years professionally?
· What advice would you give your younger self, and why?
· What do you do to turn things around when you're having an off day?
· What drains you outside of work?
· What energizes you outside of work?
· What inspires you to work hard?
· What do you need to be successful in the workplace?
· What's one of your favorite memories from the past year?
· What's one thing most people don't know about you?
· What's one thing you're currently trying to make a habit of?
· What's one thing you're learning now, and why is it important?
· What skills do you wish to acquire in the next year?
· If you could learn any new language, what would it be and why?
· What's something you've done, but will never do again?
· What's the best advice you were ever given? Who was it from?
· When you were a kid, what did you want to be when you grew up?
· What three words would your friends or family use to describe you?
· Who would play you in a movie about your life?
· What's your favorite thing to do on the weekend?
Free peer meeting agenda template
Connect, collaborate, and support your teammates through peer meetings
Congratulations! You have everything you need to host your next one-on-one meeting. Whether you're looking to strengthen your working relationships or practice self-reflection, you now have the tips, tricks, and resources you need to connect with your teammates through peer meetings.