If your team is struggling to get on the same page with projects, efficiency is lacking, and collaboration has been a struggle, you have a few ways to get things back on track.
One of these tactics is to start holding standup meetings with your team. These meetings can often help in matters of poor communication when bottlenecks are holding the team back and details are falling through the cracks.
Unsure what a standup meeting is and how to make sure they're as productive as possible? Fellow is here to help.
What is a stand up meeting?
A standup meeting is a short and sweet meeting to get teams aligned and quickly resolve issues. Typically, this type of meeting lasts between 10 to 30 minutes, depending on the size of the team and what is on the meeting agenda for discussion.
These meetings are kept short because their objective keeps everyone focused on immediate goals and discussion points. Essentially, a stand up meeting should help your team stay up to date, get focused, remain engaged with one another, and get motivated to help one another.

Stay aligned
Have a collaborative meeting agenda in Fellow as a place for your team to share their updates, record decisions, and log action items.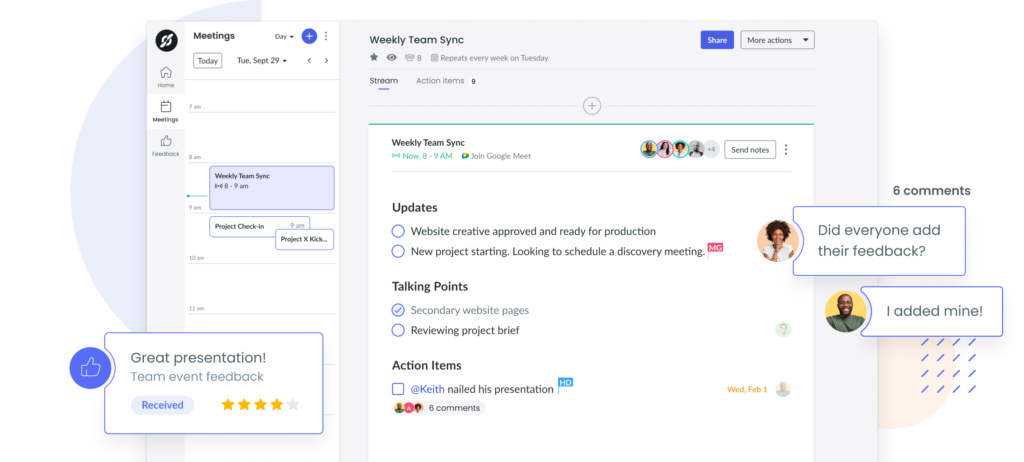 How are standups different from other meetings?
A standup plays an important role in all sorts of teams. Standups are the perfect time for small, collaborative groups to come together and discuss ways to move a project, strategy, or initiative forward. They're more concise and to-the-point than other meetings, and they should feel more productive, too.
Usually, the cadence is daily (which is why you may often hear the terms daily standup meeting, daily scrum, or daily huddle), but if your team finds this to be too frequent, a weekly cadence can also work. Since they're shorter there's no time to waste, so these meetings tend to be more structured, and the group in attendance is more likely to remain focused when discussing important issues or solving a bottleneck in a short period of time.
What are the benefits of standup meetings?
When done correctly, standup meetings can provide a team with many benefits. Some of these advantages are:
Improves collaboration and team building.
Helps avoid energy drops from long meetings (like an all-hands or monthly meeting).
Resolves any roadblocks the team members may be facing by bringing up obstacles that are holding them back from achieving a goal.
Fosters a better understanding of what your team is working on, thanks to everyone highlighting what they worked on the day before and their goals for that day.
Reinforces group identity by working towards a common goal with everyone coming together and having discussions on a regular basis.
Promotes accountability across the team by checking in and providing updates.
15 standup meeting best practices
As your team conducts a standup meeting, there are best practices to follow for them to be as effective and productive as possible. Check to make sure your team is following these 15 best practices and if not, check to see which ones you can implement.
1 Stick to a schedule
If the standup meeting is scheduled to begin at 10:00 am, make sure to stick to a schedule and start on time. Stress to the meeting attendees the importance of being on time for standups because they tend to be so short. Even if some people are missing, starting and ending the meeting on time is crucial.
2 Have a structure
Your team should know what they're walking into with every standup meeting, and they'll know what to expect if you have a structure in place outlining what everyone will be asked to share or discuss. For instance, ask attendees to be ready with the answers to these three questions:
What did I accomplish yesterday?
What's on my to-do list for today?
What obstacles am I facing that are holding me back from accomplishing my goals?
For the third question, it's okay if the answer is "I'm not facing any obstacles at this time," but make sure the team feels comfortable with not only sharing the challenges on their plate but also working together as a team to find a solution.
3 Watch for energy levels
If you're about to get the standup meeting started and you can sense a lack of motivation or willingness to be there from the team, consider beginning with a warm-up, ice breaker, or a fun exercise. Doing so will get everyone focused and alert, especially if the team is working remotely.
4 Incorporate a meeting tool
Whether you're a meeting expert or not, sometimes you need a little assistance from a meeting tool. Using software like Fellow can help you ensure meeting details are organized, agendas are well-written, and notes are all in one place. Plus, with features like the Zoom integration, Fellow helps take remote meetings up a notch without having to balance multiple tabs.
5 Get to the point
There's a time and a place to have a lengthy discussion or conversation; a standup isn't one of them. Remember that not only do you need the time for everyone to speak, but also to be able to brainstorm solutions to bottlenecks if they get brought up.
If you're sensing someone has a challenge they're facing that needs its own 30-minute meeting, schedule the meeting for after the standup. Don't force the standup meeting to run long and throw off everyone else's day!
6 Address your team
As the meeting attendees communicate, discuss, and share updates, remember that these updates are for the team, not the manager, scrum master, or agile coach. If the manager or team lead wants updates about something specific, those can be saved until a one-on-one meeting. The point of a standup is to update the team with what's on your plate and where you may need some help.
7 Keep it short
For a standup meeting to be effective, you're going to want to keep it short. Don't run longer than 30 minutes. If your standup meetings are weekly and you're noticing they're starting to run to be closer to 45 minutes, change the cadence to daily or every other day. Or, maybe the meeting is running long because the team isn't sure what to say, so instead, they're rambling.
Go back to our second best practice about structure and implementing those three questions. When the team knows the structure of the meeting and what is on them to share, they can determine what's worth sharing and what may not be as important.
8 Make it fun
Your team shouldn't dread the standup meeting, especially if it occurs daily. While it's essential to stick to the structure and cover all necessary points, you should make sure the meeting isn't boring. Start things off with a song, get people talking about their hobbies or interests, or even ask the team a fun trivia question.
9 Save the solutions for later
While problem-solving can quickly become the center of the discussion, a standup meeting isn't necessarily meant to be the place where all bottlenecks get solved. Instead, these meetings are meant to be the place where problems are brought up to the team. If the solution can be discussed relatively quickly, that's great! But if not, take the problem-solving conversation to another meeting so you don't go over the meeting's end or waste anyone's time.
10 Don't forget about your remote teammates
If your standup is a hybrid meeting, make sure you don't forget about the attendees joining remotely. Remote team members should get as much time to speak as everyone else! And don't forget to include them in conversations by encouraging them to come off mute and share their insights.
11 Try standing
There's a reason they're called standup meetings, so if you aren't already… try standing and get everyone off their feet. You can even consider making it a walking meeting. And yes, you can implement the standing rule for remote employees, too. This tactic can be especially useful to get the blood flowing if the standup is early in the morning.
12 Change it up
If the cadence of your standup is daily and attendees are frequently saying they don't have any new updates, questions, or concerns to share, consider changing the cadence to every other day or even once a week. That way when the group does come together, there are actually action items to discuss.
13 Have a scrum master
All good meetings have a leader or facilitator, so be sure to appoint a scrum master for an effective standup. This individual should help to facilitate the meeting and ensure the standup framework is followed. It's up to them to make sure that the standup doesn't go off the rails and that the discussion stays on track and remains productive.
14 Give everyone equal talking time
One person should not monopolize the standup meeting. The goal here is for all meeting attendees to get the chance to share what they've been working on and ask for help if they need it. If the meeting is running long and not everyone has enough time to speak, ask yourself if everyone in the stand up meeting needs to attend. It's not possible to run a productive stand up meeting with dozens of people, so it could be time to re-adjust the invite list.
15 Create psychological safety
Meeting attendees should feel comfortable coming into the standup and be ready to share new ideas, speak up about concerns, and offer new ideas to other members. Make sure everyone feels like they can be their authentic self during these meetings, and never make fun of or laugh at someone for sharing or bringing up specific discussion points.
Free daily standup meeting template
Still need a little help formatting your daily standup meeting? Let Fellow do the heavy lifting for you and your team with this free standup meeting template!
Get up, stand up
The next time you have a standup meeting on the schedule, run through these 15 best practices to see if there are ways to improve and make the meeting more effective. If some are missing, it's time to shake things up and ensure these tips are in place.