How seriously do you and your direct-reports take one-on-one meetings?
Some managers and employees may give one-on-ones less importance than these meetings deserve. They schedule them just because they have to, come up with a couple of last-minute questions, share some light updates, or (sometimes) don't even have them at all.
However, great team leaders acknowledge the importance of meeting frequently with their direct reports, and the potential that one-on-one meetings have to empower their fellow teammates and the organization as a whole.
The Fellow team wants to help you in your journey as a team lead. To kick things off, we'll spend a bit of time talking about some of the top benefits of having regular one-on-ones with your employees.
1 One-on-one meetings boost employee engagement and productivity
One of the primary benefits of one-on-one meetings is that they increase your team's productivity and quality of work.
"Let's say you have a one-on-one with your subordinate every two weeks, and it lasts one and a half hours. Ninety minutes of your time can enhance the quality of your subordinate's work for two weeks, or for some eighty-plus hours, and can also upgrade your understanding of what they're doing."

These are the words of Andy Grove, former CEO of Intel, who grew Intel's revenue from $2,672 to $20.8 billion in less than 30 years and wrote the book High Output Management.
In the book, Grove states that one-on-one meetings save you and your teammates time by allowing you to develop a common base of information and similar ways of handling situations. In other words, meeting regularly with your colleagues helps your team stay in sync.
In fact, Gallup's State of the American Manager report shows that employees who meet regularly with their managers are almost three times as likely to be engaged as employees who don't.

"Communication is often the basis of any healthy relationship, including the one between an employee and his or her manager," says the report. "And while all forms of communication are effective, managers who use a combination of face-to-face, phone and electronic communication are the most successful at engaging employees."
One-on-ones can take a substantial amount of time for managers with various direct-reports. However, they have a high return on investment, as the Gallup study shows.
These meetings help you and your employees discuss important ideas, remove obstacles that might be blocking productivity, and develop a list of priorities that you should focus on.
"And this is the only way in which efficient and effective delegation can take place," says Grove.
There's another way in which one-on-one meetings can boost productivity across your company. Apart from empowering individual contributors to be more productive, they also help managers allocate their time more wisely:
"One of the first things that happen when you start doing one-on-ones is you notice you start getting less questions during the week," says Mark Horstman, on the Managers Tools podcast. "Things aren't quieter… People just aren't coming to you with hundreds of small questions because they know they can wait until the one-on-one."
Do you feel that you never have enough time because you're always getting interrupted with "quick questions" from your direct reports? One-on-ones can help you fix that.
2 One-on-ones help managers build candid work relationships
The second reason why you should schedule regular one-on-ones is that these meetings empower you to develop positive relationships with your team.
As Kim Scott, author of Radical Candor, explains:
"The most important thing you can do to build trust is to spend a little time alone with each of your direct reports on a regular basis. Holding regular 1:1s in which your direct report sets the agenda and you ask questions is a good way to begin building trust."
In Radical Candor, Scott argues that building good relationships with employees is the key to becoming a great boss. She explains that great leaders use one-on-one meetings to show employees that they care personally about them, are willing to listen to their problems and want to help them grow:
"1:1s are your must-do meetings, your single best opportunity to listen, really listen, to the people on your team to make sure you understand their perspective on what's working and what's not working," says Scott. "These meetings also provide an opportunity to get to know your direct reports— to move up on the 'care personally' dimension of the Radical Candor framework."
Asking about your report's hobbies, level of satisfaction at work and career goals are all great ways to show that you care about them. And even though getting personal can feel awkward sometimes, experienced managers like Mark Rabkin, Engineering and Product VP at Facebook, argue that awkward conversations make for the best one-on-ones:
"If it's not a bit awkward, you're not talking about the real stuff," says Rabkin. "You're not talking about your challenges — how you're a little burned out and started daydreaming about other jobs and why. Or that you're scared about not making progress on a growth area."
Another thing that can feel awkward for some people is expressing appreciation. However, Rabkin argues that one-on-ones should be used to thank and recognize your employees for their good work. Even if it feels a bit awkward —or "silly" as Rabkin puts it— you should always let employees know when you feel grateful for something they do, or when they inspire you with how good they're at a certain skill:
"It lets you be you and let down your guard. It builds trust and relationships. It creates growth for both of you," says Rabkin. "Change and growth are always awkward — embrace that."
Try it out. Next time you have a one-on-one with a direct report, don't treat your meeting like one more thing to check off the to-do list. Instead, use this valuable time to improve your relationship with that person.
"I found that when I quit thinking of them as meetings and began treating them as if I were having lunch or coffee with somebody I was eager to get to know better, they ended up yielding much better conversations," says Kim Scott.

Never forget what was discussed
Show your direct reports that you care by remembering what they said during past meetings. With Fellow, you can see a history of every 1-on-1 conversation you've had and ensure that you're staying focused on important decisions and action items.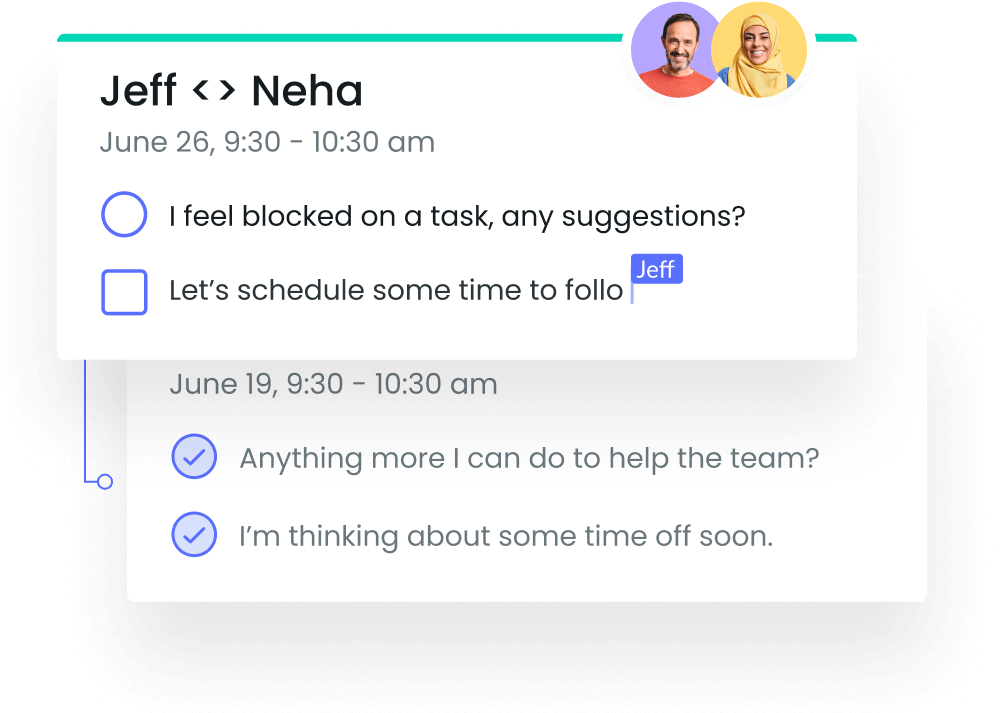 3 One-on-one meetings keep managers in the loop about issues
One-on-ones empower you to unearth issues before they become full-blown problems.
Imagine these two scenarios:
In the first one, manager Mary meets with her direct reports once a week. She hears from one of her employees that there is some tension arising among the team, and this helps Mary address the issue immediately before it becomes a deal.
On the other hand, manager Michael keeps cancelling his one-on-ones. After a couple of months, he realizes that there's tension in the team, rumours about people, and some clashes between co-workers who aren't working well together. No one was able to address this with Michael, mainly because he never sat down with each employee to ask about team dynamics and the challenges that he could help overcome.
From helping you solve team issues and coach employees when they're not focusing on what should be their #1 goal, one-on-ones empower you to fix different situations and defuse workplace bombs before they explode.
"The meeting should cover anything important that has happened since the last meeting: current hiring problems, people problems in general, and- very, very important- potential problems. Even when a problem isn't tangible, even if it's only an intuition that something's wrong," says Grove.
According to an article published by the Harvard Business Review, 58 per cent of executives believe that their current performance management approach is not beneficial or useful. This happens because most managers wait for quarterly reviews to ask their employees about their issues, or to bring up their own.
That's why forward-thinking companies around the world are replacing annual performance reviews with frequent check-ins between managers and employees. The list of pioneers includes Adobe, Dell, Microsoft, General Electric, Accenture, PwC and IBM.
Just like managers in the world's most innovative companies, you can use one-on-ones as a powerful tool to stay updated about issues and provide your team with ongoing support.
4 One-on-ones provide the ideal environment to exchange feedback
Scheduling a meeting to give someone feedback feels awkward… and a little forced. Besides, I'm sure nobody would go out of their way and schedule a meeting just to offer feedback to their boss.
That's why great leaders promote a culture of open communication by scheduling regular one-on-one meetings. Think about it, when you schedule weekly or biweekly meetings, employees will know that's the ideal time to ask about their performance and exchange feedback with you.
As Mark Rabkin suggests, one-on-one meetings are the ideal time to share comments and information that you wouldn't discuss at a team meeting, or over Slack:
"Don't talk about any topic that you could discuss in the open, among your team desks or in the cafe. If it's safe enough to be overheard — it's not the right content for a 1:1," says Rabkin.
5 One-on-one's build empathetic work relationships
Giving your direct report your full attention just can't be beat. Having the opportunity to meet just the two of you allows for active listening to take place, have private conversations that may not be possible in a busy office setting, and let the employee feel valued. Take this time to be transparent with your team, encourage problem-solving skills and allow them to develop their growth mindset.
According to several studies, communication effectiveness relies on the ability to coordinate attention, which is much easier when speaking alone together.
👉 Click here to learn ways to ask for feedback and provide employees with constructive criticism.
Today, we want you to leave with this idea in mind:
When managers recognize the value of one-on-one meetings they discover the power to enhance team productivity, foster great work relationships, address issues before they become significant problems, and provide constructive criticism and praise.
In my opinion, those sound like great reasons to schedule your next one-on-one.