We live in a digital world.
Gone are the days when we had to handwrite directions to our friend's house, pay bills using only snail mail, or carry around our entire music selection with us everywhere we went to listen to our favorite CD.
Technology makes our life easier, from the big things to even the most minor of tasks. One way life is made just a little easier is with meeting management software, which can go a long way in automating how meetings are run and making conversations that much better.
If you're not using meeting management software like Fellow, at work, now is the time. Find out why!
What is meeting management software?
You probably use a lot of software, but a meeting management software is unique.
These are the tools within a company's technology stack that help departments of all sizes plan and guide their team's meetings to ensure they're efficient, productive, and hyper-focused on the discussions at hand — so nothing falls through the cracks.
Typically, these tools have the features and functionality to coordinate when meetings are scheduled and integrate with outside calendar tools to ensure complete visibility and transparency, making it easy for everyone to show up on time! Plus, with additional features like meeting agenda creators, meeting minute recorders, and so much more, there's a lot that the right meeting management software solution can offer to streamline how meetings are held.
Essentially, when your team utilizes meeting management software, it turns unproductive meetings into a thing of the past.
Reasons to use meeting management tools
If your company isn't already utilizing meeting management tools, there are many reasons why now is the perfect time to get integrated with the right solution.
One of the main reasons teams love to use meeting management tools is for the planning and task distribution features. In just a few clicks, it's easier than ever to plan the date and location of future events (like future meetings!) and consider how much free time each participant, or attendee, will have.
When a plan is in place for the next meeting, these tools can also notify who is required to attend, giving them plenty of time to plan ahead and prepare. Before they prepare, this type of software can sort the tasks assigned to each attendee by the urgency that they should be completed, while also estimating how much time each task will take to complete, so that deadlines are never missed.
Meeting management tools can also seamlessly create, search, and maintain a wide variety of information. Because there's such a large amount of data within the system, they can effortlessly allocate the necessary resources for each task while also creating accurate timeframes and forecasts for upcoming projects in real-time.
Another core reason why team members love to use meeting management software is that it makes communicating internally easier than ever. With the ability to provide every team member with the progress of all ongoing projects while also forecasting and managing upcoming risks to stay one step ahead, your team saves time, saves money, and has a better chance of hitting their goals. In short, everybody wins!
Benefits of meeting management software
Now that you have a better understanding of some of the reasons why an organization would choose to add meeting management software to their tech stack let's discuss some of the benefits.
1 Paperless meetings
How much paper does your company use, and sometimes… waste?
Without a meeting management tool, you may go through countless stacks of post-its and numerous meeting notebooks. But with these tools, you take notes directly in the given fields, tabs, or dashboards. Plus, if you're looking to share notes with others, you can give someone access to the tool instead of photocopying a couple of pages out of your notebook.
And let's be honest, spending less money on paper and using less paper is good for not only your company's budget, but the environment too.
2 Increased security
Cybersecurity is a crucial part of a business, no matter the industry it's within. Because of this, it's common to be concerned that sensitive or confidential documents can be misplaced, sent to the incorrect person, or lost altogether.
When meeting software is used, you can pick and choose who has access to the data within the cloud, as well as add additional security elements to avoid the chance of any secure data, or file sharing components, making its way into the wrong hands.
3 Improved collaboration
It's absolutely crucial that when having meetings across departments everyone can collaborate and partake in an effective meeting. When this occurs, your meeting will be an inclusive place where all participants are encouraged to get involved, have meaningful discussions, ask the right questions, and have conversations about the action items that have been listed on the agenda.
With features that improve collaboration across presentations, slide decks, video demonstrations, whiteboard dashboards, and more, brainstorming ideas and solving problems is easier than ever.
4 Quick access to information in real-time
Within this digital world, you and your team need access to talking points, decisions, or agreed-upon deadlines, and you need it fast. Not only is this possible with meeting management software, but you can also make updates instantly.
And because you want all updates and changes saved accordingly, you can control who can see what version of the data. Gone are the days where you'll need to spend hours hunting around for meeting discussion notes that you need to start working on an assignment, as they can be found within the meeting management software.
5 Simplified note-taking
Usually, before a meeting begins, an attendee is assigned the task of taking the meeting notes, who also has to email out the notes to all other attendees, those who weren't able to join the discussion, and any stakeholders interested in the details.
While our ancestors may have taken these notes with a pen and paper, we know better, especially those teams who have meeting management software. With that method, it's easy to miss an important point, make a mistake, or lose the notes altogether. Having the option to automate meeting notes ensures that nothing gets missed or forgotten, and every meeting has transparent details that can be archived for later or shared instantly with those who need them.
How does meeting management software work?
Now that you have a better understanding of why you should make meeting management software a part of your team's daily routine, how does it work exactly? These tools can play a big role in every aspect of your meetings, making subtle improvements that you probably never thought possible.
Before the meeting
Before your team comes together to have a meaningful conversation, meeting management software works to set the stage for a successful discussion.
For starters, these tools can schedule meetings in just a few clicks for a time that works for the vast majority of your team. Once the meeting is on everyone's calendar, it can set a productive agenda that touches on everything your team needs to discuss, as well as distribute the plan out ahead of time. If the team doesn't get the agenda with enough notice, chances are good you'll have to schedule yet another meeting to ensure all of the points were discussed.
And, meeting management software can also assign tasks to your team before the meeting starts, so everyone can come as prepared as possible.
During the meeting
When the meeting is underway, software can automate as many tasks as possible, ensuring everything runs smoothly and that the meeting doesn't run too long. These tools can also make sure the meeting is a success by helping everyone stick to the agenda and know which talking point is next.
There are also features that make keeping notes and taking minutes easier and more consistent, so no detail falls through the cracks. And, if you're ever looking back in hopes of remembering who was attending each meeting, some tools keep attendance for you.
After the meeting
Once a meeting has come to a close, make sure everyone, including those who couldn't attend, are caught up to speed by effortlessly sending out the meeting notes, meeting minutes, and any pertinent documentation. The software can also assign out next steps or tasks to your team members, sum up key points with a meeting recap, and follow up on tasks that remain open or past due.
Examples of meeting management software
There are more options than ever when it comes to choosing a meeting management software that works best for you and your team. Here are a few examples of the tools available today:
1 Fellow
Run effective meetings by building great meeting habits through collaborative agendas, assigning action items, encouraging feedback, and more! Find out why Fellow takes the number one spot on G2's category for the top meeting management software on the market.

Pro tip
Using a meeting management tool like Fellow allows you to drive engagement and productivity with features like ready-to-use templates, personal streams, and requesting feedback!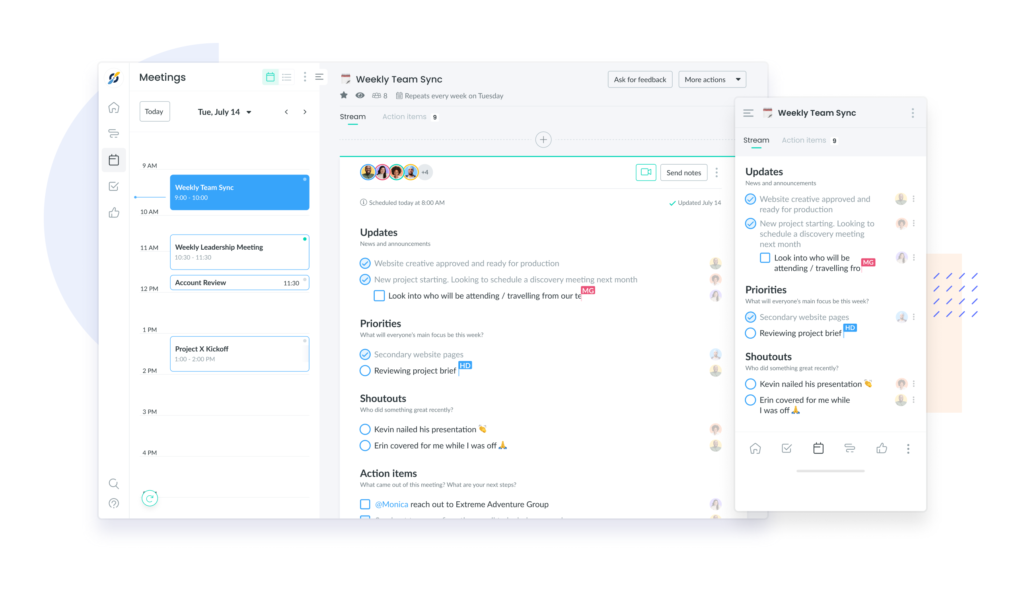 2 nTask
This meeting management software allows you and your team to collaborate and schedule your projects, tasks, and meetings. Invite your team and other attendees to gain access to your meetings.
3 Cisco WebEx Meetings
Interactive features allow your meetings to become more engaging and promote collaboration. This tool offers free video conferencing often used for brainstorming and remote discussions.
4 GlobalMeet
This tool offers solutions for meetings and events by offering audio, web, and video features. Enhance the online experience with live streaming or screen sharing options to help deliver your message.
5 Meetin.gs
Simplify meeting scheduling by offering a schedule link to easily find suitable times to meet. You can access all meeting information across multiple platforms.
Meeting made easy
From productive team meetings to meaningful one-on-ones, meeting management software makes it all possible. Build a collaborative agenda in seconds, easily record decisions, and keep track of meeting minutes all in one place. There's never been a better time to level-up your meeting habits with meeting management software like Fellow.