Asynchronous communication seems to be the talk of the business world, as of late. This method of communicating boosts both productivity and efficiency because it allows team members to go at their own pace, without as many disruptions.
Asynchronous communication happens over a period of time, so people love the fact that there's no need to attend an in-person meeting in the middle of their hectic days. It's also better for working with multiple time zones and individuals who don't work the same hours as you.
In order to equip you with everything you need to know about asynchronous meetings (also known as async meetings), the Fellow team has created a comprehensive guide that outlines what is an asynchronous meeting, how to conduct an async meeting, and examples (+ tools) to host these types of knowledge and communication-sharing sessions.
What is an asynchronous meeting?
Asynchronous communication is communication that has a lag between when a message (or means of communication) is sent and when the person receiving it interprets it. This type of communication isn't generally conducted in person, nor is it planned for or scheduled.
Asynchronous meetings are meetings that don't happen in real time. A lot of remote teams use this meeting format to disseminate information and knowledge sharing, and get people's thoughts on specific topics that don't need to be discussed immediately.
What is the difference between synchronous and asynchronous meetings?
Just like regular (synchronous) meetings, asynchronous meetings have an agenda with talking points to be discussed. However, in asynchronous meetings, these discussion items are consumed asynchronously – not in real-time. Asynchronous meetings allow participants to digest information in their own time, without the need to attend a live video call or meeting.
Follow this guide to run productive asynchronous meetings that save your team time. 

Great async meetings start here.
When you use a meeting management tool like Fellow, you can have one source of truth for every meeting, boost transparency and accountability, and never forget what was discussed.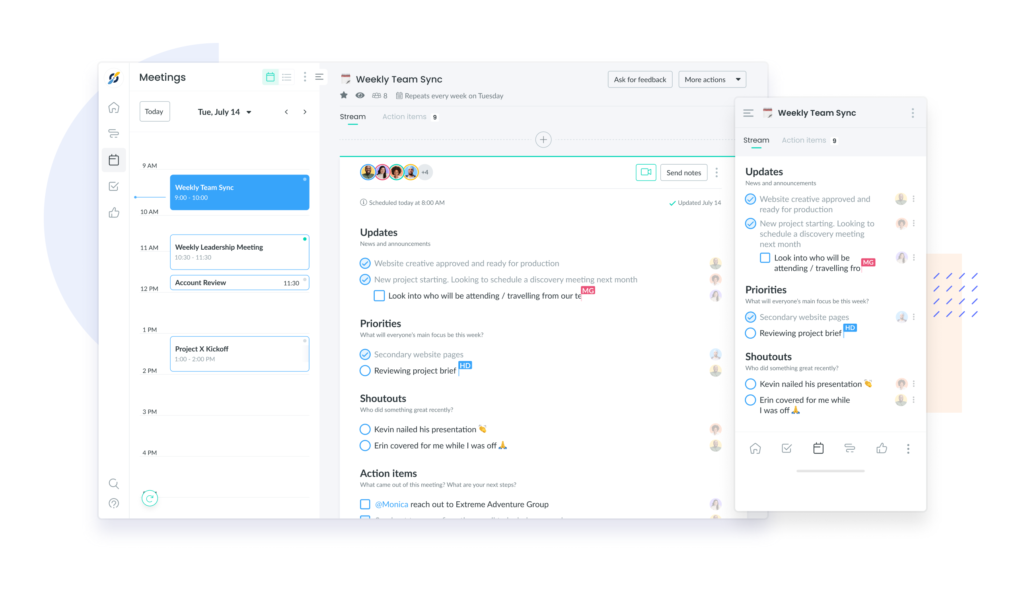 Examples of asynchronous meetings
Some examples of asynchronous meetings include:
Asynchronous daily standup meetings
Asynchronous weekly update meetings
Asynchronous project status meetings
Asynchronous retrospective meetings
Asynchronous team meetings (when the agenda is made up of updates)
How to conduct a productive asynchronous meeting
Watch Fellow's Head of Marketing explain how she runs asynchronous team meetings:
If you're new to async meetings, you can also follow this step-by-step process to conduct asynchronous meetings with your tip:
1 Explain the benefits of asynchronous communication to your team
It's important to explain the difference between synchronous and asynchronous communication to your team and the reason why you've decided to implement this new style of communication.
If your team members know that these changes to current processes are to give them more flexibility and more time to tackle their responsibilities, they'll be much more excited to adopt this new way of communicating.
Most importantly, ask people for their opinion about this new approach and make sure to apply their suggestions.
2 Keep track of talking points and decisions
Think about using a meeting notes app such as Fellow, so that you can type and store notes in the same place, keeping as organized as possible. You can refer back to your meeting notes to remind yourself of important deadlines, decisions or topics that you'd like to speak to at the next meeting.
One example of how we use Fellow to run asynchronous meetings are our daily asynchronous stand-up meetings, where different members of the team add talking points to the agenda to keep each other updated about their daily priorities. We realized it wasn't necessary to have a video call every single morning, so we replaced our daily standup meetings with asynchronous check-ins instead. Here's a sneak peek of the meeting agenda we use to run them:
3 Set a deadline to review the agenda and add notes
One of the main benefits of asynchronous communication is higher flexibility (and fewer meetings on your calendar). However, even though asynchronous meetings don't happen in real-time, it's important to set clear expectations with your teammates about when the meeting agenda should be populated.
For the example above (daily asynchronous stand-ups), everyone is expected to populate their section of the meeting agenda by 10 AM every morning. This helps us ensure that everyone on the team stays up to date about each other's priorities. The meeting notes on our agenda then become a historical record of the team's work. That way, when we meet for our weekly team meetings, most people will already be caught up to speed and time will be used way more effectively.
Similarly, we use Fellow to run a weekly summary meeting, which everyone in the company is expected to populate with updates by 4 PM every Friday. Since our weekly summary notes are connected, we can look back at our updates and milestones from week to week.
What meetings should not be asynchronous
A word of caution: Management and Leadership research shows that the only type of meeting that should not be held asynchronously are one-on-one meetings, since the purpose of these meetings is to build trust and rapport between managers and their direct reports.
3 Benefits of asynchronous meetings
1 Reduce time zone constrictions
One of the most noteworthy advantages of asynchronous communication is that you don't have to consider time zones and coordinating meeting times. This idea is reinforced in Arc's article about asynchronous communication:
"As communication isn't happening in real-time, asynchronous communication sidesteps the challenges of time zones and mitigates the risk of burnout. With asynchronous communication, work can happen even while you sleep!"
A great advantage to supporting work in different timezones is having a diverse talent pool from anywhere around the globe. When no one has any kind of a disadvantage based on where they live, communication between different time zones runs much more smoothly.
2 Allow attendees to consume content when it's convenient for them
Another key advantage of asynchronous communication is that it enables flexibility because there's less pressure to answer immediately. When there isn't this huge pressure on team members to respond as quickly as possible, they can turn their focus to producing high quality responses and giving their full attention to messages, when it suits them best.
Less pressure and stress means happier and more responsive employees. Joe Martin, VP of Marketing at Cloudapp makes another valuable point on this, sharing:
"One of the purposes of asynchronous communication is to slow down your process and encourage reflection before reaction. By allowing people to read something and then return to it when they're ready, you can have more thoughtful responses and potentially get better insight into a larger issue."
3 Create a record of notes for current and future employees
Asynchronous meetings also create a record of notes, which is going to be super valuable to you and your team. Whether it's through email, Slack, Fellow or any other platform, this style of communication creates a system of record for current and future employees. With this record, employees can then go back to review any relevant content in a much more organized manner. The record is automatically digitized and stored, versus synchronous meetings which usually require note-taking while listening to the facilitator.
2 Downsides of asynchronous meetings
1 Less facetime among your teammates
One of the downsides of asynchronous meetings is that you get a lot less facetime with your teammates. In fact, a virtual meeting is often the closest we come to face to face interaction while working from home.
When you're working remotely, and don't have a lot of interaction with your team members, it can definitely start to feel lonely. That's why it's important, even if you work primarily with an asynchronous approach, that you make it known to your team that you're all there to support and encourage one another. Once in a while, it's a good idea to throw in a synchronous meeting for those available to interact in real-time.
2 No back-and-forth communication
With asynchronous communications, you need to be extremely clear and detailed with your message because the conversation isn't happening in real-time and is much slower in nature. With this style of communication, you don't engage in back-and-forth conversation, which is often helpful when it comes to making decisions. Because the interaction isn't in real-time, actions can't be made immediately and require some time. This can be a huge disadvantage in remote work when decisions need to be made then and there because a less immediate interaction can leave you hanging.
Asynchronous meeting tool
Asynchronous meetings can be useful to cut down on your meeting time while keeping everybody on the same page. Instead of scheduling a specific time for your meetings, ask your teammates to add talking points and action items to the Fellow note asynchronously. This is a great way to know what each person is working on, without taking too much time or interrupting their workflow. Head over to the event in Fellow and set a template for your stream so your team can easily add their points in an organized way! You can create your own or choose from Fellow's library of expert-approved templates.
We had one standing meeting, and now we're able to completely do it asynchronously thanks to Fellow. We did it twice a week before, and within a month, we got to a position where we agreed that it could be done completely asynchronously using Fellow. It went from two times a week, to one hour a week, to half an hour a week. And eventually, half an hour disappeared as well.

– Johan Van Heerden, VP of Engineering at Nintex
Conclusion
According to Buffer's 2020 State of Remote Work, 20 percent of remote workers struggle with collaboration and communication. Implementing regular asynchronous meetings (such as the daily asynchronous stand-ups mentioned above!) can help your team overcome this challenge and ensure that everyone is on the same page.
Refer back to this guide anytime you need a refresher on what an asynchronous meeting is, what the benefits and downfalls may be, and how to run an effective asynchronous meeting with your remote team!
P.S. We'd love to hear your thoughts and questions about asynchronous (and synchronous) communication. Find us on Twitter (@Fellowapp)!