The goals you set for your company today often determine the direction it takes tomorrow. However, setting, planning, and executing goals can feel tedious, especially if you lack a method to set and achieve those goals. That's where the OKR methodology comes in.
All kinds of teams use the OKR methodology to set specific, measurable goals (often SMART goals) for their teams and achieve impactful results. You too can use the OKR methodology to streamline your goal setting. Read on for tips that should help you, your team, and your company reach new levels of growth and success.
What is OKR?
An acronym for "objectives and key results," OKR is a methodology that managers and team members use to clearly define measurable goals and convey expectations. In the OKR framework, objectives are the "what." They specifically define what you want your team to accomplish. The key results, on the other hand, are the "how" of the system. They create a vision of the paths your team will take to achieve your goals and arrive at the desired outcome.

Pro tip
Use a meeting management tool like Fellow to schedule productive meetings and assign action items to stay on top of OKRs.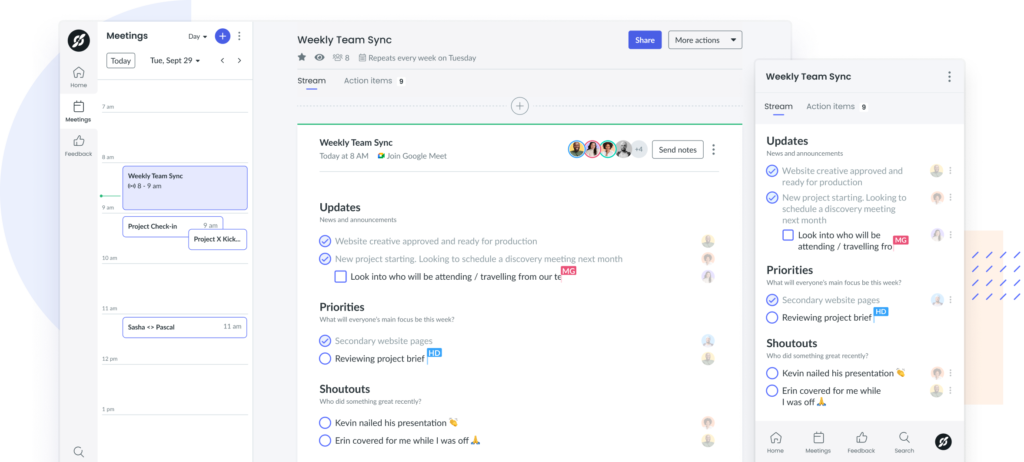 What's the difference between KPI and OKR?
Often, you'll find people conflating OKRs with a similar concept: key performance indicators (KPIs). The difference between KPIs and OKRs lies in the purpose of these metrics. KPIs are goals you've already met many times and can do again. OKRs define much larger goals and the paths you should take to reach them.
KPIs look at how well your team is performing. They often assess specific programs based on your company's goals and needs. They can be applied to a whole organization, individual teams, or specific employees or projects. Though they're used particularly for evaluating performance, they don't specify a desired outcome or result. Examples of KPIs include a bump in the number of subscribers you enroll, improved employee satisfaction, and increased brand awareness.
OKRs, on the other hand, assess well-defined objectives and the results expected for each. Although OKRs can also be applied to organizations, teams, or individuals, their narrowed focus makes them better for setting especially aggressive and ambitious goals. As such, OKRs encourage growth and potentially expand your team's capabilities for better performance.
A sample OKR might be to increase revenue by 15 percent. Key results for this objective could be to acquire 20 new monthly subscribers or enroll 10 clients in the company's referral program.
How to use an OKR methodology
Implementing an OKR methodology into your workflow can bring some big changes to your team's performance and your expectations for their work. It can all be quite a lot to adjust to, but we're here to help. We've provided some simple steps you can take to successfully transition to the OKR method.
1 Create objectives
Creating and defining objectives gives your team clear sight of the overall goal and where everyone should focus their efforts. The objectives you set should be specific, not abstract, to convey exactly what you want to achieve and how. To help maximize your results, each of your objectives should be:
Actionable. Objectives should prompt your team members toward action and allow each person to play a part in accomplishing your goals. Setting action-oriented objectives helps make sure your goals are actually achievable and realistic instead of conceptual, infeasible, and unproductive.

Encouraging. Setting an encouraging goal can help you simultaneously drive success among your team members and rally them to perform well. When your goals inherently encourage your team members to produce better work, they'll likely dedicate greater efforts to completing the objectives. And when employee investment increases, so too do the chances that you'll reach your goals.

Adjusted: Maybe you saw the results of another company's initiative and want to implement that plan with your company and team. You might think it's easy to present this goal to your team and hope for similar results. However, you should also scale these expectations so they're feasible for your company. Namely, you should adjust them to your team's capabilities and company's functionalities. This way, your objectives are more actionable, and you can foster results appropriate for your team and company.
2 Start planning OKRs for your company
Now that you've clearly and specifically defined your objectives, you'll need to define each of their key results. Namely, you should set the criteria with which you'll measure your team's progress toward completing objectives. You'll also assess the broader impact that your objectives could have. The key results you define based on your objectives should be:
Measurable. Each of your key results should have measurable requirements so you can gauge your team's progress. Setting a key result based on a numerical value can give you a clear idea of if you've achieved that result. For example, a company manager who wants to create an efficient process to recruit new employees could aim to create connections with three local universities' career programs. This result is measurable since a number is attached to it.

Time-bound. Your team should be able to realistically achieve each key result within the timeframe you've set. Expecting results too broad for your objective or outcomes that require more time than allotted sets your team up for failure before they've even started. Instead, you should tie each key result to a feasible timeframe. This way, your team won't feel overwhelmed from the jump, and you'll have a background against which to measure their progress.

Aggressive. Finding a balance of aggressive yet achievable key results can give your team members an inspiring outlook on what their hard work can produce. Consistently identifying such results can push your team beyond its current capabilities, lead it to realize its full potential, and expand your company's success.
3 Incorporate OKRs into your workflow
Using the steps above, you can plan OKRs that are specific, measurable, and feasible for your company and team. But how do you incorporate them into your workflow once you've planned them? Easy:
Educate your team. The OKR methodology might be new to your team members, so teach them how it works (this article is a great starting point!). You should also explain your expectations, each objective and its respective key results, and how this all benefits the team and the company. Be sure to let your team members know the timeline too so everyone is on the same page as they start their work.

Evaluate progress. As you and your team work toward achieving your OKRs, you can adjust them in real-time. Ask yourself, "Is my team achieving the key results within a suitable time frame? Do I need to adjust the scale of my objectives?" If certain elements wind up going beyond your team's capabilities or ultimately don't suit your company, don't hesitate to modify your goals.

Give guidance and feedback. As your team members work toward achieving their OKRs, share guidance and peer feedback to ensure each person is contributing to the team's progress. You can hold regular feedback meetings to constructively assess your employees' work throughout an OKR cycle and create alignment among everyone's efforts.

Continue the process. Using the OKR methodology can be simple once you've nailed the flow of the concept. As you and your team more regularly use the methodology to set your goals, the process might start to feel like second nature. With this streamlined approach comes much more room and headspace to focus on getting things done. 
OKR methodology best practices
Now you know what OKRs are and how to incorporate them into your goal-planning. But before you jump right into setting objectives and sharing them with your team, you should familiarize yourself with the best practices below.

Create the best rhythm for setting OKRs. While an objective can evolve or expand over time, key results typically run on an annual or quarterly basis. That said, you can choose another timeframe if it better suits your objectives. For example, in employee recruitment, hiring in bulk isn't a process that absolutely has to be quarterly. As such, a recruitment manager might choose to frame their OKRs on an annual timeline.

Define team and individual priorities. When working through OKRs, there are responsibilities your team will need to work on together. However, there may also be tasks your team members must accomplish individually. Setting both team and individual priorities can help align everyone's focus and make sure their efforts are collectively contributing to your company's success.

Don't create too many OKRs. While there's no rule for how many key results you should set for your objectives, many teams choose between three and six key results. That's because having too many key results can divide your team's attention. Try sticking with a smaller number so your team can better focus on fully achieving each desired result.

Don't make your OKRs easy. The OKR methodology isn't for your everyday goals – as explained earlier, KPIs carry that torch. Instead, OKRs should expand your team's limits to add new value to your company. Think of OKRs like a grueling workout: At first, they might seem immensely difficult. But once your team gets through them, you'll all realize you've set a new personal record and can now push your abilities to new levels.

Make OKRs transparent. To better motivate your team, you should clearly explain the benefits each objective will bring to both your employees and the company. Each objective and its key results should also be visible to team members at all company levels, whether team leaders or standard employees. This way, there can be open communication and collaboration across the company.

Create a grading scale. Use a grading scale to measure your team's OKR success. For example, try grading your OKRs on a numerical scale of 0 to 1.0, with a grade of 1.0 for fully achieved results. Grade each of the key results to see how closely your team is accomplishing an objective. You can then average the grades to determine if your goals should be adjusted. Need help? Keep reading for a template you can put to use at your company.

Engage your team. It's important to stay connected with your employees throughout every stage of an OKR cycle. Engaging with your employees communicates to them that you want to be a helpful resource throughout the process. It also shows that your team's professional success means something to you. Showing your team members you care can also help them become more invested in their work.

Celebrate success.  A 2019 employee engagement survey found that 33 percent of employees feel undervalued at work. Your team members deserve recognition, especially while they're working through the immense challenges of OKRs. To motivate your team members to continue their hard work, try acknowledging their efforts and celebrating even their small wins. Even more success can soon result.
OKR goal-setting template
At this point, you might be thinking, "Oh wow, this is all a lot to take in. Can I really go about implementing the OKR methodology in an organized way?" The answer is yes – of course you can! If anything, organization and planning are key to your team to seeing impactful results from its hard work. And with Fellow's OKR template, you can swiftly, easily set actionable objectives and define ambitious yet feasible results.
Our OKR template features a simple layout that thoroughly guides you through each element of your OKRs. For example, you'll see a section that helps you create action items to discuss in any meetings about your OKRs. You can use this template to help you record your company and team goals, request feedback, and prepare for success all in one place.
Aiming higher
OKRs can help you transform your biggest company dreams into realities. Setting these highly ambitious, actionable objectives and defining key results helps your team share your vision as well. It also helps you all effectively collaborate and focus your efforts toward measurable successes. And as you get started, Fellow can help you and your team transition into using OKRs for every goal. 
Additionally, whether you're giving feedback or checking in with your employees, Fellow has a host of resources for all types of meetings. You'll also get tools to help you prioritize meeting action items, delegate tasks, and build collaborative meeting agendas. This way, when you and your team meet to discuss your OKRs, you'll walk away ready to swing big – and never miss.