Becoming an executive assistant will help you network and gain valuable experience in the industry. As an executive assistant, you will be offering a helping hand to the executive while learning so much along the way.
So, let's learn what an executive assistant does and how you can become one…
What qualifications do you need to be an executive assistant?
As an executive assistant, your job is to assist and support the company's executives. Depending on the company, some require a high school diploma while others require a master's degree.
Here is a list of post-secondary programs that relate to a career as an executive assistant:
Office Administration
Business Management
Legal Administration
The duties associated with this job include basic clerical duties (answering phones, booking appointments, etc.) and dealing with confidential paperwork. Executive assistants should possess the following skills:
Ability to stay organized
Ability to time manage
Ability to keep confidential information
Great attention to detail
Great verbal communication skills
Great written communication skills
Great interpersonal skills
Well with technology 

Pro tip
Master the art of meeting agendas and optimizing calendar time by using Fellow to ensure every meeting is a delightful one!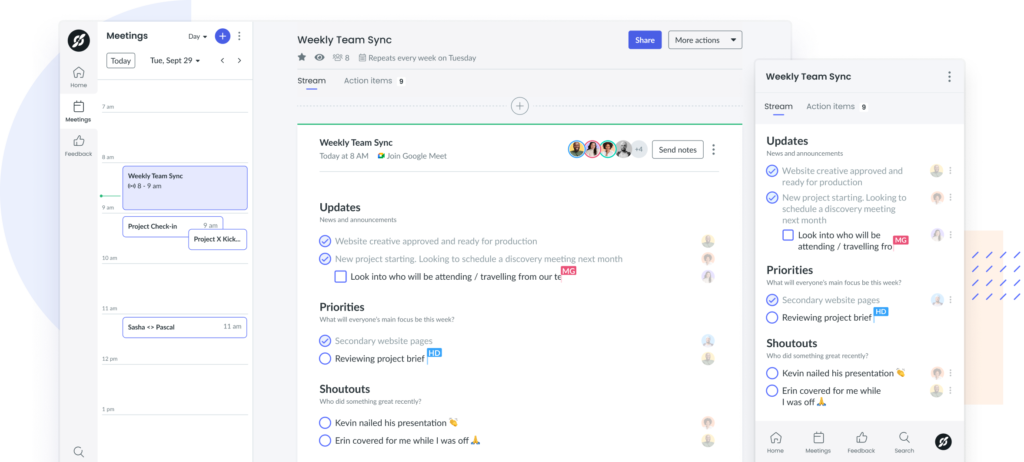 How to become an Executive Assistant
Here are 8 key tips to help you become an executive assistant…
1 Attend networking events and conferences
One of the best ways to get a job and advance your career is to network. According to Harvard Business Review, "A mountain of research shows that professional networks lead to more job and business opportunities, broader and deeper knowledge, improved capacity to innovate, faster advancement, and greater status and authority."
Networking is also important because it builds connections that can help you years down the road. For example, if you apply for a job and have made previous connections with the person in charge of hiring, your name will stick out to them making you a more noticeable candidate. Networking can also expose you to job offers when you aren't even looking.
2 Get really good at organizing meetings
An important skill that everyone should have is the ability to organize meetings. A well-run meeting can go a long way; These meetings include a meeting agenda, talking points, action items, and a meeting recap.
A lot of work goes into producing a productive meeting. So, if you showcase your great meeting skills, you will stand out as someone who can assist the executive in agenda making and sending meeting recaps, saving them time.
3 Learn about process implementation
Become a seamless hire by knowing how the most popular applications and software used by executives work. By knowing the basics, the executive requires less time training you and you can get started on helping their day-to-day become more efficient.
Here is a list of common applications and software to learn:
Learn how to time-block and schedule meetings via Google Calendar to keep organized and stay on top of your executive's tasks for them. Becoming a master of time management is a key all executives will appreciate!
Learn how to use Asana to receive assigned work from the executive or assign work and deadlines to others which will appear in each person's "tasks" heading. Taking over this duty for an executive can allow them to focus on deeper work.
Fellow for executive assistants allows you to manage the executive's meetings via their Google Calendar if you are added as an editor on their calendar. You can also manage their meeting agendas by adding talking points and action items they would like covered or put questions they need answers to.  
4 Offer to help with administrative tasks
Sometimes administrative tasks can be boring. Answering phones and emails may not be what you're looking for. But offering this assistance will showcase your helpful side and aid in lightening the executive's workload. With a lighter workload, the executive is more likely to notice your contributions. This helpfulness may also help you advance your career in the company.
5 Volunteer to gain event planning experience
Gaining experience in event planning will add another skill to your resume and help you master staying organized and working with others. Events are also a great place to network, so planning an event will help you make those connections. A successful event will last in people's memories.
So, if you can make it a night to remember, you will likely make yourself (the planner) an unforgettable face. Plus, executives may host events for their colleagues or networks that may be delegated to you. Impress your boss and the partygoers by having this prior experience.
6 Take an EA training course
Taking an executive assistant training course will help you prepare and show your employers that you are knowledgeable and certified. One popular training course is the International Association of Administrative Professionals (IAAP) which provides people with a completed certificate to put on their resume or show an employer. This is desirable to employers because it means that less training will be required as you have experience and shows you are serious about this position.
7 Highlight your administrative skills in your resume
Highlighting your administrative skills on your resume will help showcase what assets you bring to the table. You may think that these skills are not important – "everyone can answer the phone" – but having administrative skills lets employers know that you can communicate professionally with clients. Again, this will make you stand out because employers will view you as somebody who needs less training, thus, can onboard much quicker.
"Because so many roles are becoming at least partially, if not fully remote, a technology skills section showcases your ability to work with and through various platforms."

 

– Kristi DePaul, Harvard Business Review Contributor. 
8 Search for industries that align with your values
According to Kristi Hedges, Harvard Business Review contributor, "It's nearly impossible to bring your best to an organization that conflicts with your values. Ensuring that a company shares your values from the outset is a threefold process."
Hedges proposes a three-step process to identifying if your values align with the companies:
Identify your own values
Ask questions during your interview to identify the company's values
Assess if your values align with the company's values
What's an average Executive Assistant's salary?
According to payscale, the average yearly salary for an executive assistant in Canada is $55,338. And according to Jobillico, in 2020 the average yearly salary for full-time working Canadians was $54,630. Thus, the average salary for a full-time executive assistant is slightly above average pay.
This is a great starting point, especially for people who are interested in advancing their careers. As an executive assistant, you have your foot in the door and are making valuable contributions to the company. You are also making connections with the executives, which will help you move up if the time comes.
Parting advice
Considering a career as an executive assistant is a great career choice! Not only will you meet people in the industry and gain experience, but you will also have your foot in the door. So, if you are ready to become an executive assistant then follow the 8 steps above to start your new journey!