As a manager, you're responsible for just about everything. Assigning tasks, delivering project reports, ensuring effective communication – these things all belong on your plate, yet you can't quite do them alone. You need help – yes, of course, from your team members, but also from a bunch of tools and apps.
The best tools for managers help with needs including task management, team communication, meetings, and plenty more. They help you check all the pertinent boxes in each category while keeping you more organized as you do so. Sounds ideal, right? It might also sound like a never-ending task to find the best apps for all your needs. Use the below list as a starting point.
18 best tools for managers
Technically, there's a difference between management and leadership, but the below tools might make you feel like you've unlocked the leader within yourself. And that's exactly the point! With these apps facilitating all the procedural stuff, you'll have way more capacity to be an open ear and guiding hand for your team. It doesn't have to be: Get started with the below tools for managers.
1Fellow
Effective managers know when (and when not) to convene their teams for meetings. (Yes, there is such a thing as too many meetings.) They also know how to properly plan, run, and follow through on meetings. And the very best managers use meeting apps such as Fellow to streamline all these pieces of the puzzle.
With Fellow, you can easily craft a meeting agenda and share it with your team well before a meeting. This way, everyone on your team shows up fully prepared with questions and discussion points. You can also use Fellow to take notes during your meetings and assign action items, though you can't use Fellow for real-time audio recording. After the meeting, you can seek team feedback to improve your next meeting. Your team has never been this united.
Key features:
Create meeting agendas and distribute them to meeting attendees ahead of time
Take meeting notes and assign action items in real-time, though no audio recording
Solicit and review team feedback after meetings
Price: Fellow offers an introductory free plan, with paid plans starting at $5 per user per month.

Make every meeting delightful
A well-run meeting can foster communication and strong work relationships through collaboration.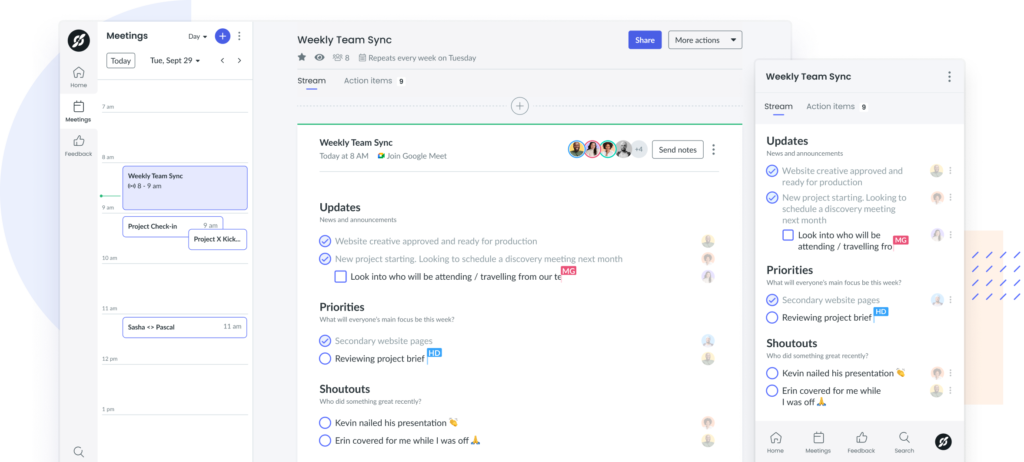 2Todoist 
Todoist is a task management app that automatically elevates your most important tasks. This way, you close all the most important doors sooner than later and take less time figuring out what to do when. Todoist is also a great tool for visualizing your team's productivity levels, but unlike some other task management tools, it lacks a Gantt chart view.
Key features:
Automatically indicates your most pressing tasks
Reduces time spent assembling daily task lists
Team-wide productivity visualizations, though no Gantt charts
Price: Todoist offers a free plan to start. Its paid plans begin at $3 per month.
3Google Workspace
Google Workspace comprises all your daily Google tools – Gmail, Docs, Spreadsheets, everything. It's the bread and butter of many successful organizations. So yes, even the bedrock of your management is technically a management tool!
Within Google Workspace, you can also access Slides, Calendars, Meet, and a plethora of other management tools. So can your entire team, and that's a boon for keeping remote teams connected from a distance.
Google Workspace is clearly a powerful management and collaboration tool, but most teams will eventually use all their storage space. That means either paying for more storage or jumping up to a paid plan.
Key features:
Numerous tools for key team needs such as word processing, video conferencing, and scheduling meetings
Connects remote teams through shared digital space for files and commenting
Reasonable amount of storage space, though many teams will eventually need more
Price: Google Workspace business plans cost at least $6 per user per month.
4Zoom
At this point, you probably feel like you couldn't avoid Zoom if you tried. But Zoom is omnipresent for some obvious reasons: It excels at connecting large remote teams, and its video and audio conferencing tools are easily accessible. Your meeting's format will also be quite flexible, as you can use Zoom for live chats, webinars, screen-sharing, and more. That said, Zoom-based teams might quickly face the ever-prevalent trend of Zoom fatigue.
Key features:
Widespread use lessens learning curve for new teams
Video conferencing formats include live chats, screen-sharing, webinars, and more
Easy meeting accessibility and link sharing, but so commonly used that the concept of "Zoom fatigue" remains prevalent
Price: Zoom offers a free introductory plan. Its paid plans cost at least $14.99 per month per license.
5ProofHub
Managing your team means managing your team's projects, and ProofHub can help. It also does so relatively affordably since, unlike some other project management software brands, its prices are flat-rate instead of per user. That said, you can only avoid ProofHub's larger annual fee option if you pay by PayPal or credit card.
ProofHub is also known for its user interface lacking a steep learning curve. It's available in six languages, making it a solid choice for managing international projects.
Key features:
Flat-rate subscription rates, but higher fees if you can't pay by credit card or PayPal
Easy user interface minimizes learning curve
Availability in six languages facilitates international project management
Price: ProofHub plans start at $45 per month.
6Evernote
Effective managers put what's in their heads to paper to keep things organized and moving along. That means effective managers need a reliable notetaking app, and Evernote is an oft-used choice. Alongside its basic notetaking features come customizable templates so you can take notes exactly how you please. You'll also get voice-recording features for those days when your hands just can't keep up with your brain.
Evernote also makes sharing your notes easy, and the same is true of assigning tasks. That said, using Evernote in place of a task management app might be ill-advised. Evernote lacks some of the key features – team communication, Gantt charts, and more – that managers often seek in task management apps. Find out more about Evernote and how it compares to Fellow here.
Key features:
Customizable templates facilitate notetaking in any desired format
Voice-recording gives you additional way to take notes
Ability to assign tasks and share notes, but not as effective as proper task management apps
Price: Evernote offers a free plan. Paid plans begin at $7.99 per month.
7Whereby
Whereby can provide you with a quicker way to virtually connect with your team. The video conferencing platform starts meetings without downloads, external apps, or needlessly long meeting links. Just create a custom URL and send it to the person with whom you're meeting. Then, join the meeting from desktop, web, or mobile right from the link.
Once you're in your meeting, you can add a customized meeting name and branding. However, if you stick to Whereby's free tier, your group meetings will get cut off after 45 minutes. That's slightly longer than with obvious competitor Zoom, but it's still pretty short.
Key features:
Start meetings without long meeting links, external apps, or downloads
Join meetings via web, mobile, or desktop
Customizable meeting names and branding, but group meetings limited to 45 minutes on free tier
Price: Whereby starts with a free tier. Thereafter, plans cost at least $6.99 per license per month.
8Chanty
Through Chanty, you and your team members can easily stay in contact with one another around the clock. You can also look back on previous communications especially quickly thanks to Chanty's Teambook technology. With Teambook, Chanty organizes and stores all previous links, tasks, files, and messages. You can search these records and thus more easily reference all that you've previously said. You'll also face no limits on the number of items being stored.
Chanty also doubles as a calling and voice messaging tool. Although it does come with file sharing and video calling capabilities, other team communication tools fare better on both fronts.
Key features:
No limit on previous messages and files stored
Searchable communications, files, and links history
Calling and voice messaging capabilities, but performs poorly on video calling and file sharing
Price: Chanty offers free plans. Paid Chanty plans start at $3 per user per month.
9TeuxDeux
TeuxDeux is a task management app that replaces the checklists, kanban boards, and Gantt charts of project management apps with something simpler. For at most $3 per month, you'll instead get an interface that resembles pen and paper and syncs across all your devices. It might feel especially familiar to managers who got started in the era of handwritten task lists. However, it's only free for mobile app use. You must pay to use it via desktop or web browser.
Key features:
Manage tasks from interface that resembles pen and paper
Use app for at most $3 per month
Syncs across all devices, but free version only accessible via mobile apps
Price: TeuxDeux offers a free, mobile-only tier. Its annual plan costs $2 per month, and its monthly plan costs $3 per month.
10Time Doctor
If you manage a remote team, Time Doctor can help you build a schedule and identify late employees. You can use the app's time tracking data to identify top performers and help guide team members facing time management challenges. Your team members can use this data to identify their strengths and weaknesses and improve on them. But unlike some other time tracking apps, users on the lowest-cost plan can't integrate Time Doctor with their other apps.
Key features:
Schedule remote teams and flag late starts
Find top performers and guide team members falling behind
Team members can use data for their own improvement, but low-tier users can't access integrations
Price: Time Doctor starts from $7 per month for one user. For larger teams, it starts at $35 per month. Its minimum price increases as your team size increases.
11Shift
Shift consolidates all your team's apps into one easily searchable interface. That means no endless jumping among apps or browser tabs to find what you and your team need. Shift also consolidates all your email addresses into one central inbox so you can more easily keep up with your team and your clients. You can also set customized notifications, but you can't mute these notifications if you use Shift's free plan.
Key features:
Combines apps into one searchable interface
Consolidates all inboxes into one to better organize your emails
Custom notifications available, but can't be muted on free plan
Price: Shift offers a free tier, and its paid plans start from $99.99 per year.
12Salesmate
With Salesmate, you can track your sales team's contacts, deals, conversations, and other sales activities in real-time. You can also identify and eliminate tedious, predictable sales tasks via recurring cadences and reusable sales playbooks. Salesmate will provide you with actionable insights into your team's performance too. All these features enable you to better lead your team, though some are only available with Salesmate's second-most expensive plan.
Key features:
Real-time tracking of key sales activities
Automation of tedious, time-consuming sales tasks
Actionable insights, though may be among the team management features only available to higher-paying users
Price: Salesmate starts at $12 per user per month. To access its team management tools, you must pay at least $40 per user per month.
13Paymo
Paymo is a project management app that streamlines the conversion of tracked time to client invoices. You can use Paymo to create time reports and share them with clients, and its scheduling suite includes Gantt charts. All these scheduling tools, though, are only available if you use Paymo's highest price tier.
Key features:
Easier conversion of time tracked to client invoices
Create time reports and share with clients
Scheduling tools with Gantt charts, though all available only via most expensive plan
Price: Paymo is free for at most 10 users. Thereafter, you must pay at least $9.95 per person per month.
14Weekdone
Weekdone is a tool that enables you to more easily align your team through objectives and key results (OKRs). The Weekdone suite guides you through implementing OKR best practices and provides examples and a learning center. You'll also get unlimited OKR coaching through Weekdone's professionals. Additionally, both free and paid plans give equal access to all features. Customer service, though, is typically limited to live chat and email.
Key features:
Hands-on OKR setting, with examples and learning center
Unlimited professional OKR coaching
Access to all features no matter how much you pay, though customer service limited
Price: Teams of up to three get Weekdone for free. Thereafter, plans start at $90 per month.
15Timely
Timely is an automated time tracking system you can use to track time while focusing on higher-level management concerns. Without any manual action on your behalf, Timely will track your team's web and desktop app usage. The app will also send you a private report detailing its findings. Your team members can use Timely for their own individual time tracking purposes, though individual capacity is relegated to Timely's highest price tier.
Key features:
Fully automated tracking of team members' desktop and web app usage
Private delivery of reports with key time tracking data
Individual capacity available, but only with highest-price plan
Price: Timely starts at $8 per user per month.
16Noisli
Noisli is among the more unique tools for managers. Instead of helping with one of your key tasks, it produces background sounds that eliminate distracting noises. You can mix and match these sounds to best enhance your productivity, and you can save your favorite combinations. Noisli also offers curated playlists with their own unique sound combinations. But even with Noisli's most expensive plan, you'll face caps on how many playlists and favorites you can save.
Key features:
Background sounds eliminate distracting noises to bolster productivity
Combine sounds and save favorite mixes, though caps on how many you can save
Listen to curated playlists of sounds and combinations, though also maximum number you can save
Price: Noisli offers a free introductory tier for one user. Single-user paid plans cost $10 per month. For two or more users, you'll pay $12 per user per month.
17 Deputy
Deputy is an easy-to-use employee scheduling software that helps simplify your shift work. The platform makes it easy to schedule shifts in line with demand, and communicate clearly. With Deputy, you can complete staff schedules in minutes and then publish them to your team with a click; you can also easily manage Staff Leave, track Time & Attendance, and sync your timesheets to payroll seamlessly.
Deputy integrates with over 300 leading POS and Payroll providers for end-to-end confidence. Free iOS and Android apps mean you can manage your business from anywhere.
Key features:
Schedule the right staff, at the right times, across different roles and locations
Never be short-staffed – find a qualified replacement within minutes
Control costs with real-time data on wages vs sales
Price: Start a free trial of Deputy and implement a new tool at work that your staff will love.
18 WebWork Time Tracker
WebWork is a time tracking tool that has all necessary features for complete work tracking. It offers not only time tracking but also task management and employee monitoring. The latter make it an inclusive tool for both personal use and teams of all sizes.
WebWork makes it easy for employers to have a general picture of how their teams work, how much time they dedicate to projects and their activity levels. All of these are available in the form of detailed reports. In fact, employees also benefit, as they have a visual representation of their work process and can thus eliminate possible bottlenecks.
Key features:
4 screenshot modes for different privacy priorities
Availability across all platforms (web, desktop, mobile, Chrome extension)
Task management system
Price: WebWork is available at 2.99$ per month/user. You can start with a 7-day free trial and pay for the next month in 30 days' time.
Manage your team effectively with Fellow
Tools for managers help you handle the smallest and biggest parts of your job. That means tasks concerning solely yourself, one team member, or the whole team. For the latter, Fellow is a great management tool. You can use it to plan, execute, and follow up on team meetings – and so can everyone else in your organization. It's a management tool that facilitates your most productive – and exciting – conversations yet.