It takes a lot of courage, discipline, drive, and ambition to be a part of the army. Interestingly, these leadership qualities are all desirable traits for employees to have in the workplace. The ability for leaders to inspire their employees is essential in attaining organizational goals and growing as a team. In the business world, the best managers inspire and motivate employees to bring their A game by leading by example. This article explains why you should be using military leadership quotes in your meetings and takes you through some of the most inspiring military leadership quotes.
Why you should be using military leadership quotes
For centuries, some of the strongest leadership has been demonstrated through great military leaders. These great leaders' memories live on through the quotes they've left with us to reflect upon. There is something to be learned from each quote, and each one can be applied to various situations in the office as we work to lead and manage our teams.
Military leadership requires making critical decisions with tight time constraints and in high-pressure situations, and this strategic thinking can be applied to situations with consequential risks at work. Leaders in the military need to ask the right question and make quick, though well-informed, conclusions to give clear and concise directions to their teams. Central to military leadership is the ability to inspire and motivate others, which is what makes this style of leadership effective in the business world as well. The aim of any organization is to unify a team to accomplish great things, and this goal is mirrored in the military mindset. 

Great meetings are just the start
Level up your meeting habits to boost engagement and productivity with a collaborative meeting agenda. Try a tool like Fellow!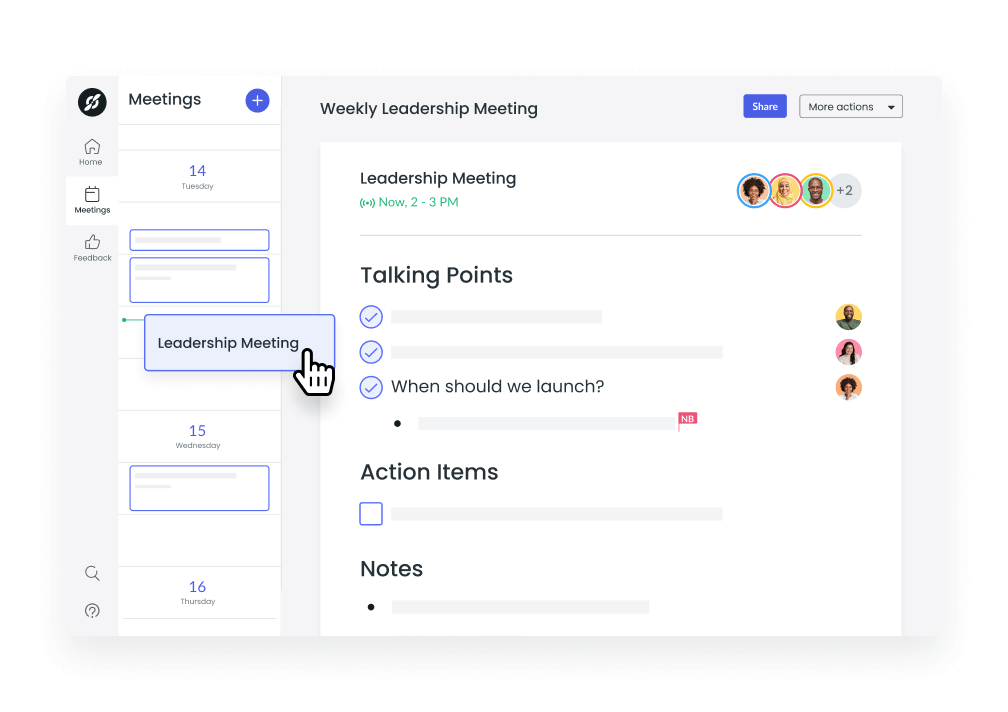 25 military leadership quotes to try
Inspirational military leadership quotes
1. "I hope you behave in accordance with the values that you just said are important to your company, or you can say look, this is how I am. This is me and if I'm the CEO, or I'm a leader of the company, this is what I believe in. These are my values. This is how I behave every day."

— Bo Brabo, Fellow Supermanagers Podcast
2. "… you have to be able to build that trust and confidence in your people and in your teams that you can go first, that you can do what you're asking them to do—that you would never ask them to do something you're not willing to do… Especially if you're going to rally your team behind you to build what we all want, a high performing team that exceeds expectations. That leader has to be out front and has to be the person that's doing…"

— Bo Brabo, Fellow Supermanagers Podcast
3. "When you're starting to build resiliency, it's a powerful thing for your mind when you have others depending on you to get through a certain situation."

— Bo Brabo, Fellow Supermanagers Podcast
4. "Step one of inspiring your team is really to help them to get bought into the leader, but step two is to help them get bought into the mission."

— David Robinson, Fellow Supermanagers Podcast
5. "There's likely a place in paradise for people who tried hard, but what really matters is succeeding. If that requires you to change, that's your mission."

— General Stanley McChrystal, U.S. Army Retired
Motivational military leadership quotes
6. "We're all one team—and together, we're strong and we're in this together."

— Bo Brabo, Fellow Supermanagers Podcast
7. "… in a company or an organization that has a solid mission, then I think they can be absolutely loyal when they find that and they become part of something [employees] are passionate about. I think you'll find loyalty for sure."

— Bo Brabo, Fellow Supermanagers Podcast
8. "In my opinion, to be truly great, it means that not only does your team achieve great results, but they feel really good about it in one way—and they feel inspired and motivated. So I hold a higher bar than just achieving the results… A big focus for me is hiring managers that understand these concepts and have proven track records wherever possible, performing at a level where they're achieving great results and have strong motivated, inspired teams."

— Dan Greene, Fellow Supermanagers Podcast
9. "What drives this person? What motivates this person? Is it self fulfillment? Is it financial remuneration? Is it recognition? What are those particular things that really jazz somebody about the work that they're doing or jazz them about the work that they do—and then try to position things in a way that fits with: what's in it for them?"

— John Weigelt, Fellow Supermanagers Podcast
10. "Those who dare to fail miserably can achieve greatly."

— John F. Kennedy, 35th President of the United States and former Navy Lieutenant
Problem-solving military leadership quotes
11. "… take the opportunity during the times when things are going well to force yourself into emergency planning so that you can actually talk through it and speak through it to find your strategies before the emergency actually happens."

— Bo Brabo, Fellow Supermanagers Podcast
12. "Writing things down is very powerful. Put pen to paper and I don't mean type it, I mean, put it on pen and paper and write down what went well, what went wrong, what could have done differently and start building out the change to the next playbook because eventually something's going to happen that doesn't go your way."

— Bo Brabo, Fellow Supermanagers Podcast
13. "If you want to start reducing fear, think about the things that you can control. You have to actually be able to control them. If you can, then those are things you can work out to, to work on to to get rid of the fear, things that you cannot control. Just you gotta just put them aside."

— Bo Brabo, Fellow Supermanagers Podcast
14. "When things go wrong in your command, start wading for the reason in increasingly larger concentric circles around your own desk."

— General Bruce D. Clark
15. "I found it very effective as a leader, and I did this with my senior direct reports, just by opening up the aperture and saying, okay, here's the problem statement, would love to hear your thoughts on how we could go about solving the problem? What do you think the risks are? What are the opportunities that we may not have thought about going around the table? And then I would weigh in with my thoughts and perspectives normally, in the form of a question… so it's less about asserting your opinion, and more about trying to facilitate."

— David Robinson, Fellow Supermanagers Podcast
Military leadership quotes to better communication between team members
16. "It's very important to be able to talk through things with people who know you and know how you are, know what your goals and ambitions are, so that you can work through the mental challenges of getting through an arduous time and knowing who depends on you and what they expect of you so that you can live up to those expectations."

— Bo Brabo, Fellow Supermanagers Podcast
17. "I've learned the hard way that a message communicated is not always a message received, right? So I would just be completely vulnerable and humble… I put it on me that the onus was on me as the leader to make sure that my team understood what I was trying to communicate."

— David Robinson, Fellow Supermanagers Podcast
18. "Taking care of your people means supporting them, it means building the right connection and building trust. It means helping them do their jobs, giving them coaching, guidance, mentorship, and they did, it means lifting barriers and helping them to solve problems. And also, it really means supporting them."

— Dan Greene, Fellow Supermanagers Podcast
19. "If I was trying to explain the mission, I would simply say, 'I'm not always the best communicator. I would love for you to try to playback for me what you think I said,' and then if they played it back great. If they didn't, then I had a chance to refine that a little bit and say, 'Well, I probably didn't explain that very well. Here's what I meant by that.'"

— David Robinson, Fellow Supermanagers Podcast
20. "When I am getting ready to reason with a man, I spend one-third of my time thinking about myself and what I am going to say and two-thirds about him and what he is going to say."

— Abraham Lincoln, 16th President of the United States and former Captain during the Black Hawk War
Famous military leadership quotes
21. "Success is not final, failure is not fatal: it is the courage to continue that counts."

— Winston S. Churchill, Soldier and War Correspondent before being elected as Prime Minister of the United Kingdom
22. "A true leader has the confidence to stand alone, the courage to make tough decisions, and the compassion to listen to the needs of others. He does not set out to be a leader, but becomes one by the equality of his actions and the integrity of his intent."

— Douglas MacArthur, General of the Army
23. "If officers desire to have control over their commands, they must remain habitually with them, industriously attend to their instruction and comfort, and in battle lead them well."

— Stonewall Jackson, Confederate general during the American Civil War
24. "Owning the facts is a prerequisite to leadership. But there are millions of technocrats out there with lots of facts in their quivers and little leadership potential. In many cases, what they are missing is empathy. No one is a leader who can't put himself or herself in the other person's shoes. Empathy and expertise command respect."

— William Pagonis, Lieutenant General
25. "I may not have been the best combat commander, but I always strove to be. My men depended on me to carefully analyze every tactical situation, to maximize the resources that I had at my disposal, to think under pressure, and then to lead them by personal example."

— Major Dick Winters
When to use military leadership quotes
The perfect opportunity to use military quotes is at the beginning of a team meeting to spark motivation and inspiration amongst the team. Embed one of a few military leadership quotes into your meeting agenda so your team has some time to reflect upon them before the meeting even takes place. Even better, you can use this remote stand-up meeting template by putting your favorite military leadership quotes in the "Good news and icebreakers" section of the agenda.
Parting advice
If you're looking for some outside-of-the-box means to motivate your team, using military leadership quotes could be a new way to unify the team and motivate employees to work towards a common goal and succeed together. We hope you feel inspired by the management approach of military leaders. If you found this article insightful, be sure to share it with your friends or your colleagues!