Types of feedback vary; there are different types of feedback for different scenarios. The way in which you give and receive feedback also varies depending on your relationship with the provider or recipient. For example, if you're currently in a management role and you notice your team members behaving in a way you'd rather they didn't in future scenarios, you may want to use negative feedforward feedback. On the flip side, if they've done something excellent and you want them to mimic the same behavior in the future, you may want to provide them with positive reinforcement through positive feedforward feedback.
In this article, we'll learn more about the different sources of feedback, the different types of feedback in the workplace, and the four main categories of feedback. Keep reading to learn more about the different types of feedback you may come across at work, and try our free coaching template!
Who does feedback come from?
1 Peers
Peer feedback can come from a variety of sources including coworkers, teammates, classmates, or even family and friends. Without peer feedback, you may fail to blossom into the best version of yourself. Additionally, providing peer feedback can be a great way to build trust and strengthen relationships.

Feedback is a gift
Build a culture of feedback by receiving and giving feedback on a regular basis. Track and note the feedback all in one place using Fellow!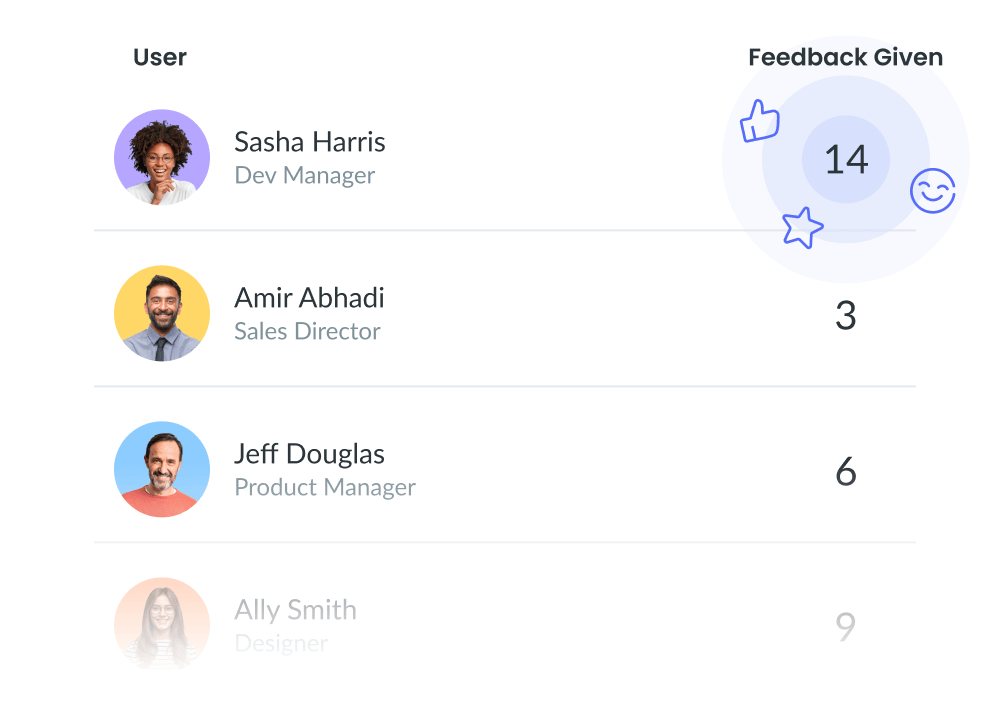 2 Employees
Employee feedback is essentially an exchange of information amongst employees. This type of feedback usually pertains to performance skills, or willingness or ability to work within a team environment. This type of feedback can be delivered by both managers and peers. When done correctly, this exchange can lead to a more productive, harmonious workplace.
3 Managers
Feedback is an extremely valuable gift—one that can help improve communication and strengthen relationships. Manager feedback can occur one of two ways: either you, as the manager, are providing your peers or direct reports with feedback, or you're receiving feedback from others on your team. What's most important is that you learn how to respectfully give and receive feedback.
4 Customers
Customer feedback is exactly what it sounds like. This may be a comment or criticism of an experience or product, given by a customer. Customer feedback may be provided in both negative or positive scenarios. If a customer isn't happy with the product or service they've received, they may be inclined to reach out to your customer success team or leave a negative review or critique. Alternatively, if they're happy with what they've received, your organization may receive positive customer feedback.
8 different types of feedback
1 Appreciation feedback
Appreciation feedback is given when a teammate, peer, or manager wishes to express their gratitude. As a manager or leader, you can express your appreciation for your teammates' hard work by providing them appreciation feedback. This can be done verbally during a one-on-one, or asynchronously on a platform like Slack. You can shout out your teammates and encourage your wider team to add fun reactions. This is a great way to get your team involved while building a supportive culture.
2 Encouragement feedback
Encouragement feedback is great if you have a teammate that needs a little more encouragement. Maybe they're on the verge of wrapping up a huge project and need a little help getting past the finish line? Or, maybe they're working on a tough task and need some encouragement. Offering encouragement when you sense your teammates may be apprehensive or close to burnout is a great way to realign your team while lightening the mood.
3 Evaluation feedback
If you're interested in your teammates' professional development, evaluation feedback is extremely important. To provide evaluation feedback, you'll first need to set goals, benchmarks, and timelines. These objectives can then be measured monthly, quarterly, or yearly and you can provide feedback accordingly.
4 Coaching feedback
Great leaders double as coaches. Some of the best managers and leaders also attribute their success to a personal or professional coach or mentor. According to Lara Hogan, coaching is all about asking open ended questions to help prompt introspection.
"As a manager or leader that prioritizes coaching, you're a vessel of questions to help the other person connect their own dots." – Lara Hogan
5 Forward feedback
Forward feedback is the opposite of feedback. Instead of providing regular feedback, you would replace the positive or negative feedback with future-oriented solutions. This method is meant to take a proactive stance. Instead of focusing on the past, you would focus on providing positive solutions to future events. This method would be particularly useful if you're looking to develop an action plan in tandem with your teammate.
6 Informal feedback
Informal feedback is feedback that occurs naturally. Instead of planning a one-on-one or hosting a meeting with the intent of providing feedback, this interaction would occur naturally or in passing. This impromptu conversation may lead to giving informal feedback about something that needs improving. Maybe you're having a conversation with your teammate and an opportunity arises? Or, perhaps your direct report asked for your opinion on a conflict at work, or for feedback on their recent work performance? These are both examples of informal or impromptu feedback.
7 Formal feedback
Format feedback is the direct opposite of informal feedback. Unlike informal feedback, formal feedback would be delivered during a predefined meeting. Both parties would be aware that the conversation would pertain to providing feedback, and the discussion would take place in a formal, professional setting.
8 Critical feedback
Some refer to critical feedback as undesirable or not favorable since it usually means providing negative feedback that isn't normally followed by a positive note. Occasionally, critical feedback is necessary, especially if a conflict has arisen that requires immediate addressing. Despite being necessary from time to time, this method should only be used when no other option will suffice.
4 categories of feedback
1 Negative feedback
Negative feedback can simply be defined as corrective comments about past behavior. This method of feedback focuses on past behaviors or actions that weren't successful and shouldn't be repeated. If you've noticed that past performance needs to be addressed as a result of a negative occurrence, you may want to provide negative feedback.
2 Positive feedback
Positive feedback is arguably one of the most common forms of feedback. This method involves providing positive or affirming feedback pertaining to a past event. This method would be used if a teammate or colleague did something that you would like them to mimic or repeat in the future.
3 Negative feedforward
Negative feedforward entails providing corrective feedback based on future behavior or performance. This method of feedback focuses on behavior that should be avoided in the future. This method is best if you're looking to take a preventative corrective stance. If you sense something may be an issue in the future, you may want to consider providing negative feedforward feedback.
4 Positive feedforward
Positive feedforward is used when a manager, leader, or peer wishes to provide affirming comments about future behavior. This method focuses on reaffirming behavior that will make a positive impact in the future. Recommendations or insights received during positive feedforward would help the recipient make positive choices in the future.
Free coaching template for feedback
Get ready to deliver and receive effective feedback, no matter the scenario
As you can see, there are many different types of feedback. Depending on the scenario and the relationship you have with the recipient, the type of feedback will vary. Keep in mind the best feedback to use when offering feedback and ensure the feedback is helpful to the recipient.