Building an engaged team is the goal of every engineering manager! Happy employees are productive, collaborative, and willing to work through challenges. Motivated employees also want to see their projects through and are more likely to stick around in the long term.
Bestselling author and motivational speaker Simon Sinek once said,
"when people are financially invested, they want a return. When people are emotionally invested, they want to contribute."
This is true for all employees, but especially engineers. Engineers care about functionality by trade, so it's no surprise that they expect their workplace to operate as a well-oiled machine, too.
Let's take a look at how you can motivate the engineers on your team to work hard, stay engaged, and perform at a high level.
13 ways to motivate an engineering team
1Give autonomy
This isn't unique to engineers, but it needs to be said: No one wants to be micromanaged. If you wish to retain employees, you'll have to foster a work culture that fulfills each employee's need for meaning and personal growth. While trust is earned, managers need to be willing to give their engineers the time and space to complete their work. Great engineers usually have a strong sense of autonomy and care deeply about having the freedom to choose how to approach problems. Overbearing managers will only make for resentful engineers.

Have a motivated engineering team
Easily manage your direct reports to collaborate on talking points, exchange feedback, and have engaging conversations by using Fellow to run effective one-on-ones.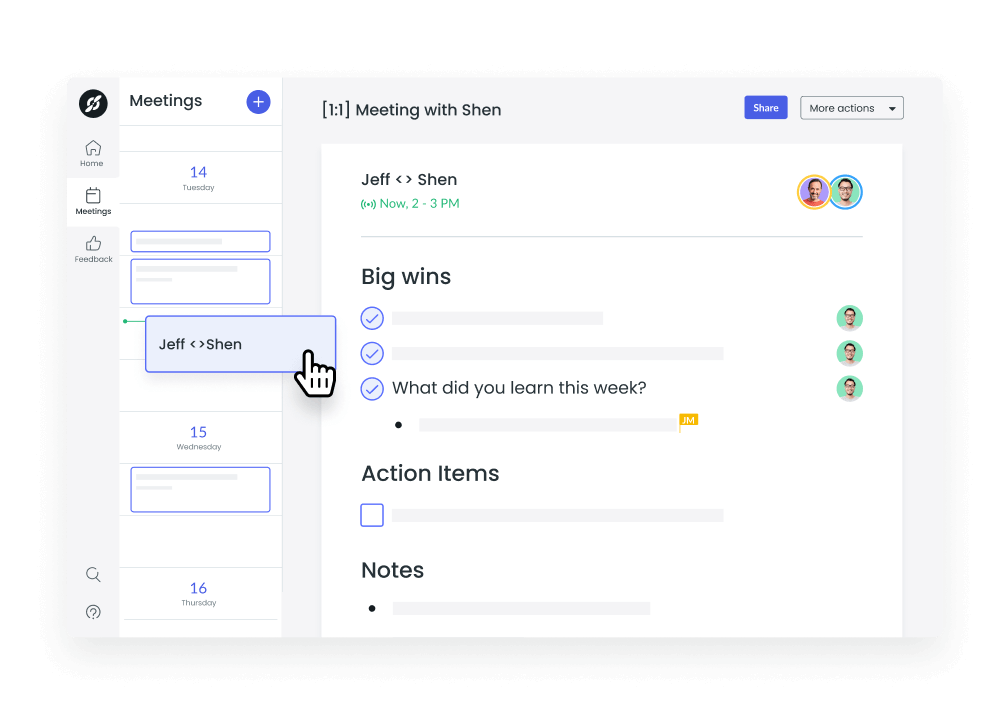 2Offer flexible career growth
Success is subjective. Some engineers will want to follow a linear career trajectory, while others won't be interested in traditional leadership positions at all. Get a sense of each employee's short- and long-term career goals. Perhaps they're a rockstar employee who doesn't want to cut into their development time by taking a promotion each year. Or maybe they're interested in managing projects, just not people. Remember that there are many types of leadership positions within the field. Get a sense of what each team member is hoping to achieve and work with them to make their goals a reality. 
3Encourage continuous learning
When you stop learning, you stop growing. Many engineers are drawn to the field in the first place because of the endless learning opportunities. Once you've mastered one skill, there's always a new tool, coding language, process, methodology, or technology to sink your teeth into. Support your engineers' individual learning journeys by providing an environment where learning is a natural part of the job. If you're able to, you can support your engineers by paying for conferences, courses, workshops, or other educational experiences.
4Have productive challenges
Have your engineers put their skills to the test on a regular basis. Give each member of the team challenging yet manageable projects that will require their knowledge and some learning, too! This doesn't mean they should feel constantly overwhelmed. Make sure that with each task, you provide adequate context. Let your engineers know that they're welcome to ask you questions, too.
5Repeat the mission often
Remind your engineers every day what they're working towards. Set goals as a team that will motivate each employee to contribute their expertise. You can also help each teammate set individual objectives during one-on-one meetings that align with the company's mission and values. In episode 69 of our Supermanagers podcast, David Robinson, former Commanding Officer in the US Marine Corps, said:
"This idea of articulating or illuminating the mission is so important. I found that my people were starting to understand the mission when I started to feel like I was sounding like a broken record. And it just took that much repetition because there's turnover."
Employees should be able to use the mission as a guiding point each time they run into a challenge in their work.
6Offer economic incentives
No matter how great your company mission or how inclusive your work culture is, no one will want to work for you if their compensation is insufficient. If you can, offer your engineers a competitive salary and benefits package. Provide your employees with up-to-date tools and technology, training resources, flexible work, and mentorship opportunities as well. Managers who wish to retain their staff take care of them! Be an advocate for your engineers, and they'll take care of you, too. 
7Host regular one-on-ones
One-on-one meetings give managers and their direct reports uninterrupted time to discuss tasks, review performance, eliminate blockers, and work through challenges together. These meetings are also a chance to build rapport. It's important that managers make time to get to know their engineers on a more personal level to foster collaboration and open communication. Did you know you can use Fellow to collaborate on meeting agendas, assign action items, get suggested conversation topics, and exchange feedback during your one-on-one meetings? You can also check out our tips and best practices to host productive one-on-ones with your engineer teammates today!
Try this free meeting agenda template for your next engineering one-on-one: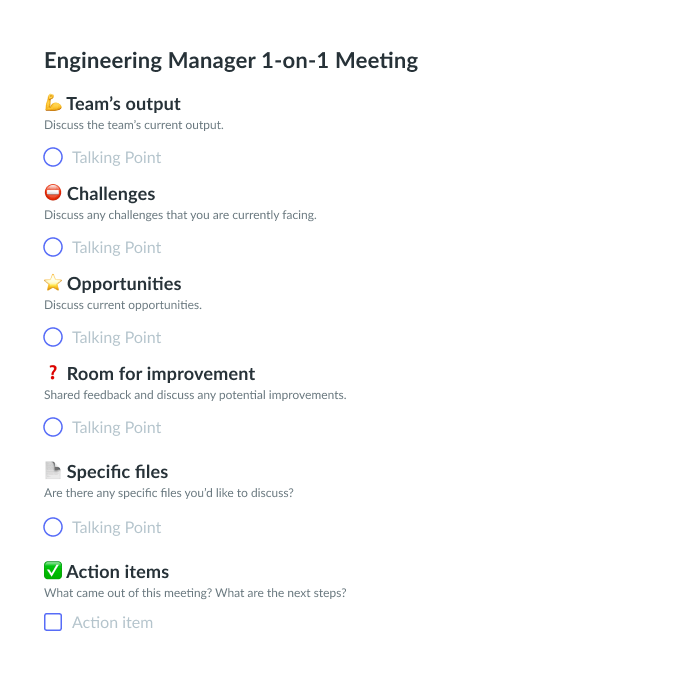 8Recognize accomplishments
Recognition is an excellent motivator. The next time an engineer on your team makes you proud, tell them! It's a stereotype that engineers are introverted. While this may be true for some individuals, it doesn't mean that they dislike recognition. If you're leading a large team and this seems like an overwhelming task, aim to empower and encourage everyone on the team by expressing your appreciation for their hard work on a daily basis.
9Limit clean-up tasks
Picture a tangled charging cord. Now picture hundred charging cords tangled in one huge complicated knot. That's what it feels like being handed another person's subpar work and being asked to fix it. No one wants their hard work to be rewarded with clean-up tasks, so don't be the boss that hands your employees someone else's projects to fix. Developers will be less than thrilled if you expect them to clean up or expand another's code. Instead, strive to develop collaborative processes that will keep all employees in the loop on larger projects so everyone knows what's happening at all times. 
10Encourage participating in communities
The need for connection and community at work is as fundamental as the need for air, water, and food in life! Engineers are no exception. In addition to building a great workplace culture, encourage your engineers to participate in communities that will help them succeed in their roles. For example, Stack Overflowing, Reddit's r/programming, and GitHub can be amazing resources. Participating in communities will also help your engineers stay up to date on emerging industry trends.
11Build a rapport
When people feel valued and cared for, they'll complete their work with strong motivation and great engagement. It's a known fact that in business, companies that treat their employees as whole individuals and provide opportunities for well-being, connection, and fulfillment are generally more innovative, resilient, and even profitable. Take time to build open dialogue with your team—don't just keep your office door open. Make sure that you are actively interacting and building relationships with your engineers.
12Ask for ideas
If you want your employees to feel encouraged, don't shut down their ambitious ideas! All that will do is destroy dreams and prevent your engineers from speaking up in the future. Instead, create a safe environment for your engineers to brainstorm and give suggestions, no matter how unrealistic these suggestions may seem. When everyone feels comfortable, they're more likely to perform at their best and have the courage to come up with innovative solutions to challenges.
13Share customer feedback
The next time a client reaches out to let you know how happy they are with their new website's functionality, share the news with the members of your team. Don't let anyone's hard work go unnoticed. When employees know that their dedication has led to results for the company, they'll feel inspired to continue working towards your team's goals and overall mission. Communicate when you feel your teammates have made a true impact.
Parting advice
Use our tips to motivate your engineers today! The more elements you get right, the better the experience your team will have at your company. The better their experience, the higher likelihood they'll stay with the organization, work hard, and get results.
Don't know where to start? Ask your team! During your next group meeting, have a discussion about what gets each person excited about coming to work everyday. Their answers may surprise you.
Above all else, remember that each engineer is different and will be motivated by different factors. Whether it's compensation, culture, flexibility, learning opportunities, or something else, be prepared to work with each individual to meet their needs.